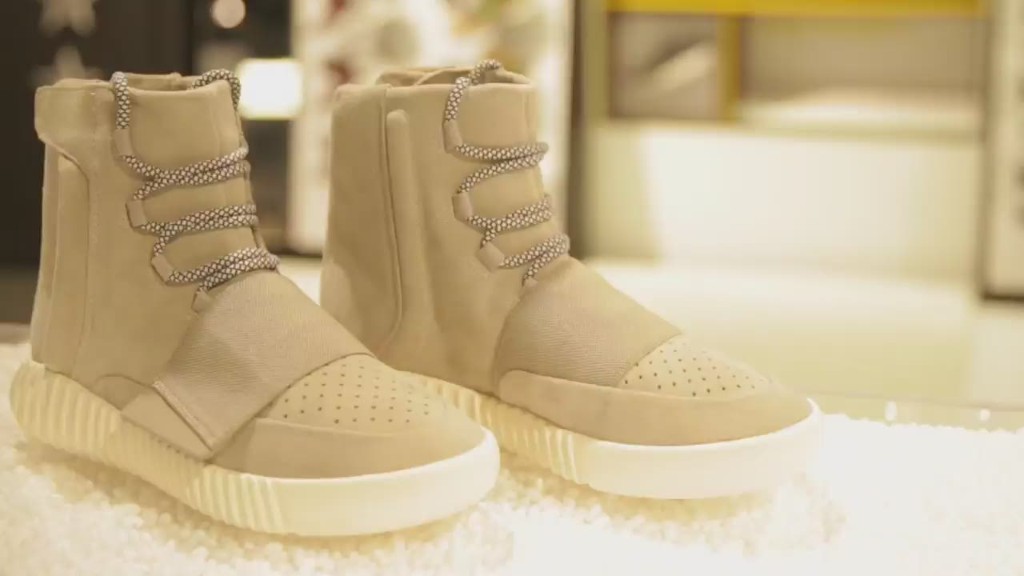 Skechers is in a serious slump.
Wall Street kicked Skechers (SKX) to the curb on Friday, knocking the sneaker maker's stock down by an incredible 24%.
The selloff was sparked by an alarming slowdown in Skechers' sales and a warning of more trouble ahead. It's the latest blow for the one-time sneaker darling, whose stock has lost more than half its value since August.
"Growth is slowing more rapidly than expected," Scott Krasik, a Buckingham Research Group analyst, wrote in a report about Skechers on Friday.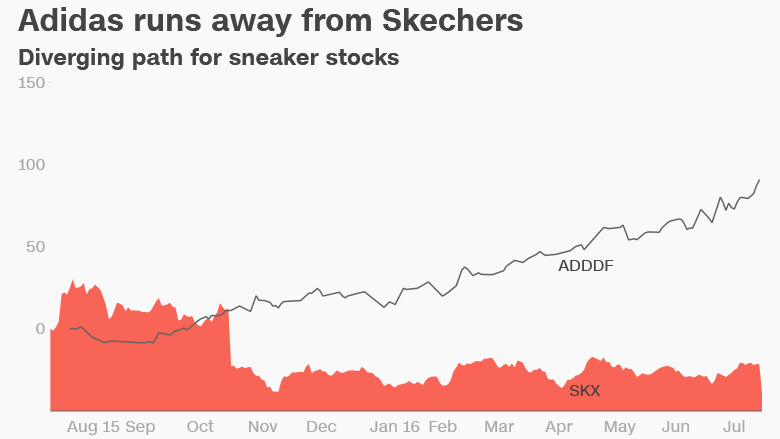 Krasik, like other analysts, dimmed his view on Skechers in the wake of the latest results. "We believe the risk/reward is tilted negatively," he warned.
Reporting after Thursday's closing bell, Skechers suffered worse-than-expected profits and sales. The company blamed "economic and political uncertainty in the United States and abroad" as well as "challenges" in the retail market that forced heavy promotions.
Related: Show me the money! Dividends are all the rage
Skechers also painted a gloomy picture by projecting third-quarter numbers that would miss Wall Street's targets.
All of this has disrupted the great growth story of Skechers. The company's stock was up an amazing 1,000% between 2011 and last August when it topped out at $54. At one point last year Skechers was the hottest sneaker stock, aided by its strategy of targeting younger girls with endorsers such as Meghan Trainor.
Now Skechers is down 42% over the past 12 months. By comparison, rival Nike (NKE) is flat over that time frame and Adidas (ADDDF) stock has nearly doubled. Here's why Skechers is struggling:
Scary sales slowdown: Skechers sales ticked up 10% last quarter. That's not bad, except it represents a dramatic deceleration from growth of 36% a year ago.
Walking issues: Krasik believes Skechers is struggling in part because "current fashion trends in athletic footwear favor more casual court and retro styles" that are not in the Skechers wheelhouse. He also said the critical walking category that represents around 15% of Skechers sales may have "hit a wall," forcing the company to slash prices on the GoWalk 4.
International headaches: Skechers was also dinged by overseas troubles in the last three months, such as the strength of the U.S. dollar, a tax shift in Brazil and a fire in a warehouse in Malaysia.
Legal troubles: Sentiment hasn't been helped by a trio of lawsuits over the past year. The latest one, filed earlier this month, alleges Skechers ripped off an Adidas design.