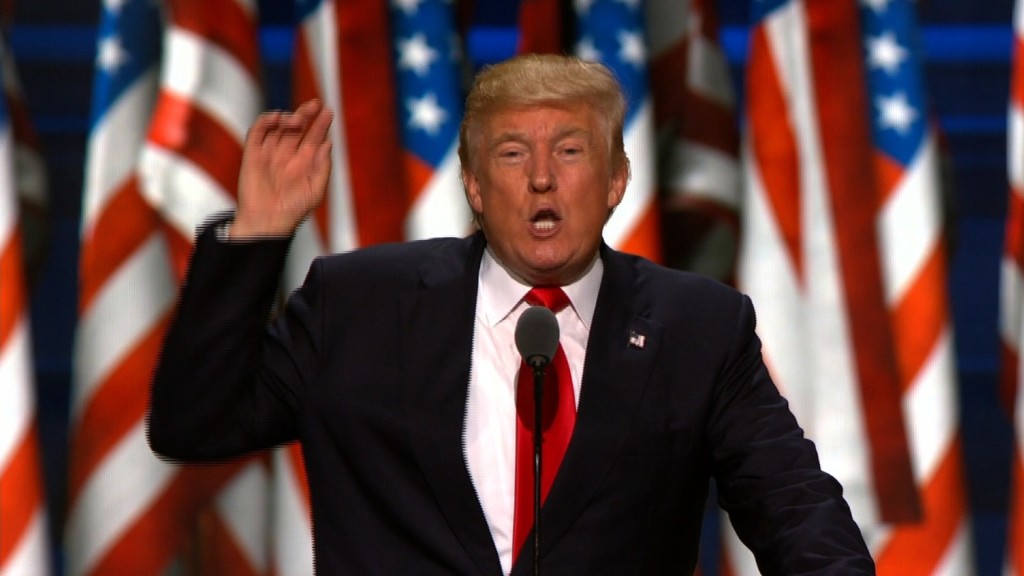 According to Donald Trump, the "television ratings for this convention were through the roof."
The reality is more complicated.
Trump's acceptance speech averaged 32.2 million viewers on Thursday night. Mitt Romney's GOP acceptance speech in 2012 averaged 30.3 million viewers.
Eight years ago, John McCain's speech averaged almost 39 million viewers, "about 8.6 million more people than last night's viewership," Nielsen said Friday.
Comparisons to prior years are difficult due to the rise of streaming TV and social media. Nielsen's measurements only count traditional TV.
Still, it appears the much-anticipated "Trump ratings bump" did not materialize.
Related: George Harrison estate offended that RNC used his music
The ratings for this week's convention "did not live up to the hype," The New York Times concluded on Friday.
Among the broadcast networks, NBC had the biggest audience during Trump's speech.
But two cable channels, Fox News and CNN, surpassed all of the broadcasters.
Fox averaged 9.3 million viewers between 10 and 11:45 p.m., when all the major channels carried the convention live.
CNN averaged 5.5 million. And NBC was third overall with 4.6 million.
The race between Fox and CNN was much closer among adults ages 25 to 54, the key demographic for cable news advertisers.
Fox averaged 2.5 million viewers in the "demo" while CNN averaged 1.9 million.
The competition between Fox and CNN has been one of the subplots of the Republican convention this week.
During the final night of the RNC in 2012, between 8 and 11 p.m., CNN averaged 581,000 viewers in the "demo," and this year it had almost 1.4 million. Fox News averaged 1.6 million in the "demo" during prime time in 2012, and this year it had 1.7 million.
What's known as the "gap" between the two channels has tightened considerably, although Fox remains in first place.