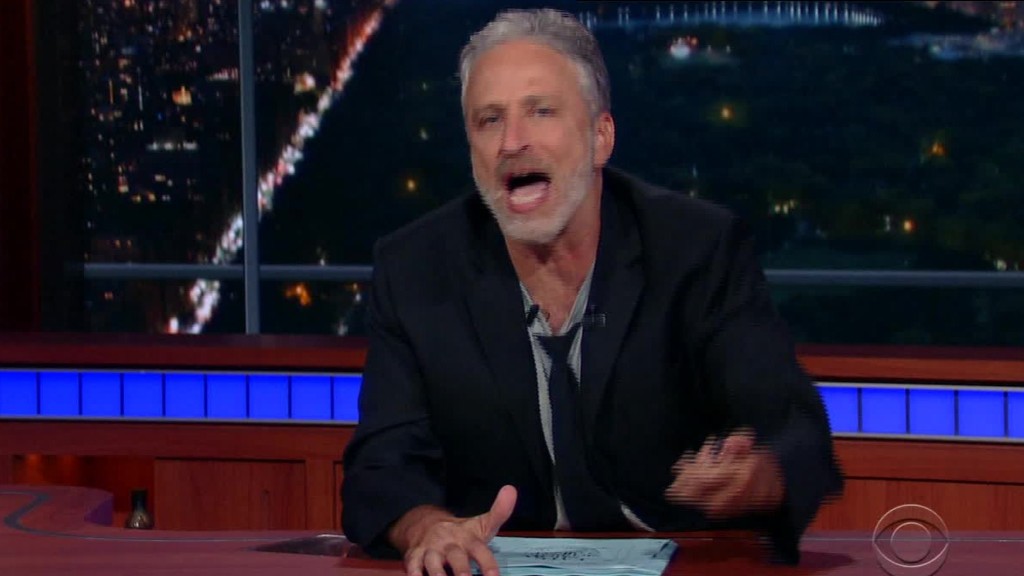 Since leaving "CBS This Morning" in April to become the showrunner of "The Late Show with Stephen Colbert," Chris Licht has had quite the change of schedule, and this week wasn't any easier on his sleeping patterns.
This week, Licht, Colbert, and the staff of "The Late Show" stayed up past their bedtimes to put on four consecutive nights of live shows following the Republican National Convention. If being live wasn't crazy enough, the shows included everything from Jon Stewart, who is an executive producer on the show, to the return of Colbert's old "Colbert Report" character.
CNN spoke with Licht on Friday, at the end of that long week, to find out how the live shows came together and why Stewart popped up. The conversation has been edited for length and clarity.
How did Jon Stewart became such a big part of the "Late Show" live coverage this week?
He always wanted to make an appearance during the convention week. He and Stephen had talked about it, it was kind of organic since they are friends. It was sort of a, "Oh, that'd be great!"
Stewart was really the linchpin for Monday because he was the way of bringing [Colbert's "Colbert Report"] character back... As for the Thursday night appearance, that was not a part of the original plan. I think he just decided he wanted to do it, and he and Stephen talked about it and next thing you know, it was underway.
Was there any hesitation with having Stewart doing his "Daily Show" shtick on the show? Was there ever a worry that it would take attention away from Colbert?
No, because we don't think like that. Much of what we're feeling here with the week that we've had, both internally and what people outside the show are writing about and the reaction we have from the fans, isn't really centered on Jon. Jon has been a great part of it, and icing on the cake, but he wasn't a part of our core strategy into doing the live shows for the week. It felt like value added to me, and also felt very natural. It just felt right, it didn't feel forced, it didn't feel overpowering... There was never that hesitation or discussion, to be honest with you.
Will he be back for next week's live run of shows following the Democratic National Convention?
There are no plans for it right now, but I don't know. Jon and Stephen have the kind of relationship where he could literally wake up one morning and call Stephen and say, "I want to do this," and we'll do it. It's not a kind of thing where we're strategizing about it. It just happens organically and if it does we make room.
Stewart wasn't the only "person" from Colbert's Comedy Central days to make a comeback this week. Colbert's "Colbert Report" persona also returned. How and why did you revive the character?
As organic and fly by the seat of the pants Jon Stewart was, the opposite was true of bringing the old character back. That was something that Stephen really gave a lot of thought to. He ultimately thought it was good for the audience, good for the show.
Stephen is now really feeling his way, and getting in a groove, and knew he could control the character and its place in the show as opposed to the other way around. So, in a lot of ways, it was a sign of confidence that he was ready to bring it back in a very limited way.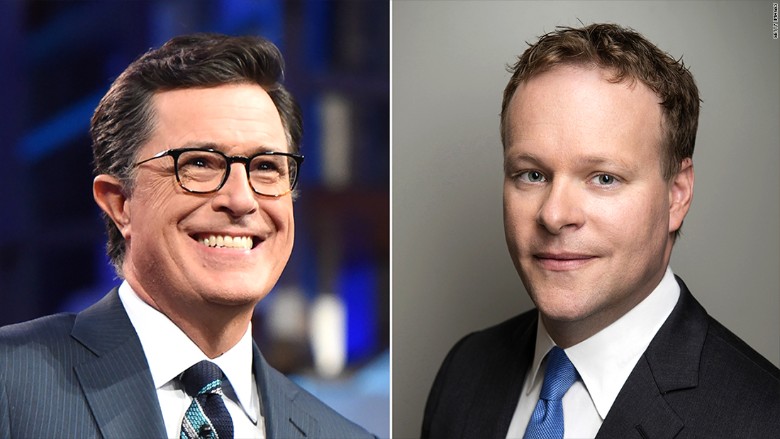 Related: Jon Stewart, late nights, and the RNC: Inside Colbert's live 'Late Show'
What are the benefits and challenges of the show being live?
Well, first you have to have a well-oiled machine from a production standpoint that can have the production not get in the way of the creative. If all you're worried about is, "Are we going to get on the air and off the air?" then you really can't spend a lot of energy on the creative.
Other than the hours there was no difference whatsoever in how these shows were put on from, like, a stress standpoint. Everyone really stepped up. It was fun, and a really fun atmosphere in the writer's room of seeing something, writing a joke, putting it through the process, getting it in the monologue. There were a couple cases where we turning stuff that was said 30 minutes earlier. From that standpoint, the challenge is can you produce the show in a way that doesn't get in the way of the creative, because if you're live but then everything isn't funny then it really isn't worth it.
One other challenge of the live show is getting guests that will come on at 11:30 p.m., but I was remarkably pleasantly surprised at the quality of bookings given the time of night.
Will there be more live shows after next week's coverage of the Democratic National Convention? Could there be a time where the show even does a live show or shows every week?
I'd say that'd be very difficult, but I will tell you this, the bar has been lowered as to whether we would do a live show. It's been so much fun and so successful that I think if we felt perhaps like on the night of presidential debate, or something like that, where it made sense to be live, we wouldn't give it a second thought.