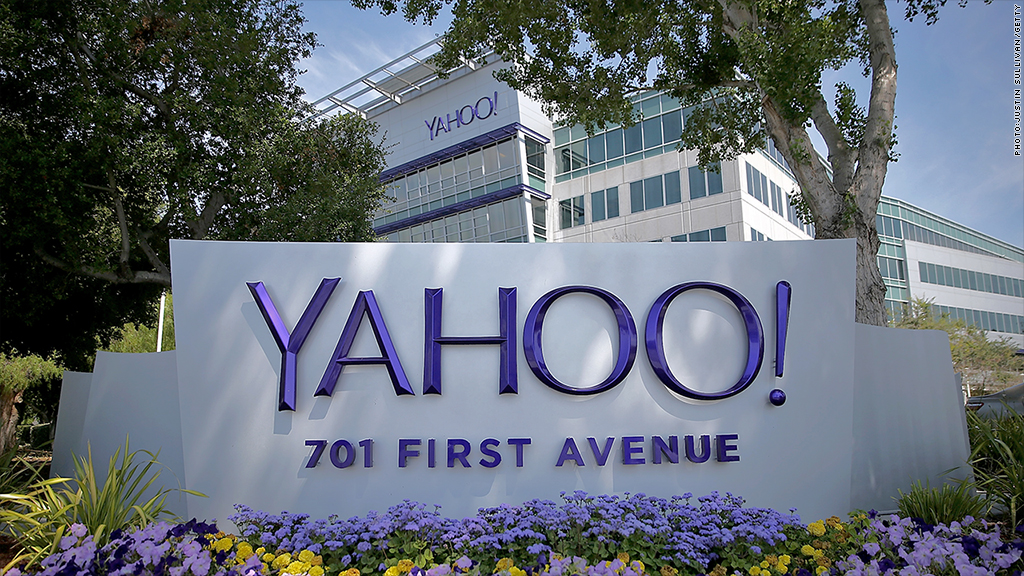 Yahoo's days as an independent company may be nearing an end.
After a much publicized sale process that dragged on for months and drew interest from parties as diverse as Warren Buffett and The Daily Mail, Yahoo (YHOO) may finally have found a match: Verizon (VZ).
Verizon, long viewed as the frontrunner in the bidding, is said to be closing in on a deal to buy Yahoo, according to reports Friday from Bloomberg and CNBC. Bloomberg puts the price tag at $5 billion. The deal is said to include Yahoo's Internet properties and patents, but not necessarily its real estate holdings.
"In order to preserve the integrity of the process, we're not going to comment on the issue until we've finalized an agreement," Rebecca Neufield, a spokeswoman for Yahoo, said in a statement provided to CNNMoney.
Bob Varettoni, a spokesman for Verizon, also declined to comment on the report.
Verizon, AT&T (T) and an investing group backed by Buffett and Quicken Loans founder Dan Gilbert were all said to be serious bidders.
A deal, which could be announced as soon as next week, would put an end to Yahoo's 21-year history as an independent company. It would also potentially end the tenure of CEO Marissa Mayer after four years of trying and failing to stage a turnaround.
Related: Is it a mistake for Verizon to buy Yahoo?
Tim Armstrong, the CEO of Verizon-owned AOL, is widely expected to take over Yahoo if it becomes part of Verizon.
Mayer, like Armstrong, previously worked at Google (GOOG) before taking over the top spot at Yahoo in 2012. She invested heavily in improving Yahoo's mobile products, expanding its audience through the acquisition of Tumblr and doubling down on premium media content. But Mayer struggled to slow Yahoo's overall ad sales decline.
On a conference call with shareholders this week after reporting earnings, Mayer made what may have been her final case to investors and the public that she worked to "create a better Yahoo."
"We set forth a plan to return this iconic company to growth over multiple years, one that would create long-term sustainable growth for Yahoo and deliver value to our users, advertisers, employees and shareholders," Mayer said. "As we work to conclude the strategic alternatives process, this groundwork will serve as a solid foundation for Yahoo!'s next chapter."
For Verizon, the deal is about more than just nostalgia. The telecom company has invested in digital content and advertising in recent years, buying AOL and The Huffington Post.
Yahoo, synonymous with the Internet itself in the late '90s, remains a popular destination that attracts more than one billion monthly active users on desktop and mobile.
Soon Yahoo and AOL may be owned by the same company, proving that the dream of the '90s Internet is alive in Verizon.