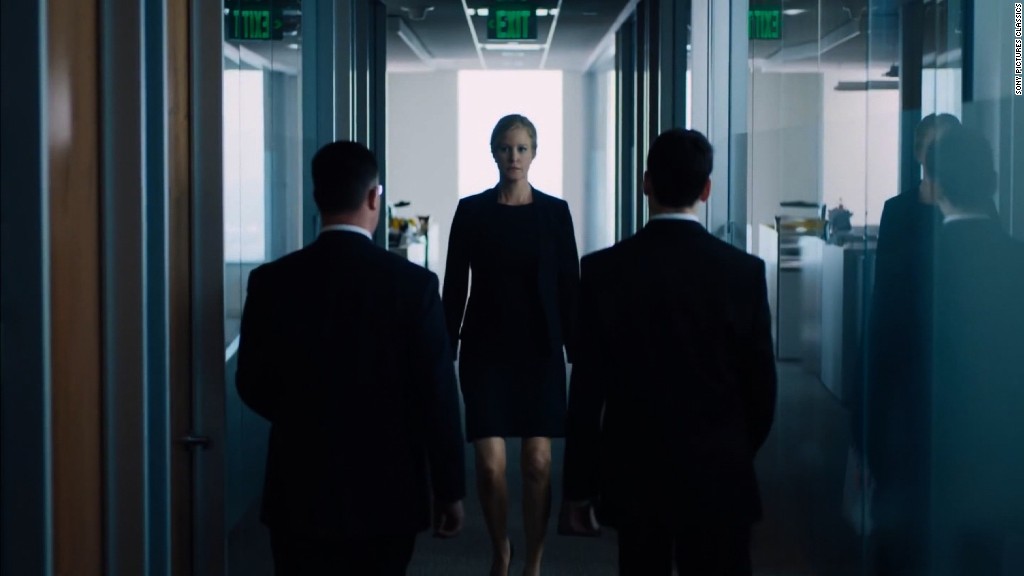 "I like money," says investment banker Naomi Bishop. "I'm so glad it's finally acceptable for women to talk about ambition."
Bishop is the lead character in "Equity," a new film opening July 29 in New York City and Los Angeles and nationwide in August. It's the first movie about the women of Wall Street since the 1988 hit "Working Girl."
"Equity" has it all: greed, money, sex, Silicon Valley, Wall Street, rule breaking and rule bending. Think of it like "The Social Network" meets "Sex in the City." Anna Gunn, a star from "Breaking Bad," plays Bishop with a Steel Magnolia-esque vibe.
Yes, it's a fictional film, but it's also one of the most accurate portrayals of Wall Street in a long time. Over a dozen top female bankers from Goldman Sachs (GS), Barclays (BCLYF) and Citigroup (C CITIGROUP)advised the film. Many even invested it in. That's how much they believed it was time to show what it's really like to work on Wall Street -- for men and women.
No woman has ever been CEO of a major American investment bank. Let that sink in. Bishop smiles -- and punches -- her way to the top. But as the movie opens, it's clear she needs to land a huge deal to prove she's got the "rainmaker" chops and get the big promotion.
"This doesn't look like your year, Naomi," the top boss says.
Later, Bishop leans across his desk and shouts, "When is it my f---ing year?"
Related: Millionaire NBA player isn't only guy living with his parents
Wall Street vs. Silicon Valley
Bishop and her team of black suits head to Silicon Valley to try to win a billion-dollar deal from a young tech CEO (hoodie-clad, of course) who looks a heck of a lot like Facebook's Mark Zuckerberg.
No one in "Equity" is a pure saint or crook. Wall Street -- and Silicon Valley -- are worlds of gray. The players want to get just close enough to the line of what's legal without getting caught. That's as true in rigging deals as it is in sexual harassment.
"Women can be just as complex as men in films," says actress Sarah Megan Thomas, who plays one of the young bankers working under Bishop.
Thomas' character is a vice president -- right on the cusp of making it big -- just as she learns she's pregnant, something that can be a career killer on Wall Street. Still, her character isn't beneath seducing the tech CEO to advance her career.
Related: These skills will get you hired fast
Money isn't a dirty word
The film is the brainchild of Thomas and actress Alysia Reiner, who's grown quite a fan club after playing Natalie Figueroa, or "Fig," in the Netflix series "Orange is the New Black."
They were tired of seeing all their male actor friends employed while their female actor friends struggling because there are so many more roles in Hollywood for guys.
"Men have 10 times more roles," says Thomas. "I'm a big advocate of creating your own work to change the world the way you want to see it."
So Thomas and Reiner started their own production company. They decided to do "Equity" after realizing the gender disparities and grossly unequal pay in Hollywood isn't that much different from Wall Street.
"We talk about our sex lives as women more than we talk about how much money we make," says Thomas. That has to change if women are going to advance, she believes.
As one power woman in "Equity" says, "Money doesn't have to be a dirty word."