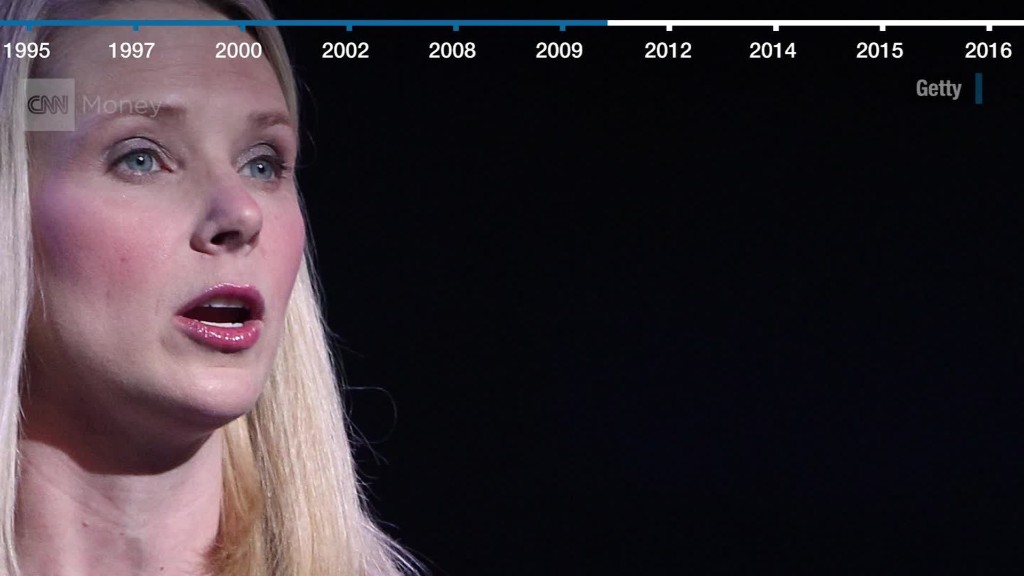 Marissa Mayer's tumultuous four-year stint as Yahoo's CEO may be coming to a close, but she still has a few giant paychecks left to cash.
If Mayer steps down -- which is still an uncertainty -- she'll be due about $57 million in severance after Verizon takes over the company, according to Equilar. That's expected to happen in the first quarter of 2017.
Her enormous golden parachute would come on top of more than $162 million in salary and stock awards that Mayer received over the course of her tenure. All told, she could exit Yahoo with around $219 million in the bank.
To receive the severance, of course, she'll have to leave Yahoo (YHOO). Though there is wide speculation that she will leave Yahoo when the deal closes, a spokesman for Yahoo said it's "too early to say" whether she will stay on as CEO, accept a new role at Verizon (VZ), or step aside. Meanwhile, Mayer says she will stay on to see Yahoo through its transition.
"For me personally, I'm planning to stay," Mayer wrote Monday in a memo to employees posted on Tumblr. "I love Yahoo, and I believe in all of you. It's important to me to see Yahoo into its next chapter."
On a conference call with analysts, she was still vague about whether she will join Verizon, saying that she had been "really dedicated to the process of getting to this point."
Related: Verizon is buying Yahoo for $4.8 billion
Mayer was a tech celebrity when she became Yahoo's CEO in July 2012, almost exactly four years ago. She had been a high-profile executive at Google (GOOGL), joining that company in its infancy.
She was an incredibly expensive hire. Yahoo gave her a $30 million signing bonus and $14 million to make whole the Google bonuses she was forgoing at the time.
With her high pay came soaring expectations to turn around the struggling company, which had gone through years of sinking ad sales and management turmoil. Yahoo's stock took off on the news of her hiring, as investors hoped that she was the company's long-sought savior.
Mayer transformed the company's culture, raising pay, perks and benefits to attract top-tier talent. She streamlined Yahoo's focus, pivoting to mobile, video, native advertising and search in an attempt to unlock growth. She bought dozens of tech companies, including her signature $1 billion purchase of social blogging platform Tumblr.
But Mayer failed at virtually every turn.
Her tenure was plagued by high-profile executive departures. Most notably, she oversaw the disastrous hire of former Googler Henrique De Castro, who was paid $108 million for just 15 months of widely derided work.
Few of Mayer's purchases made any tangible difference at Yahoo. Tumblr never panned out as a viable social media competitor. Yahoo has written down half of Tumblr's value this year.
Even Mayer's focus on mobile, video, native ads and search was a bust. That, more than any other factor, precipitated investors' eagerness for Yahoo to sell. If Yahoo was incapable of a turnaround on its own right, shareholders believed the only viable path forward was a sale.
Mayer's epitaph was effectively chiseled in March, when hedge fund Starboard Value said it had lost faith in Yahoo's management. Yahoo has been doing battle with Starboard for a year and a half, and it eventually lost the battle in April when the hedge fund's manager Jeff Smith was appointed to Yahoo's board.
With a sale certain and Mayer's ouster likely, Yahoo's board adjusted its bylaws three months ago to make it much easier for Mayer and other executives to get a huge payday. The new bylaws make clear that selling Yahoo's internet business would represent a control change, letting Mayer take home three times as much as she would have otherwise earned.