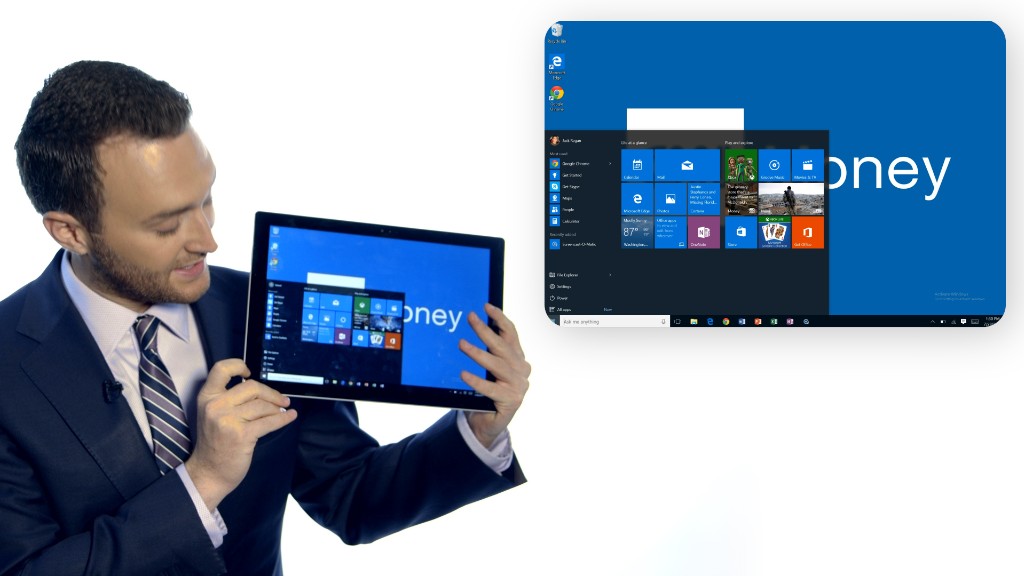 You've had a whole year to upgrade to Windows 10 for free.
If you've been busy or putting it off because upgrading is a pain, there are still five days left. The free offer expires on July 29; after that it will cost $119 to upgrade. (Technically, you have until 5:59 a.m. ET on July 30.)
If you're still on the fence, Microsoft (MSFT) hopes the allure of a slightly more Echo-like Cortana, beefed-up stylus support, and the ability to log onto sites with your face will win you over. Those are some of the bigger features coming on August 2 with an "Anniversary Update."
When Microsoft first unveiled Windows 10 last July, it included an offer it thought users couldn't refuse. The operating system upgrade would be available as a free download for one year. The company even confidently predicted it would have Windows 10 installed on 1 billion devices by mid-2018.
Related: Microsoft admits it will miss Windows 10 goal of 1 billion devices
But Microsoft recently walked back its 1 billion goal. Only 350 million devices are currently running Windows 10, and it will need at least two more years to hit the billion mark, according to the company. The lag is fueled partially by disappointing Windows 10 phone sales, and by customers reluctant to let go of older versions of Windows. Windows 7 is still running on more than 50% of Windows PCs.
Microsoft is trying to sweeten the pot with the Windows 10 Anniversary Update, which will be released on August 2, four days after the upgrade deadline. Here are some highlights that Microsoft hopes will woo any users still on the fence.
It wants to kill the password
Windows Hello lets you log into a Windows 10 device using face-detection, fingerprints or an iris scan (if you have the proper cameras and scanner hardware). The Anniversary Update is adding Hello support for third-party apps and some websites, with more hopefully signing up in the future. That means logging into Dropbox with your face instead of having to remember b3stp@$$word!.
It hopes writing on your screen is a thing
Windows Ink is a collection of stylus-compatible tools for anyone on a device with a touchscreen. If you long for the days of handwritten notes, the new Sticky Notes app can recognize handwriting and even detect things like dates, phone numbers and URLs. There's an app for doodling on screenshots (like Skitch). New Office and One Note integration add the ability to write in rainbow ink, make perfect circles and do handwritten math problems.
It frees Cortana
Poor Cortana. Until this update, you had to unlock a computer to use the digital assistant. Now it can answer your questions directly from the lock screen. Say the trigger phrase "Hey Cortana" and ask about the weather, play music or set reminders. You can adjust how much personal information is accessed from the lock screen, like your calendar. It can also take notes, like remembering a frequent flier number, to file away for future reference.
It already has third-party integration, so adding more hands-free features could help Cortana in the race to take on Amazon's (AMZN) Echo. It just needs a new home, like a speaker.