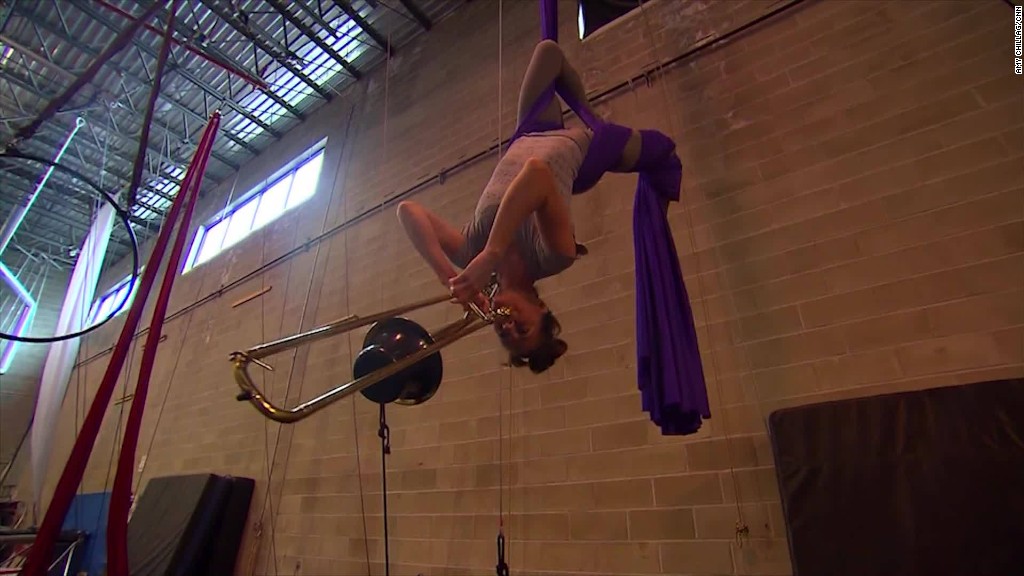 Making a living as an acrobat, dancer or contortionist in the circus arts has never been easy. But even as traditional circus struggles to remain relevant, the market for these high-flying skills is growing.
"It's very hot right now," says Suzi Winson, director of Circus Warehouse, a training facility for circus arts professionals.
"There are a lot of acrobatic type shows and a lot of circus-oriented type shows on Broadway now so they come here to train," says Winson.
Circus arts teachers from Florida to upstate New York say they are seeing a huge growth in demand for training in the aerial arts like trapeze, silks and acrobatics.
Winson says she gets a call once a week asking if she has any trapeze artists "hanging around." In recent years Broadway has used the circus arts in shows like Pippin, Spiderman and Paramour, Cirque du Soleil's first Broadway show, which opened in April.
"People often say to me, 'What are there, three or four circuses out there?' " says Winson. "There are hundreds of circuses and people ask all the time for performers."
Since starting her business in 2010, this former ballet dancer and Broadway performer has hired teachers from former Olympic acrobats to burlesque dancers to legendary Ringling Brothers and Barnum & Bailey trapeze artists.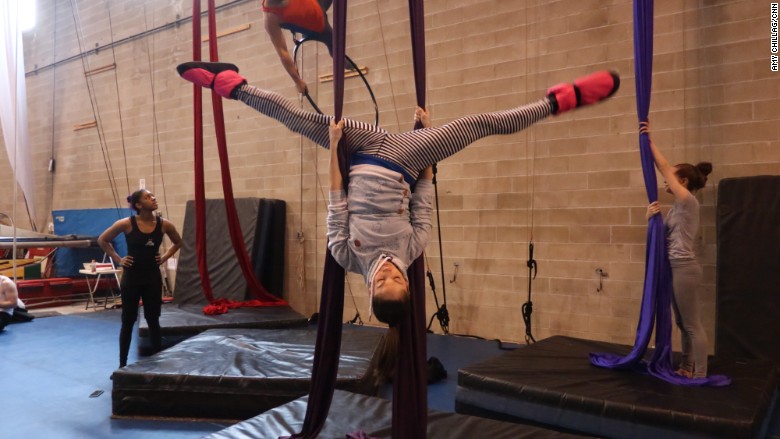 The Warehouse offers acrobatic balancing, juggling, ballet, trampoline, silks, aerial hoop called "lyra" and many kinds of trapeze. It's trained performers from Ringling, Cirque du Soleil, Broadway shows and other theatrical groups, says Winson.
"When we started this there was no existing professional school in New York for acrobats," she says. "There wasn't an all-inclusive school...where you cross-trained and cross-pollinated these forms."
Circus arts to get in shape
Circus Warehouse, located on the East River in Long Island City, NY, also offers classes to "the athletically inclined public," says Winson.
But it's not for fitness beginners, she warns.
"You will be hauling your own weight and getting your butt over your head at some point," Winson says. "You will come out with a few bruises, scratches that you didn't have before and you have to like that sort of thing."
That blending with working out is one reason circus arts professionals say their profession is growing.
"You're seeing the trends of hot yoga, aerial yoga -- all these fitness areas that are infusing circus. It gives our students an opportunity to go into those avenues," says Jennifer Mitchell, managing director of the Circus Arts Conservatory in Sarasota, Fla.
The town, and the Conservatory's, history runs deep. Its youth circus program, established in 1949, is the longest running in the country.
Before that, beginning in the 1920s, Sarasota was the original winter headquarters for the Ringling Brothers Circus.
This summer, the school has enrolled 700 students in one of the eight sessions its circus arts camp offers. That's up from 90 enrollees four years ago. Demand for youth training is "huge," says Mitchell.
When Bravo broadcast Cirque du Soleil shows in the late 1990s, it piqued Americans' curiosity, says Amy Cohen, executive director of the American Circus Educators Association. That visibility, says Cohen, is part of the reason that there are some 250 schools focused on teaching circus arts to young people, according to a Circus Census conducted in 2010, the latest numbers available. About 25 percent of those schools were started in just the past ten years, says Cohen.
"As a professional art form, I think we're at a pivotal point," Cohen says. "A lot of new companies are emerging to make good work."
Circus artists hope to get more backing
Setting up a touring group is expensive, notes Cohen, who is working to get public arts funding for circus arts that would cover expenses like buying and setting up safety rigging.
"We need this second tier of support to really allow those shows to develop to being able to tour nationally," says Cohen.
In France, performers get artist welfare and are paid to do their shows, she says. In the U.S., "it's hard to make a good show when you're working two jobs," says Cohen.
In the past two years, the National Endowment for the Arts has begun to recognize circus as a "box to check" to apply for arts grants, says Cohen.
Cohen predicts in the next five years, the U.S. is going to see an "explosion" of circus arts, which she says isn't only about art but social change as well.
Circus schools are a great way to help at-risk youth develop discipline and a sense of self-worth, says Cohen. Many people who run circus programs, she says, are "passionate about the power of circus for building life skills and social and emotional well-being."