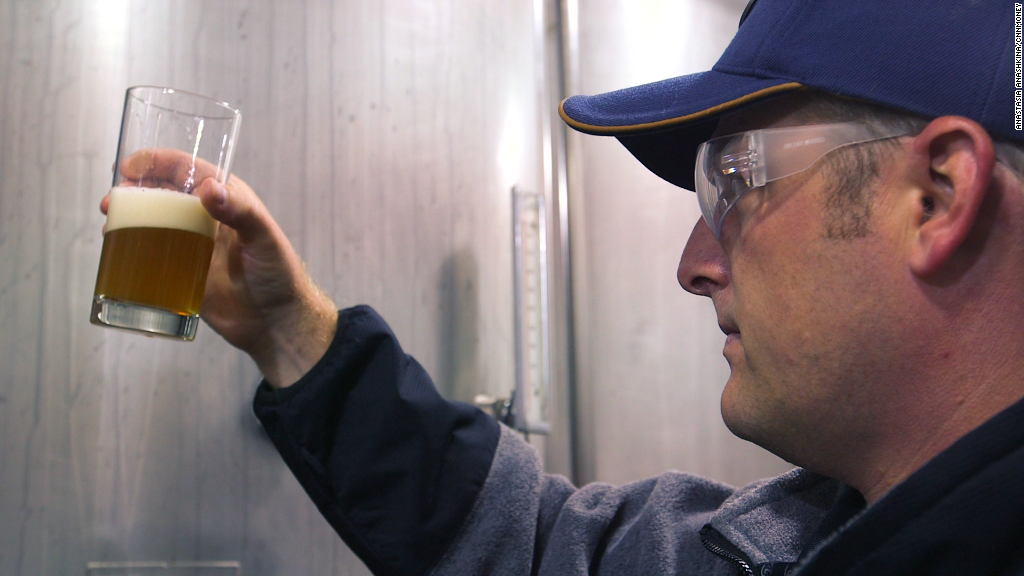 Cheers! It looks like the Bud-Miller mega merger is finally going to happen.
It's been nearly a year in the making but the biggest ever beer deal cleared its last major hurdles Friday as SABMiller's board accepted an improved £79 billion ($105 billion) takeover offer from Anheuser-Busch InBev (BUD).
Regulators in China also gave the deal the thumbs up.
AB InBev, the self-proclaimed King of Beers, was forced to sweeten its bid because of the slump in the value of the pound following the U.K.'s vote to leave the European Union last month.
The brewer increased its cash offer by £1 per share to £45 ($58.83) per share.
The deal was first agreed last October, and the two companies had already started work on integration, including agreeing to sell many of their brands to satisfy anti-trust regulators.
Related: Brexit forces changes to the biggest beer deal in history
SABMiller (SBMRF) board approval doesn't guarantee all shareholders will accept the final offer from AB InBev.
But the company's two biggest shareholders have already indicated they'll back the deal. Altria (MO), the tobacco giant, said the improved offer means $500 million more in cash for its shareholders. It owns 27% of SABMiller.
Colombia's Santo Domingo family, which owns nearly 14% of shares in the brewer, also supports the takeover.
Some smaller shareholders are still skeptical. Aberdeen Asset Management said the revised offer undervalues the company and "remains unacceptable."
Aberdeen is also unhappy that the two biggest shareholders were able to chose an alternative cash and shares offer, which they say is better value and discriminates against the smaller shareholders.
Related: Yes, you can totally use beer for 3D printing
Chinese approval means the deal has cleared its last major regulatory obstacle.
The U.S. Department of Justice, the European Commission, and South African regulators have already approved the deal, provided AB InBev sells off SABMiller's brands such as Peroni, Pilsner Urquell and Grolsch, and its entire operation in the U.S.
Once completed, it will be one of the top five acquisitions of all time.