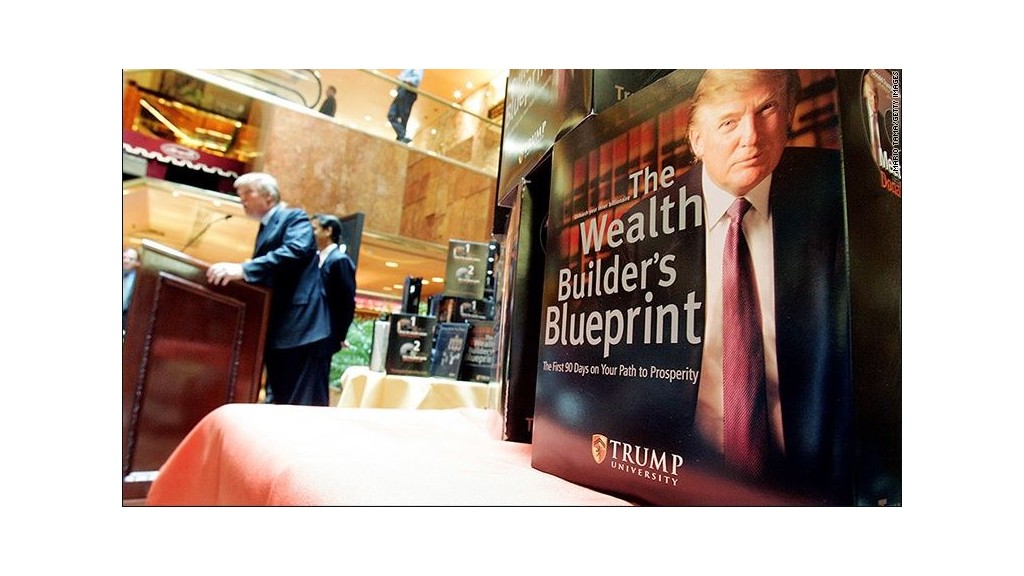 A federal judge denied Donald Trump's effort to have a fraud case involving Trump University thrown out because there was "a genuine issue" about whether Trump "knowingly participated" in a fraud scheme.
The judge did, however, rule that Trump's videotaped depositions in the case would remain sealed.
U.S. District Judge Gonzalo Curiel's reason for keeping the videotapes sealed was to avoid a "media frenzy" before the trial.
"There is every reason to believe that release of the deposition videos would contribute to an on-going 'media frenzy' that would increase the difficulty of seating an impartial jury," Curiel said in his ruling on Tuesday.
A number of media outlets, including CNN, had requested that the court release the deposition videos on the grounds that the "need for transparency could not be greater" given the nomination of Trump as the Republican presidential candidate.
Related: 2 stocks that could soar if Donald Trump wins the election
"The strong public interest in this case, which involves serious allegations of fraud that have become a prominent issue in the 2016 presidential campaign, weighs in favor of public disclosure of materials produced in the course of the litigation," the media outlets noted in their request to the court.
But Curiel said the election is one of the reasons he chose to allow the tapes to remain sealed. He wrote that because Trump's deposition would likely be cut and used in political advertisements and media reports, it would expose potential jurors to information before the trial -- which could taint the outcome of the case.
In a separate ruling, Curiel denied Trump's motion asking the judge to throw the case out.
"The court finds that plaintiff has raised a genuine issue of material fact as to whether defendant knowingly participated in the scheme to defraud," the judge wrote.
Related: Trump University controversy ... in 2 minutes
Transcripts of much of Trump's depositions have already been released.
This case is one of two being heard by Curiel. Trump stirred up controversy when he attacked Curiel's ability to be impartial and incorrectly identified the Indiana-born judge as a "Mexican" and called him a "hater."
Those comments earned Trump a sharp rebuke from leading Republicans, with House Speaker Paul Ryan characterizing them as a "textbook definition of a racist comment."
-- CNN's Curt Devine contributed to this article