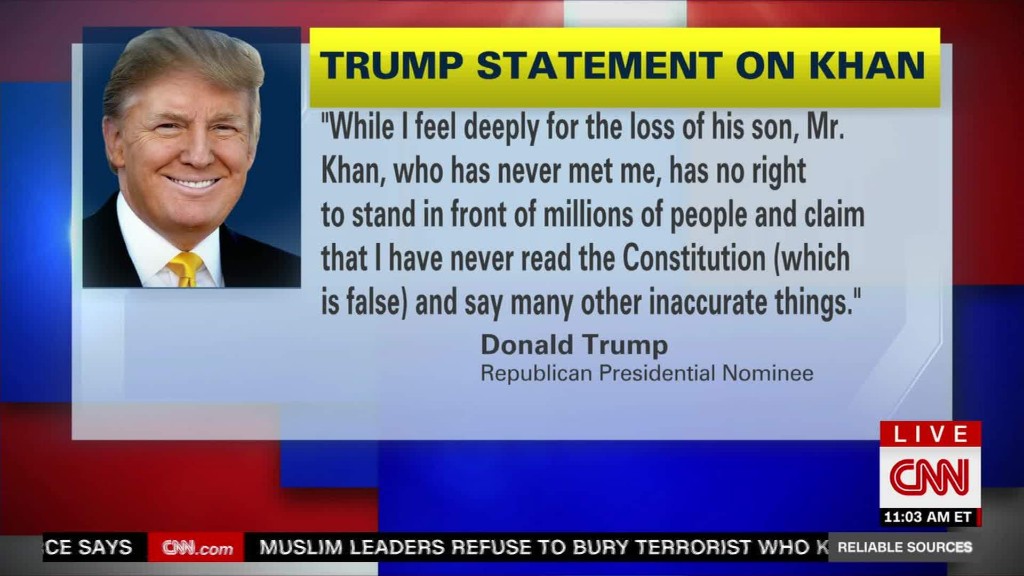 Donald Trump's freeze on The Washington Post may be thawing.
More than six weeks after banning Post reporters due to suspicions of bias, Trump agreed to meet with some of its reporters backstage at a campaign rally in Ashburn, Va., on Tuesday, the paper confirmed to CNNMoney.
The meeting didn't actually happen -- Steven Ginsberg, the Post's senior politics editor, said that it fell apart due to a disagreement about the ground rules. ("We had requested what we thought was on the record visit with Mr. Trump about the presidential campaign," Ginsberg said in an email.)
But Trump did give an interview to at least one Post reporter, resulting in a report about Trump's refusal to endorse fellow Republicans Paul Ryan and John McCain in their upcoming primary races.
"This is not the first time Donald Trump has done an interview with a Post reporter since the ban was announced (Chris Cillizza spoke with him in July) and we haven't received word of any change," Ginsberg said.
"There has been no change," Hope Hicks, a Trump spokesperson, said in an email.
Trump had said at a rally Monday that the Post "has gotten a little bit better lately," and some Post employees have been able to secure credentials to events. Columnist Dana Milbank received a credential for Tuesday's rally in Ashburn, and a Post photographer was invited to a campaign event following the Republican National Convention last month.
Since the ban was imposed in mid-June, Post reporters have not been allowed into the press area at campaign rallies. They have been able to attend as private citizens.
Trump announced the ban in a June 13 Facebook post. "Based on the incredibly inaccurate coverage and reporting of the record setting Trump campaign, we are hereby revoking the press credentials of the phony and dishonest Washington Post," he wrote.
Related: Donald Trump opens door to Washington Post
The trigger for the ban was a headline on a Post story about his comments following the shooting at a gay nightclub in Orlando, Florida: "Donald Trump suggests President Obama was involved with Orlando shooting." The Post later adjusted its story to make the headline tamer; it now reads, "Donald Trump seems to connect President Obama to Orlando shooting."
At the time, Post spokeswoman Kris Coratti told CNNMoney that the headline was changed for editorial reasons: It was changed "shortly after it posted to more properly reflect what Trump said. We did so on our own; the Trump campaign never contacted us about it," Coratti said.
It wasn't Trump's first time using this weapon against the press. Other news outlets that have been on the Trump blacklist include BuzzFeed, The Huffington Post and Politico.
It may not be his last, either. On Monday, Trump implied that he may try to ban the New York Times from his rallies.
"The Washington Post has gotten a little bit better lately, I took away their press credentials. I should do it with the Times," he said. "The problem is, you get more publicity for doing it... But the New York Times is really, really dishonest."