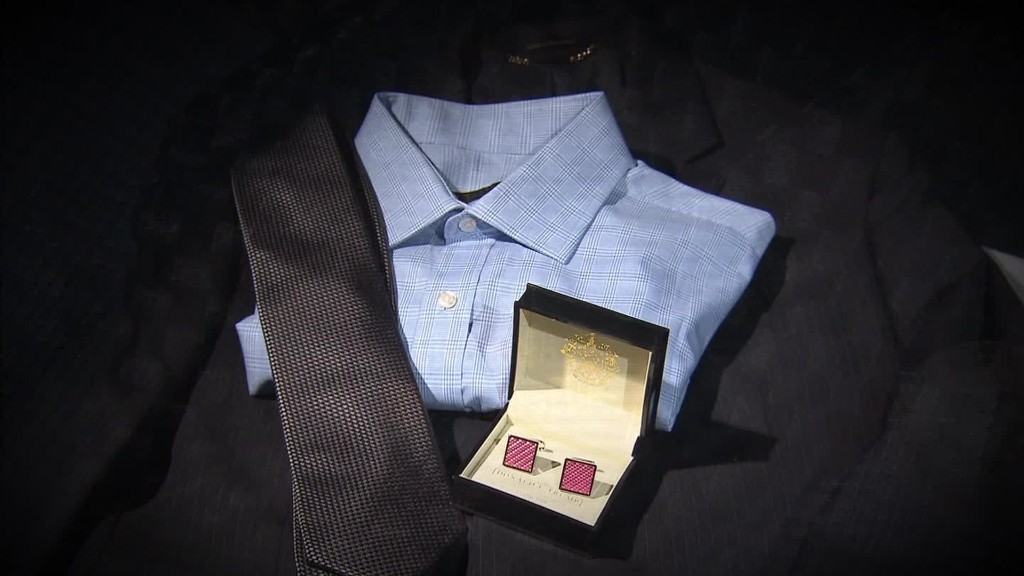 Donald Trump wants you to know that he isn't a typical politician. That's evident as soon as you visit his Facebook page.
Most politicians -- including rival Hillary Clinton -- have a big button at the top of their Facebook page that says "Sign Up." Clicking on it takes people to the campaign website so they can enter their email and phone number to get involved.
But that's not what Trump's Facebook page emphasizes.
The big button on his page says: "Shop Now."
When you click on it, it takes you to his campaign store (shop.donaldjtrump.com) where you can purchase "Make America Great Again!" and "Trump Pence 2016" shirts, hats, stickers, buttons, etc. Prices start at $5.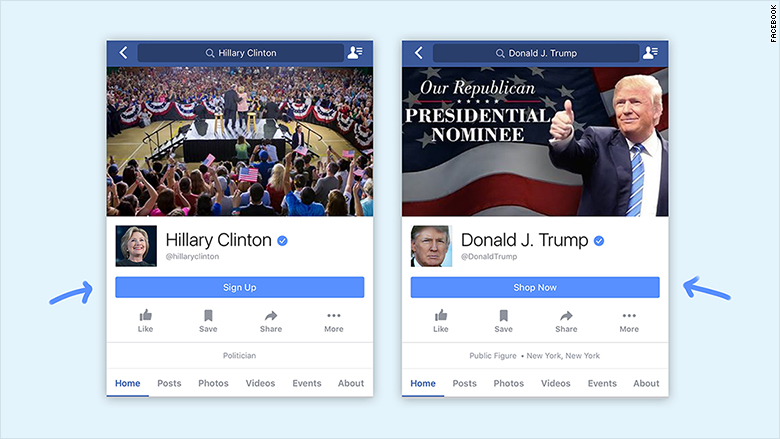 Related: Trump says he 'got out' of stock market
Back in 2000, Trump told Fortune magazine that he "could be the first presidential candidate to run and make money on it." At that time, he was dabbling with a run and ended up getting a lucrative speaking deal.
Selling T-shirts for $20 a piece isn't going to make Trump rich. It's actually illegal for Trump to profit personally from those sales, says Brendan Fischer, a lawyer and campaign finance expert at the The Campaign Legal Center.
"A candidate can sell merchandise to raise funds for the campaign," explains Fischer. "It is illegal to use campaign funds for personal use or benefit."
Instead of profits, Fischer thinks what Trump is probably doing on his Facebook page is trying to recruit small donors. Anyone who buys a shirt or hat is donating to Trump's campaign. Thus Trump not only gets the benefit of having more people walking around with "Make America Great Again!" stuff, he also gets to tout that he has a lot of average Joes backing him.
It's notable that official Trump shirts start at $20 while official Clinton shirts start at $30.
"There likely isn't much profit for the campaign," says Fischer.
Trump's tactic doesn't appear to be turning away supporters. His Facebook (FB) page has over 10.1 million followers. Clinton has about half that -- 5.3 million.
Related: Warren Buffett challenges Donald Trump to discuss tax returns
Trump is the only 2016 presidential candidate encouraging his Facebook backers to shop. Libertarian candidate Gary Johnson and Green Party candidate Jill Stein also have "Sign Up" buttons on their Facebook pages.