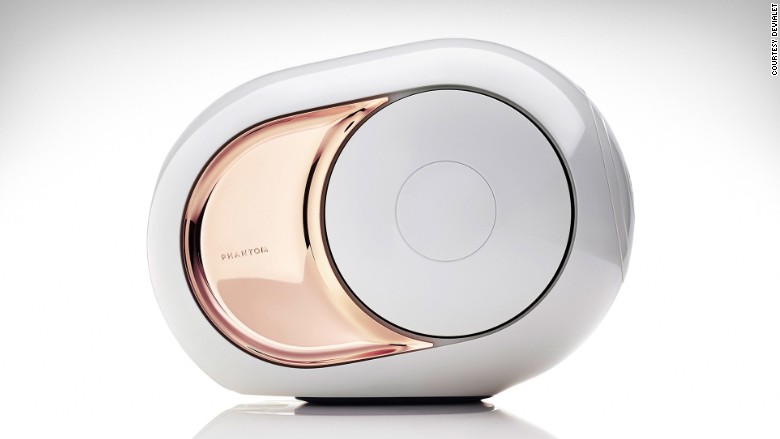 It may look like a hair dryer or even an alien egg, but the Phantom is actually a loudspeaker.
French manufacturer Devialet claims it is "the best wireless speaker in the world," capable of a level of performance normally found in high-end equipment that costs as much as a luxury car.
That's not to say the Phantom comes cheap: the top of the range Gold version sells for $2,990, although music lovers can opt for the entry level White ($1,990) or mid-range Silver ($2,390) models.
The big difference between them is power: the Gold maxes out at 4,500 watts and an astonishing 108 decibels, the equivalent of a live rock performance. Owners of the cheaper models have to settle for 99 and 105 decibels respectively.
Read: This camera promises to change the way we make movies
Does it have to be that loud? Maybe not, but Devialet is trying to make some noise to draw attention to its Analog Digital Hybrid (ADH) technology, which the company also includes in its $30,000 amplifiers.
Traditionally, sound systems rely on either digital or analog amplifiers. The former provide muscle, the latter subtlety. Hybrids, which combine both, have been around for a long time but Devialet says its products are unique and provide far superior sound quality because the amplifiers operate in parallel rather than in succession.
"[This] has been a dream for engineers for 40 years, and we were the first ones to do it," says co-founder Quentin Sanié. "You need to fix 1,000 problems, and you need 1,000 nights to do it," he adds. "When I heard it for the first time I cried, it was very emotional."
'The next Dolby'
Sanié founded Devialet with engineer Pierre-Emmanuel Calmel and designer Emmanuel Nardin in 2007.
The company's first commercial product was a $14,000 amplifier launched in 2010. The goal was to gain recognition, rather than generate a lot of sales.
The Phantom followed in 2015. It took three years to develop and contains technology protected by 88 patents. It's shaped like a sphere because, "acoustics engineering dictates that's actually the best shape for a loudspeaker," says Sanié.
Devialet operates out of a building designed by Gustave Eiffel in central Paris, with a team of about 40 engineers. All products are made in France, its second biggest market after the United States. The United Kingdom is No.3.
Its ultimate goal is "to be the next Dolby," and to get its technology into other products such as TVs and cars.
"About 3 billion amplified products are sold every year, but only 100 million are audio products: we want to expand beyond this tiny portion of the global audio market," says Sanié.
Unlike Dolby, Devialet will continue to make consumer products: "We want to keep doing that, because there's nothing more exciting for engineers than to make new inventions."