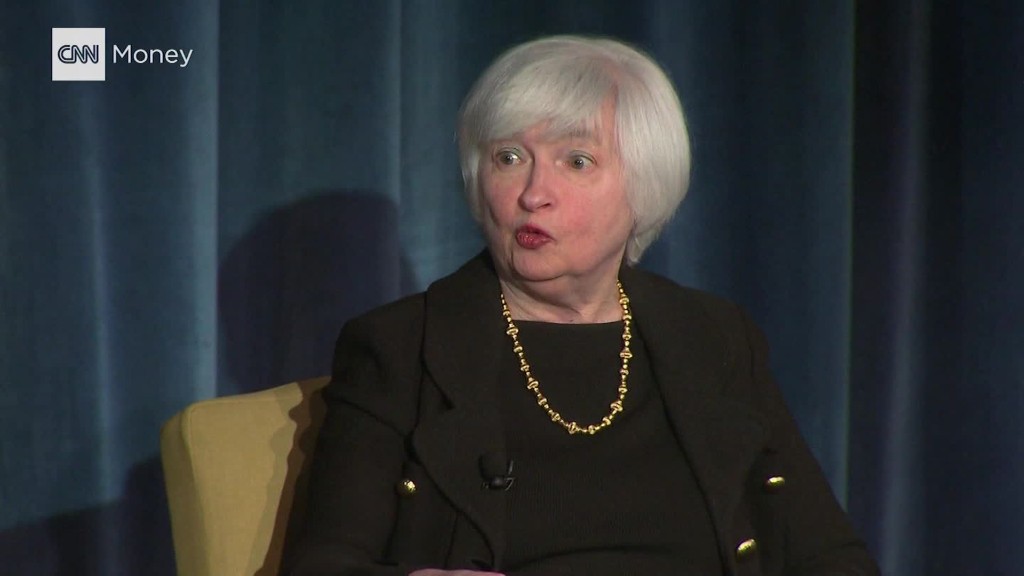 The Federal Reserve fined Goldman Sachs $36.3 million on Wednesday for leaking confidential information from the central bank.
Fed officials are also going after a former managing director at Goldman, Joseph Jiampietro, seeking to permanently bar him from the banking industry after his team allegedly leaked Fed documents to clients and prospective clients.
The Fed also prohibits Goldman (GS) from rehiring Jiampietro or anyone else involved in the leak as an employee, consultant or contractor.
The case illustrated the "revolving door" between the Fed and the Wall Street banks it regulates. It started when a former New York Fed employee, Rohit Bansal, went to work at Goldman Sachs in 2014. He was assigned to advise a bank he used to regulate at the New York Fed. Soon after joining Goldman, Bansal started to receive leaked information about the bank from a former Fed colleague, Jason Gross.
Related: Democrats to Federal Reserve: You're too white
Bansal worked under Jiampietro. Both men were fired. Gross too was fired from the New York Fed but he avoided prison time. Prosecutors had sought to sentence him to up to a year behind bars for theft of government property. In May, Gross pled guilty and received a $2,000 fine, one year of probation and 200 hours of community service. Bansal received one year of probation.
Jiampietro however will fight the allegations. His lawyer said in a statement: "As Mr. Jiampietro has said from the start, he never requested confidential supervisory information from anyone, and never used it for his or anyone's benefit. The Fed has the law wrong and the facts wrong."
The Fed also accused Goldman of not having proper policies and procedures in place since 2012 to comply with laws that prohibit the disclosure of confidential documents.
The documents include bank examinations prepared by regulators. The Fed says it's illegal to disclose these documents without prior approval from the Fed.
In a statement, Goldman said it informed regulators, including the Federal Reserve, immediately after it discovered Bansal had improperly obtained information from the New York Fed. It also said it reviewed and strengthened its policies after Bansal was fired.
"We have no tolerance for the improper handling of confidential supervisory information," a Goldman Sachs spokesperson said.
There's a lot of criticism of the revolving door of employees between the Fed and Wall Street banks. Currently, three regional Fed presidents were formerly employees of Goldman Sachs and one was a trustee for certain divisions of the bank. William Dudley, president of the New York Fed, Neel Kashkari, Minneapolis Fed president, and Robert Kaplan, president of the Dallas Fed, worked at Goldman. Patrick Harker, president of the Philadelphia Fed, was a trustee for some of the bank's subdivisions.