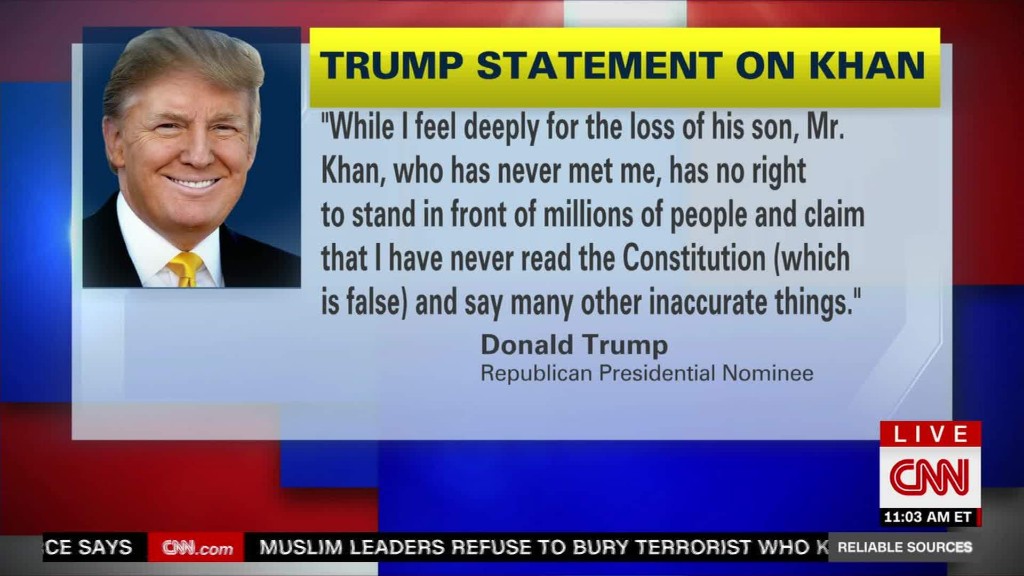 Khizr Khan is stepping away from the mic.
"Enough is enough," he said after a Tuesday night interview on CNN. "We are not going to participate in this tit for tat."
He has no more interviews scheduled. But his message about morality continues to resonate far and wide.
Khan, the father of a Muslim-American soldier killed in Iraq in 2004, denounced Donald Trump's candidacy at the Democratic National Convention last week, and he's been alternating offense and defense ever since.
Trump has repeatedly challenged Khan and his wife Ghazala, saying they "viciously attacked" him at the convention. Khan, sometimes joined by his wife, responded in nearly a dozen interviews.
Tuesday on CNN's "Anderson Cooper 360," Khan said Trump's "lack of decency is just amazingly shocking."
Related: Why Khizr Khan's speech became a PR nightmare for the Trump campaign
Afterward, as Khan took off his television makeup, he sounded satisfied that his voice has been heard. "I want to leave it here. Let the rest of them, the politicians, hash it out," he said.
"I want to maintain my dignity, my sanctity, my son's dignity and sanctity," he added.
Khan said he planned to visit Arlington National Cemetery to visit his son's gravesite before heading home to Charlottesville, Virginia. His wife is already back there.
The interview circuit has taken a toll on both of them. "It's burdensome," sharing his emotions so publicly, he said. "It's difficult."
He has started to receive hate email, some of it from people who have read false news stories about his background.
"One of the emails asked me to go somewhere else, 'Leave this country,' and all that. I have not been out of the U.S. for the past 25 years. This is my country too! I have nowhere else to go," he said.
After speaking at the convention on Thursday, Khan appeared on MSNBC on Friday, ABC on Saturday, CNN and NBC on Sunday, and so on.
His other stops included PBS and Al Jazeera.
Khan said -- and several television bookers confirmed -- that he has been juggling all of the interview requests by himself. In retrospect, he said, maybe he should have sought a public relations person for help. (Several P.R. firms specialize in the kind of interview gauntlet that Khan went on.)
"I was thinking, you know, it would be wonderful to be on one program, and then go home. But then there was another one, then another one, then another one," he said.
Some prominent conservatives, including Bill O'Reilly, have claimed that Hillary Clinton campaign aides were responsible for his sudden fame. "He was obviously hired by the Clinton campaign," O'Reilly said Tuesday, calling it "orchestrated."
Later in the evening, Khan denied that and accused O'Reilly of "mud-slinging."
"I have no formal association with the Clinton campaign," he said.
O'Reilly's network, Fox News, was noticeably absent from Khan's TV news blitz.
Khan said a producer for Megyn Kelly's 9 p.m. program did reach out, but he perceived one of the producer's follow-up messages to be "so abrupt and so impolite, I said, 'Look, I really am not interested.'"
Overall, Khan said, the five-day-long TV tour showed him that the media is "really the fourth pillar of democracy."
"I have seen it in action. I have seen its influence," he said. "I am now a firm believer that it is executive; legislature; judiciary; and media. The four pillars of democracy."
Khan said he will "continue to speak" between now and the election, but not with the same frequency.
"The role that I think I should play is to make sure that we register people to vote," he said. "I say this to both Republicans and Democrats: go and vote. I will keep speaking about that."