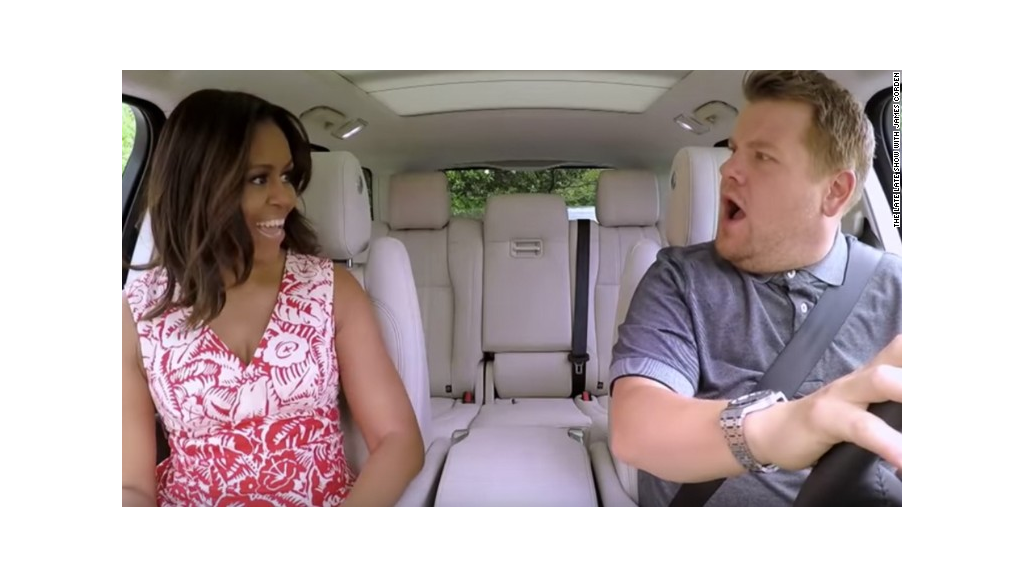 James Corden is a quite the salesman.
After First Lady Michelle Obama and hip hop legend Missy Elliott joined Corden for Carpool Karaoke on the Late Late Show, sales for the songs they sang surged, according to data from Nielsen.
One of the tracks the trio performed on the July 20 show was "This Song Is For My Girls," which was released in March by Obama, Elliott and slew of other stars to promote the First Lady's Let Girls Learn initiative.
Its digital sales jumped a staggering 1,562% compared to the previous week.
Related: Why MTV is going back to being MTV
That's good news for the Peace Corps' Let Girls Learn Fund, which collects all the proceeds from the sale of that song.
Corden and his guest stars also belted Elliot's 2001 hit "Get Ur Freak On," which saw weekly sales soar 312%, and Beyoncé's "Single Ladies," which jumped 42%. Nielsen also said that streams of Stevie Wonder's song "Signed, Sealed, Delivered" climbed 76.5% after the song was performed on Carpool Karaoke.
It's typical for Corden's Carpool Karaoke segement -- which regularly features A-list stars -- to boost a song's sales. But the star power of Obama and Elliot appearing the week before the Democratic National Convention amplified the effect, said David Bakula, Nielsen's senior music industry analyst.
"It's the social nature of it. It drives it beyond the audience," Bakula said, pointing to the viral way a clip of the segment spread across the internet. On YouTube, it garnered more than 37 million views.