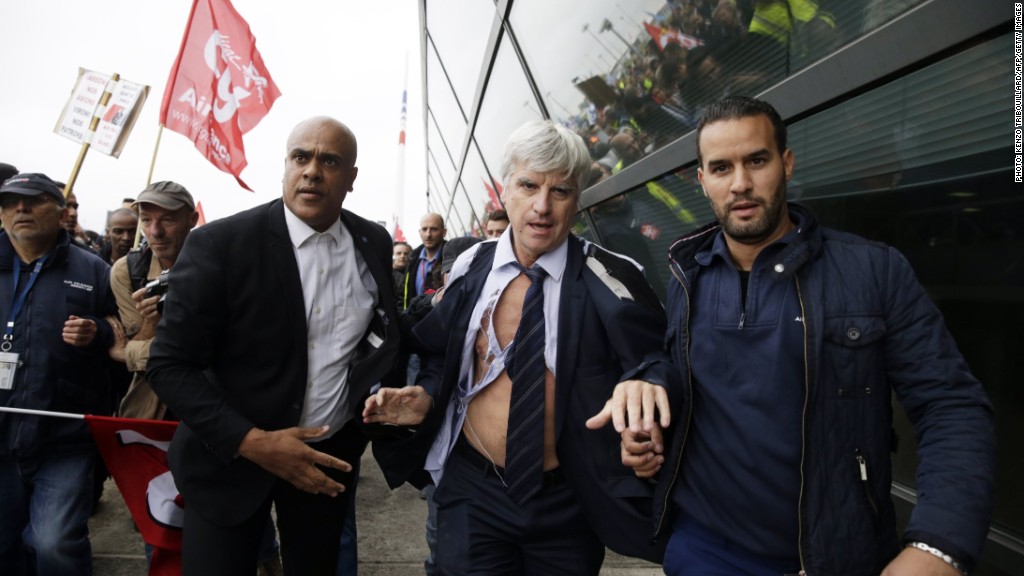 Disruptive protests. Crippling strikes. Chronic labor unrest.
Businesses in France are more likely to be disrupted by civil unrest than in any other developed economy, according to a new report from Verisk Maplecroft.
The risk consultancy cited frequent disruptions to France's transportation infrastructure, resistance to labor law reforms and frequent protests as reasons for the high risk rating.
"While France has an active civil society and trade unions, these actors tend to encourage demonstrations, as protest and industrial action are key facets of the country's political culture," the report says.
France is ranked 17th on "The Civil Unrest Index," meaning it is considered riskier than Haiti, The Democratic Republic of the Congo and Somalia. Most of the ranking's top 10 slots are occupied by countries that are politically unstable, or mired in conflict.
The index takes inflation, marginalized groups, the frequency of unrest, and the damage to businesses into account. Mitigating factors, such as a history of stable labor relations, are also considered.
Related: Floods, strikes, security worries slam tourism in France
Already this year, the French government was forced to scramble in order to keep gas stations from running dry and cities powered after workers at oil refineries and nuclear plants walked off the job.
Transport workers also protested against labor law reforms in the run up to the Euro 2016 football tournament, launching a strike against railroads and airlines.
Verisk Maplecroft said that France has experienced "significant protests" on a weekly basis in 2016. Similar events occur in Germany and the U.K. only twice a year, it said.
Related: Millions of tourists too scared to visit these countries
The most colorful episode of French labor unrest in recent memory took place in 2015, when a group of Air France workers reacted to job cuts by ripping the shirts off a pair of airline executives. Some managers were forced to escape the protest by scaling a fence.