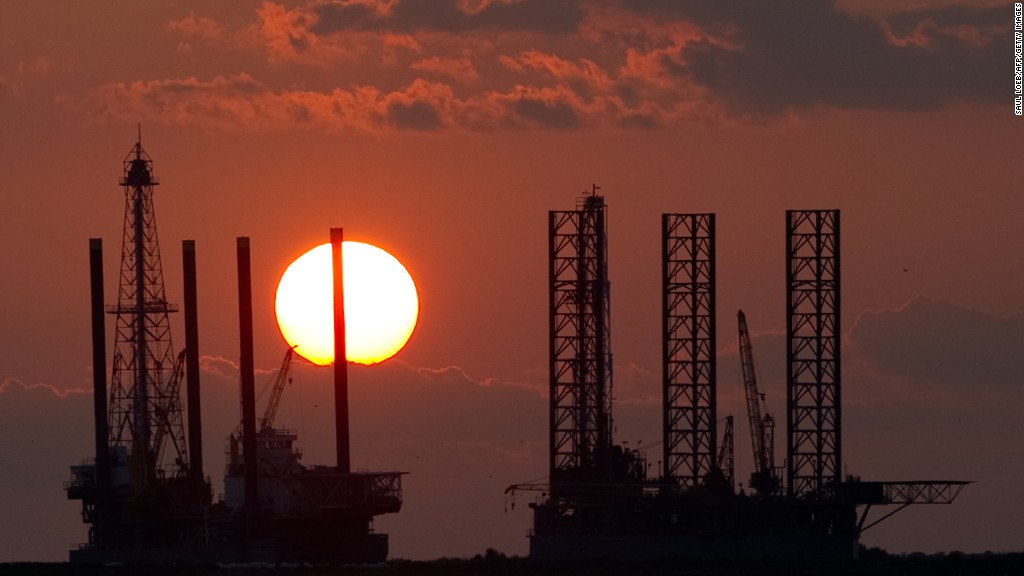 Cheap oil has fueled a massive wave of job cuts that may not be over yet.
Since oil prices began to fall in mid-2014, cheap crude has been blamed for 195,000 job cuts in the U.S., according to a report published on Thursday by outplacement firm Challenger, Gray & Christmas.
It's an enormous toll that is especially painful because these tend to be well-paying jobs. The average pay in the oil and gas industry is 84% higher than the national average, according to Goldman Sachs. The cuts have occurred at a time when many other corners of the American economy have been adding jobs.
About 95,000 positions were eliminated by energy companies in 2016 alone, according to Challenger. Most of those job cuts occurred earlier this year, as oil prices crashed to a 13-year low of $26 a barrel.
Related: Here we go again: Oil plunges back to $40
But Challenger noted that there was a "resurgence" of energy-sector job cuts in July, when layoffs spiked by 796% to 17,725.
Oil prices have rebounded from extreme low levels, but they're losing ground again in recent weeks, briefly slipping back below $40 a barrel this week. Expect more energy job losses to be reflected in Friday's government jobs report for July.
Few oil companies have been spared the pink slips. Everyone from diversified oil companies like Chevron (CVX), to oil services firms like Schlumberger (SLB) and Baker Hughes (BHI) have announced mass layoffs. Halliburton (HAL) alone has slashed more than 30,000 jobs, including 5,000 during the second quarter of this year.
"The industry has been hit harder than we've seen in the 15 years we've been in the business, much harder than '08 downturn," Jeff Bush, president of oil and gas job recruiter CSI Recruiting, recently told CNNMoney.
And then there are the thousands of layoffs by non-energy companies that provide equipment used to drill for oil like Caterpillar (CAT) and Joy Global. (JOY)
Related: 100,000 oil jobs could be coming back
The good news for laid-off oil workers is that some think the pendulum may have swung too hard, creating a talent shortage when drilling activity eventually rebounds. Goldman Sachs predicted the oil and gas needs to hire between 80,000 and 100,000 people by the end of 2018 just to keep up.
The oil industry may need to pay up to lure workers back to the oil patch.
"Not only have laid off workers relocated to other areas for new jobs but, just as in many other industries, a large portion of the workforce is reaching retirement age," said John Challenger, CEO of Challenger, Gray & Christmas.