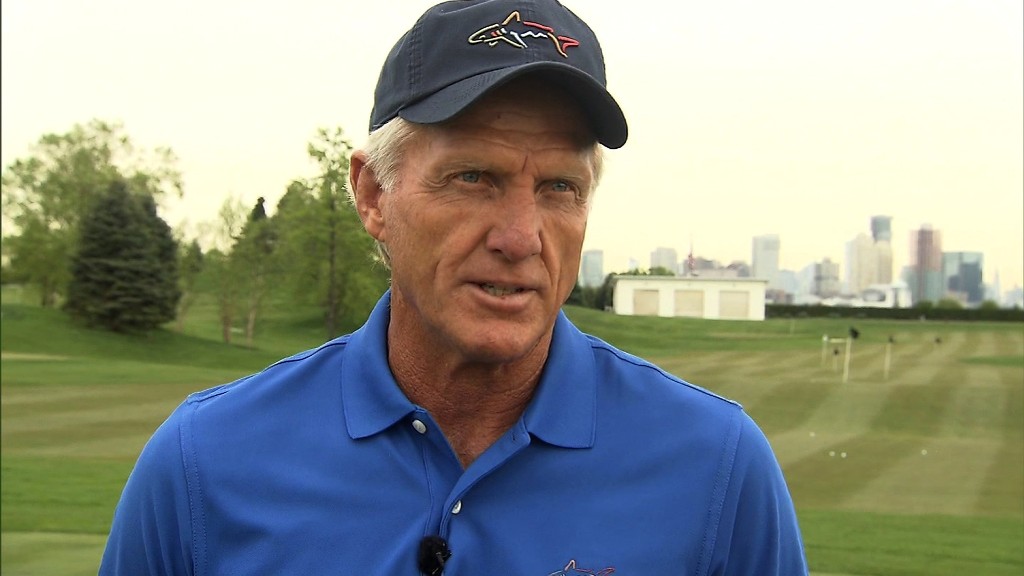 Imagine if Cam Newton, Peyton Manning, Von Miller and Luke Kuechly had decided to not play in this year's Super Bowl due to health concerns. That's the dilemma facing the sport of golf as the Rio Olympics is set to kick off.
Golf is an Olympic sport this year for the first time since 1904. But most of the top male golfers are skipping the event.
Rory McIlroy, Jordan Spieth, Dustin Johnson and Jason Day are staying home because of fears about the Zika virus. Phil Mickelson didn't make the U.S. team. Tiger Woods, arguably still the biggest star in the game, is hurt.
But Chip Brewer, CEO of golf equipment king Callaway (ELY), isn't concerned. He still thinks that the Olympics will wind up boosting exposure for the sport -- and potentially sales of its clubs, balls and cleats.
Brewer said he recently had dinner with Gil Hanse, the designer of the Olympic course in Rio -- and that he's now more excited than ever about golf at the Olympics.
"I can't wait. I've heard a lot about the course down there," Brewer said. "It sounds spectacular and very playable. Scores should be low."
Related: Olympic gold medalist leans on Google
Brewer admitted that it's unfortunate many of the world's top male golfers won't be in Rio. But that's not the case on the women's side.
Nearly all of the top-ranked female players will be in Rio, including Callaway endorser Lydia Ko. The 19-year old from New Zealand is the world's number one golfer and winner of this year's ANA Inspiration, one of the LPGA's four major championships.
"Once the ball goes in the air, there will be a lot of excitement in Rio," Brewer said. "This is a tremendous event and our fingers are crossed that golf stays in the Olympics going forward."
But even if golf doesn't become a new Summer Games mainstay, Callaway is doing just fine. The company recently reported earnings that topped forecasts.
Callaway's stock is up more than 20% this year, and it surged nearly 8% Thursday following the shocking news that rival Nike (NKE) is pulling back on its golf business.
Related: Nike to throw its golf club business in the pond
The House of Swoosh announced late Wednesday that it was getting out of the golf equipment game. It will no longer sell clubs and balls, but will continue to make golf shoes and other apparel.
That means that Tiger Woods and Rory McIlroy -- among others -- will need to find some new clubs. McIlroy expressed his disappointment about the news in a tweet Thursday morning.
Brewer said he was a bit surprised that Nike was exiting the equipment business. But the news comes just a few months after Nike rival Adidas (ADDDF) announced it too was abandoning golf equipment.
Adidas plans to sell its TaylorMade, Adams and Ashworth equipment brands in order to focus more on Adidas-branded golf apparel. Brewer was previously CEO of Adams. He left for Callaway in 2012 -- just before Adidas bought it.
Would Callaway be interested in buying part of the Adidas equipment business he used to run? Brewer was coy. He said he was busy focusing on his own company but conceded that he was "aware of everything going on" with his competitors.
"You need to be a specialist," Brewer said. "Golf equipment is hard, but we love it."
Related: Adidas is way hotter than Nike -- despite its own golf problems
For now, Callaway is doing a good job of keeping its investors and customers happy -- despite tough competition from TaylorMade, privately held Ping and Fila Korea's Titleist brand.
Callaway's stock is still trading well below the peak prices it hit in the late 1990s as recessions in 2000 and 2008 took their toll on the company. Golf is a pricey game to play and not immune to economic downturns.
But could the game undergo another renaissance if golf course owner Donald Trump becomes the next president of the United States? Brewer, at first, had no comment about that. But I pressed him for his thoughts on the presidential race.
He seemed to express a feeling that many Americans share.
"Oh my! How did we end up here?" Brewer said.