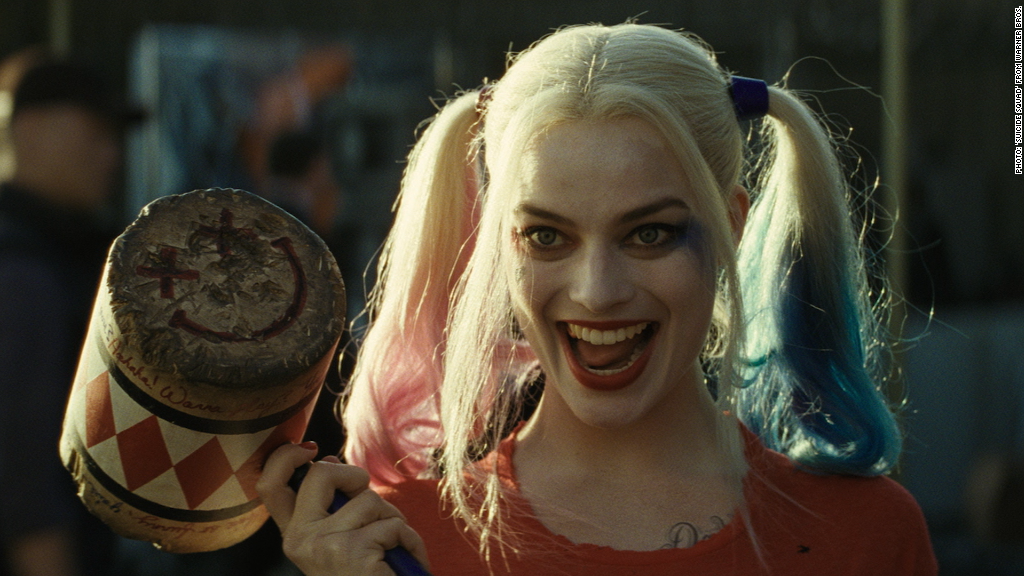 The bad guys of "Suicide Squad" are looking to save the world this weekend, and not just in a narrative sense, but also in many ways literally for Warner Bros.
The film is the next in the studio's DC Extended Universe, its connected line of films based off of DC Comics. Following the underwhelming response to March's "Batman v Superman: Dawn of Justice," the studio needs a hit, and it's looking to Will Smith's Deadshot, Margot Robbie's Harley Quinn and a cast of bad guys to save the day.
The film is off to a good start, having brought in $65.1 million for its opening day on Friday. It is also projected to have an opening weekend take of $140 million to $150 million, which would be a record for August, according to box office analysts.
The current record for an August opening weekend belongs to another group of comic book outlaws, Disney (DIS) and Marvel's "Guardians of the Galaxy," which opened at $94.3 million in 2014.
With "Suicide Squad" building immense buzz all summer and pre-ticket sales through the roof (online ticket seller Fandango announced earlier this week that the film is the top August pre-seller in the company's history), it would take an epic disaster for the film to not grab the August opening record.
Speaking of epic disasters, let's talk about the reviews for "Suicide Squad."
The film currently has a 27% rotten score on review site Rotten Tomatoes. That's the same exact score as "Batman v Superman." But as Boxoffice.com senior analyst Shawn Robbins points out, reviews may not matter to the film's box office.
Well, at least not at first.
"Opening day box office should be mostly bulletproof in this case," Robbins said. "But word of mouth spreads instantly across social media."
For Warner Bros., which like CNN is owned by Time Warner (TWX), "Suicide Squad" needs to come in big at the box office and stay big over the next few weeks to help the studio build a successful and popular cinematic universe that can rival that of Disney's Marvel Studios.
So far it's had a bumpy start with "Batman v Superman" and 2013's "Man of Steel," but it can still turn the tide.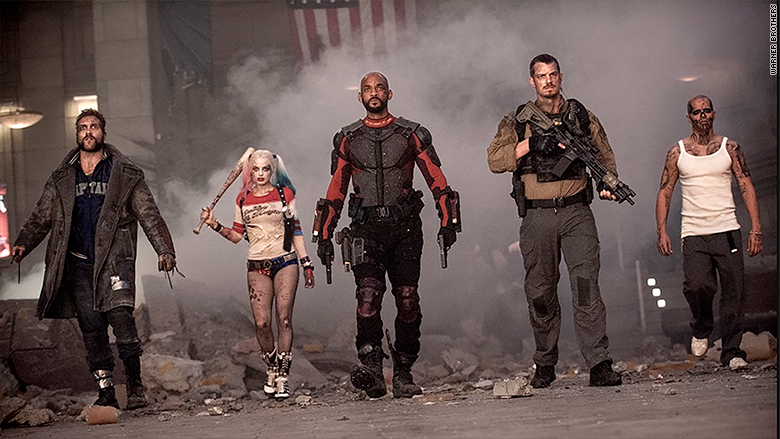 Related: 'Suicide Squad' fumbles DC's latest comics-to-screen mission
"Every film that comes out of the DC Comics division is a building block in the development of the long term reputation and image of the brand, thus solid box office returns and a positive fan reception is essential for the long term viability of films within the DC universe," Paul Dergarabedian, senior media analyst at comScore (SCOR), said in an email.
But the problem with an interconnected cinematic universe is that one poorly received film, or a bunch of poorly received films, can poison anticipation for the next, no matter the popularity of the brand.
"Each film counts and there are no throw-aways in this genre," Dergarabedian said.
Despite its bad reviews, "Suicide Squad" has a lot working in its favor.
The film stars Will Smith, who has had a long track record of summer movie success, includes the big screen introduction of beloved comic book icon Harley Quinn, and premieres in August, a wide open month which over the last two summers has seen surprising success.
Of the top five biggest August openings, three ("Guardians of the Galaxy," "Teenage Mutant Ninja Turtles," and "Straight Outta Compton") have come in the last two years.
"August is the most punk rock month in the calendar," Degarabedian said. "Once maligned and marginalized and now recognized for its flashes of genius August has produced some of the coolest movies of any given summer."
With big buzz but awful reviews, "Suicide Squad" appears to be, like the bad guys in the film itself, a wild card. It's bound to complete its mission this weekend bringing in record numbers, but after that it's anyone's guess what it'll do.
But, hey, if the film's box office totals fall in the coming weeks, there's always "Wonder Woman" next year.