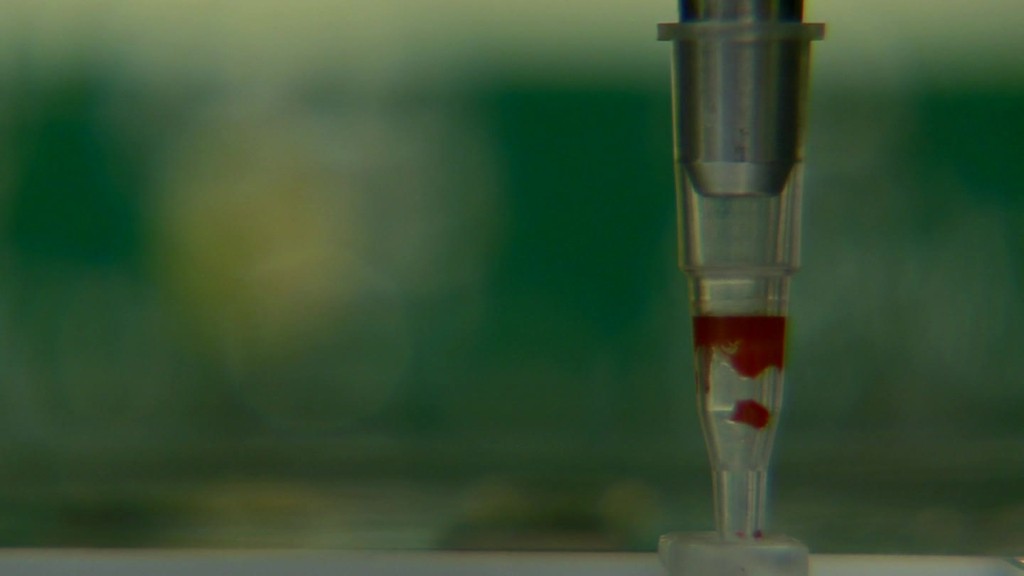 It could come down to Elizabeth Holmes versus the Food and Drug Administration.
Holmes is the 32-year-old founder of Theranos, a startup that wanted to disrupt blood testing by gathering just a pinprick of blood and running up to 70 lab tests in record time.
But that claim, and Theranos' technology, had a lot of cracks that started to show after a Wall Street Journal investigation last October.
Holmes was banned by the Centers for Medicare and Medicaid Services from owning or operating a lab. The ban will go into effect September 5 if she doesn't file and win an appeal.
But she might have found a way around that.
Onstage this week at the American Association for Clinical Chemistry, Holmes presented the miniLab, a device that can run diagnostic tests -- including for Zika -- on small amounts of blood. She presented internal data for 11 tests. According to Theranos, the miniLab can hold multiple cartridges that can each run up to 40 tests. The amount of blood needed for each varies.
It's a device that experts say isn't so revolutionary that it would warrant the $9 billion valuation that Theranos once claimed. Competitors like Quest (DGX) and Siemens (SIEGY) sell devices with similar benefits that are already on the market.
"It ultimately raised more questions than it brought answers," said Joel Dudley, director of biomedical informatics at Mount Sinai Hospital, who co-led a study on Theranos that was published in March. "You have to take it at face value. It's an unproven product."
Theranos said it questioned the methodology of the study.
According to lawyers and medical device experts, the miniLab gives Theranos a new line of business unaffected by the CMS sanctions, which don't prohibit research and development.
Holmes wouldn't own or operate the device, which she is barred from doing, but rather Theranos would sell it to hospitals and clinics.
The device hasn't yet been studied by a third party, nor has it been approved by the FDA, which could take years.
Theranos, which was founded in 2003, has only received FDA approval to run a $9 herpes test with its proprietary technology.
Some aren't so sure that the company can pull through -- especially with Holmes at the helm
"The idea of [Theranos] interacting with the FDA is a pretty daunting notion," one biotech investor, who spoke on the condition of anonymity, told CNNMoney. "She cannot have a positive interaction with the FDA. [If I were one of her investors], the only way I would stay invested is if the CEO steps aside."
Related: From $4.5 billion to $0: Forbes revalues Elizabeth Holmes
The company has received heightened attention for good reason: Theranos voided two years worth of blood test results, has had at least eight lawsuits filed by upset customers, and lost a major partnership with Walgreens (WBA).
Analysts say the company isn't even worth $1 billion, much less $9 billion.
But early Theranos investor Tim Draper thinks otherwise.
"If the government officials act fairly and allow this new technology to develop and improve, the company is worth way more than $9 billion," he wrote in an email to CNNMoney. "The world is watching. Women are watching. Young innovators are watching. I hope our government does the right thing."
While Draper didn't directly answer the question as to whether he'd put more money into the company, Theranos could very well need more funding as it waits on regulatory approval for the miniLab. In 2015, the company brought in $68 million in revenue, according to an estimate from PrivCo. PrivCo projects that the Theranos' 2016 revenues will be much lower.
"Theranos is a private company and does not publicly discuss its financial matters. Any reporting on the subject is pure speculation," Theranos said in a statement.
Related: Theranos lawsuits start to add up
One biotech executive, who spoke on the condition of anonymity, estimated that the company could be burning roughly $15 to $20 million per month, mostly on headcount. (Theranos said it employs between 700 and 900 people.)
"She still needs to publish all her data," AACC president Dr. Patricia Jones told CNNMoney.
Holmes and Theranos have yet to publish any peer reviewed studies, citing trade secrets, something they have been widely criticized for. Holmes has recently vowed to submit to peer reviewed journals and have third parties researchers conduct studies, a marked change that some say should have happened all along.
"The idea that it's propriety and you can't publish is ludicrous. Every life science company has proprietary technology and still must publish. Publishing is the lifeblood of our industry," said Dr. Carrie Mantha, managing director at life science strategy firm Aporia Capital. Mantha noted that the patent system protects companies and allows them to publish.
"She still needs to prove to the regulatory bodies that what she has is applicable to patient testing," added Jones.
Correction: An earlier version of this story misstated the number of tests the miniLab can potentially perform.