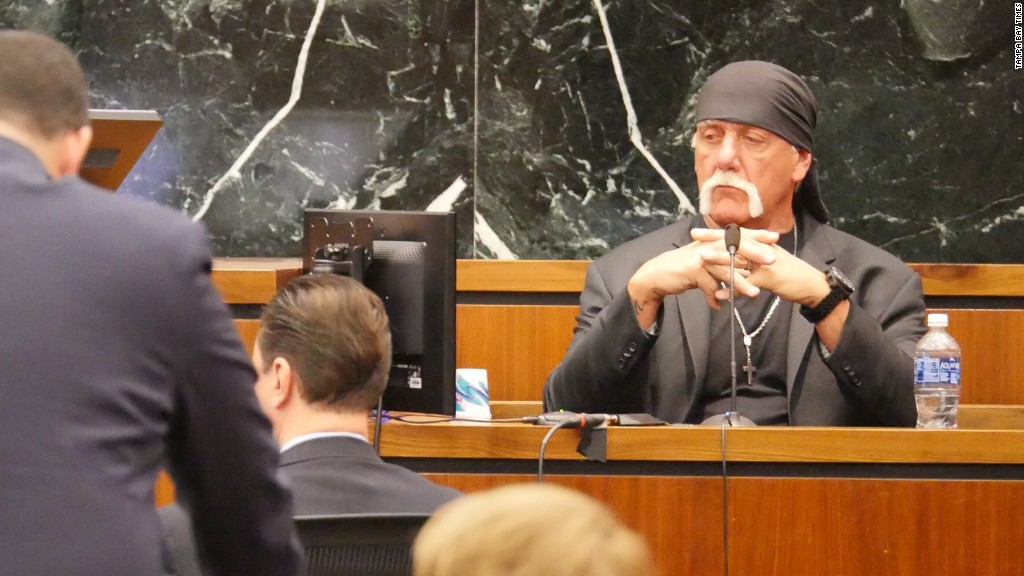 A week before it is scheduled to be sold, Gawker Media Group might be working toward a resolution with a longtime nemesis.
According to the Wall Street Journal, the company is "engaged in preliminary talks" with Hulk Hogan regarding a settlement over the $140.1 million invasion of privacy judgment that was awarded to the former professional wrestler earlier this year.
That judgment is what drove the company toward Chapter 11 bankruptcy and an auction that is scheduled for next week.
The impending sale marks the end of an era for Nick Denton, who founded Gawker Media 14 years ago. Since then, the company's properties -- Deadspin, Jezebel and Gawker.com, among others -- have been the home of some of the most respected (and controversial) writers on the internet.
Related: Nick Denton files for bankruptcy
Gawker's era of independence had already come to an end in January, when Denton sold a minority stake in the company to Columbus Nova Technology Partners as an extra layer of protection against the Hogan lawsuit.
But next week's auction still carries a sense of finality that has not been lost on Denton or his staff.
Gawker Media writers have declared the next five days to be "senior week," and will celebrate the company's run with special stories and reminiscences.
On Wednesday, Denton will host "a celebration of 14 years of independent journalism" at Gawker's headquarters in Manhattan.
"Our own narrative has been a Gawker story in itself: dramatic, and public," Denton said in the party's invitation.
Related: The anti-Gawker crusader speaking for Trump
Neither Denton nor a representative for Hogan responded to multiple requests for comment.
If the reports of a potential settlement are true, the timing might suggest that Gawker is trying to clean up its books ahead of next week's sale. As part of its Chapter 11 bankruptcy filing earlier this summer, Gawker will be sold in a court-administered auction next week.
Digital publisher Ziff Davis submitted the opening bid for Gawker and its assets, setting the floor for the auction at $90 million.
In a statement Sunday night, Gawker seemed to downplay the significance of the latest reports, noting that the two sides have previously tried -- at times at the behest of a judge -- to reach a settlement, but to no avail.
"We've been hearing these rumblings many times over the years when the judge ordered settlement discussions, and you know where we are now despite that," the company said.
Hogan, whose real name is Terry Bollea, sued Gawker in 2012 after the company's flagship site published a portion of a video showing the wrestler having sex.
The two sides went to trial in March; it ended with a jury in St. Petersburg, Florida, awarding Hogan $140.1 million for economic and emotional damages.
The jury found Denton personally liable for $10 million, and the judgment forced the company to file for Chapter 11 bankruptcy in June. Denton himself filed for bankruptcy protection last week after he was denied in his efforts to stay the staggering judgment.
Related: Peter Thiel disrupts Silicon Valley with RNC speech
Looming over the saga is Silicon Valley billionaire Peter Thiel, who revealed in May that he has funded Hogan's lawsuit against Gawker, along with other suits.
Thiel, who has been the subject of unflattering coverage by Gawker's family of sites for years, described his legal crusade as a matter of "specific deterrence."
"I saw Gawker pioneer a unique and incredibly damaging way of getting attention by bullying people even when there was no connection with the public interest," Thiel told the New York Times.
Thiel's involvement in the litigation suggests that perhaps he, and not Hogan, is the most relevant player in any settlement negotiation.
In an interview on CNBC last week, Denton declined to say whether he has had any recent discussions with Thiel.
"If I had, I couldn't say," Denton said.