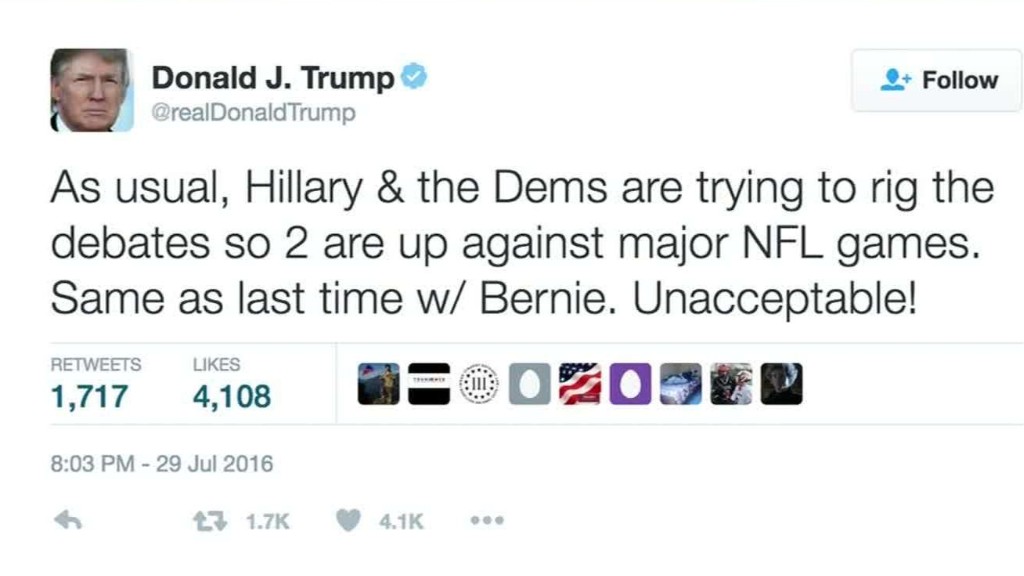 Hillary Clinton is issuing a challenge to Donald Trump: I'm ready to debate. Are you?
On Monday night, seemingly out of the blue, Clinton campaign chairman John Podesta released a statement saying that Clinton "looks forward to participating in all three presidential debates" that are scheduled in September and October.
"The only issue now is whether Donald Trump is going to show up," Podesta added.
The statement wasn't a response to any new remark by Trump or any official invitation by the Commission on Presidential Debates.
In fact, the invites haven't gone out yet.
The Clinton campaign may be trying to put Trump on defense -- or pre-empt any more complaints from him about the debate schedule.
"Our campaign is not interested in playing along with a debate about debates or bargaining around them," Podesta said.
In late July, Trump publicly bemoaned the debate schedule, pointing out that two of the three scheduled presidential debates are on the same nights as NFL games. His aides said they'd like new dates, and RNC officials backed Trump up.
The bipartisan commission responded by saying that scheduling conflicts are common and almost impossible to avoid.
"A debate has never been rescheduled as a result," the commission said.
Related: How the debate commission selects the dates
The commission is led by both Republicans and Democrats. It has organized general election debates for three decades.
At no point has Trump suggested that he will boycott the events. "I think three debates is the right number," he told The Washington Post on August 3.
He hasn't said anything about the debate schedule since then.
But Monday night's Podesta statement is reigniting the issue.
"It is concerning that the Trump campaign is already engaged in shenanigans around these debates," Podesta said. "It is not clear if he is trying to avoid debates, or merely toying with the press to create more drama."
He concluded, "We will accept the commission's invitation and expect Donald Trump to do the same."
Clinton press secretary Brian Fallon followed up by tweeting, "We'll see Trump at Hofstra in September."
The first debate is scheduled to take place on September 26 at Hofstra University on Long Island.
- Dan Merica contributed reporting