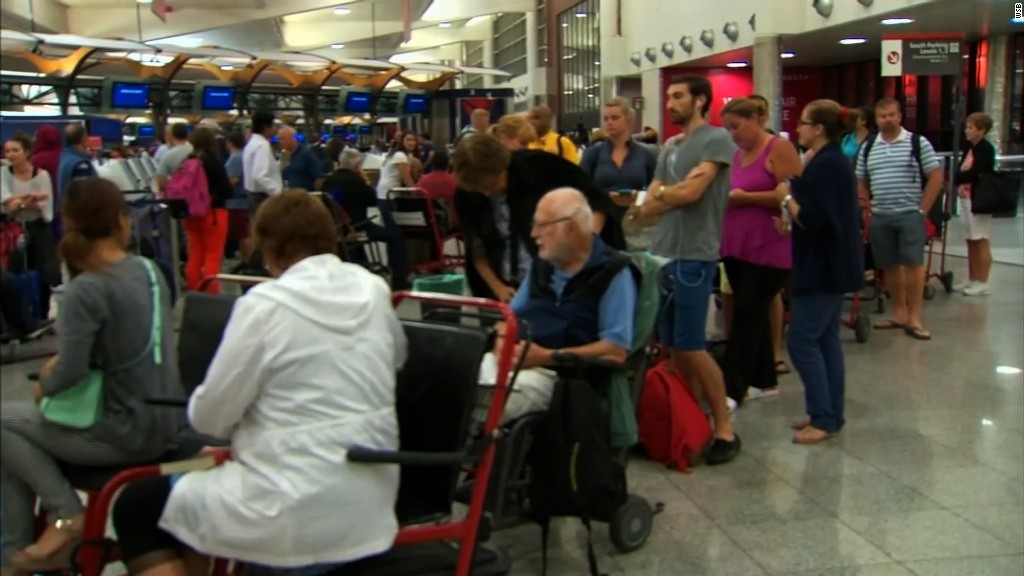 The travel woes aren't over yet for Delta passengers.
A day after a system outage forced the airline to cancel 1,000 flights, Delta said it canceled another 530 flights on Tuesday. An additional 1,800 other flights have been delayed, according to flight tracker FlightStats.
In a video posted Tuesday afternoon, Delta CEO Ed Bastian said Delta has spent "hundreds of millions of dollars" over the past three years upgrading its systems and adding backups "to prevent what happened yesterday from occurring."
Still, he said, "core systems and key systems did not kick over to the backup power source."
That caused the entire system to crash -- and the company still hasn't determined why that happened.
Related: What stranded Delta fliers are getting
In a separate statement Tuesday, Delta COO Gil West gave a few more details about why the airline is still bogged down with delays and cancellations.
"Delta agents today are using the original interface we designed for this system while we continue with our resetting efforts," West said. As a result, it's slower to check in customers, assign seats and board fliers, a Delta spokesperson explained.
"It's like they're using DOS instead of Microsoft," the spokesperson said.
Making matters worse, Delta has an unusually high volume of customers accessing its systems as fliers reschedule canceled or delayed flights.
Then there's a staffing issue. "When Delta doesn't fly aircraft, not only do customers not get to their destination, but flight crews don't get to where they are scheduled to be," West said.
The outage Monday grounded Delta (DAL) flights for at least six hours, stranding hundreds of thousands of passengers around the globe.
The airline is scrambling to redeploy crews and aircraft as the impact of the outage rippled through the system. Experts said it will be Wednesday, at best, before the schedule can be back to normal.
Related: The real reason airline computers crash
The airline is offering refunds to passengers on canceled or "significantly delayed" flights. It also said passengers whose flights are canceled or delayed more than three hours will get $200 travel vouchers for future flights. Delta will also waive change fees for any passenger originally booked for Monday or Tuesday.
Aviation experts said the outage and subsequent problems will likely cost Delta tens of millions of dollars.
-- Sheena Jones contributed to this report.