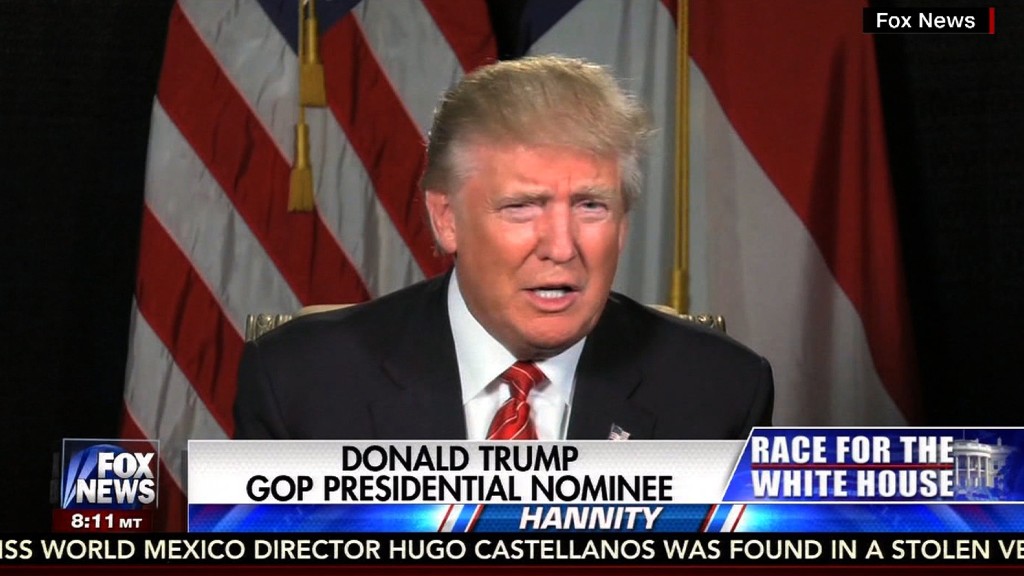 Even without Roger Ailes, Fox News is still Fox News.
In reporting Donald Trump's comments on Tuesday about the Second Amendment and Hillary Clinton, many news outlets focused on their incendiary nature. But on Fox News, hosts and commentators directed their attention to the reaction of the rest of the media.
"I think every time a Republican mentions the Second Amendment, it's like cat nip to a liberal," said Eric Bolling.
Bolling, who was filling in for top-rated host Bill O'Reilly on Tuesday, said the left frequently accuses the GOP of "calling for violence" whenever gun rights are invoked.
Related: Trump says yes to Fox, no to virtually all other TV interviews
In many ways, the coverage was typical for Fox, which has become Trump's preferred media destination.
But it also provides further confirmation that Fox News will not deviate from its sharply conservative coverage, even after the ouster of Ailes, the network's founder and id.
Lachlan Murdoch, the executive chairman of Fox News' parent company 21st Century Fox, said last week that the network has a "unique and important voice" that will be retained under new leadership.
Related: Fox News voice not changing despite Ailes' departure, but questions linger
At a rally in North Carolina on Tuesday, Trump warned supporters that Clinton wants to "essentially abolish the Second Amendment."
"By the way, if she gets to pick, if she gets to pick her judges, nothing you can do, folks," Trump said, as the crowd began to boo. "Although the Second Amendment people, maybe there is, I don't know."
The comments were interpreted by many -- including the Clinton campaign -- as a threat of violence against the Democratic presidential nominee.
But a Trump spokesman said the candidate was simply making a point about the influence of Second Amendment supporters. And Trump went on Fox to explain his comments himself in an interview with host Sean Hannity.
Related: Fox News staff feared Ailes was monitoring them
"So, obviously, you are saying that there's a strong political movement within the Second Amendment and if people mobilize and vote, they can stop Hillary from having this impact on the court, but that's not how the media's spinning it," Hannity said.
Trump said: "Nobody in that room thought anything other than what you just said."
On Wednesday morning, the hosts of "Fox & Friends" repeated that talking point.
"When you look at the words that he said, it's fairly clear he was talking about people who believe in the Second Amendment going out to vote," said Leland Vittert, a Fox News correspondent who was filling in for host Brian Kilmeade.
"Great point," said co-host Steve Doocy.
Related: New York Daily News calls for Trump to end his campaign
Elsewhere in the media, Trump's remarks were met with shock and revulsion.
The New York Daily News, which has been fiercely critical of Trump, called on the candidate to drop out of the race.
MSNBC's Joe Scarborough, a former GOP congressman who has had a hot-and-cold relationship with the Republican nominee, said that Trump has crossed a "bloody line."
Former CBS News anchor Dan Rather said that Trump's comments represent a "new low."
There were some dissenting voices on Fox News, too.
"What the hell?" said Fox commentator Geraldo Rivera, after the clip was shown on Tuesday night.
"It sounds to me like he was making an ominous threat, a gun-oriented threat," Rivera continued. "I think it's preposterous."