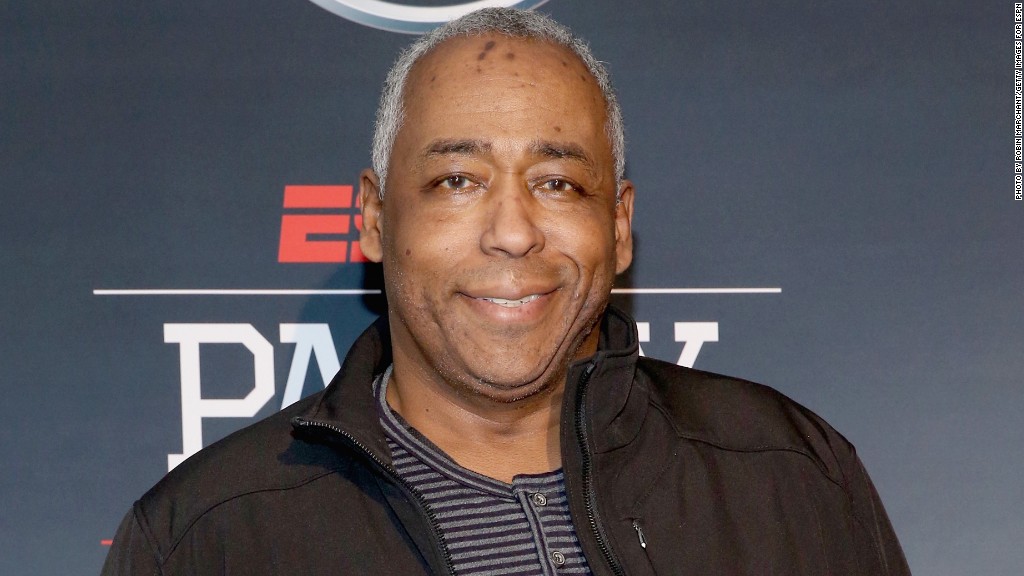 John Saunders, the sports anchor whose baritone voice was a fixture on ESPN programming for 30 years, has died, the network announced Wednesday. He was 61.
The cause of death was not immediately known.
ESPN president John Skipper saluted Saunders for his "extraordinary talent" and "friendly, informative style."
"He was one of the most significant and influential members of the ESPN family, as a colleague and mentor, and he will be sorely missed," Skipper said. "Our thoughts are with his loved ones at this extremely difficult time."
Reporting live from Rio de Janeiro, where she is covering the Olympics, ESPN anchor Hannah Storm announced Saunders' death on-air Wednesday.
Fighting back tears, Storm shared the "shocking and sad news" with viewers.
"Our generous and talented and beloved colleague John Saunders has died," Storm said. "John is one of the most familiar on-air faces at ESPN."
"Our sympathy, love and support goes out to all of those who loved and respected our colleague, John Saunders," she added.
More tributes from Saunders' colleagues came pouring in on social media.
"I cannot exaggerate how good a guy John Saunders was, nor how talented," tweeted longtime Boston Globe sportswriter Bob Ryan, a regular on ESPN. "This is a huge personal loss for us and a blow to ESPN's viewers."
ESPN NBA analyst Tim Legler called Saunders "one of the best men I've known."
"This is gutting news," tweeted "SportsCenter" anchor Scott Van Pelt.
Born and raised in Canada, Saunders joined ESPN in 1986 as an anchor of the network's flagship program, "SportsCenter."
Saunders filled a variety of roles over his three decades at the network, contributing to ESPN's coverage of both college football and basketball, the National Hockey League and Major League Baseball.
Since 2001, Saunders served as the host of "The Sports Reporters," ESPN's Sunday morning roundtable with some of the nation's best-known sportswriters.
He is survived by his wife and two daughters.