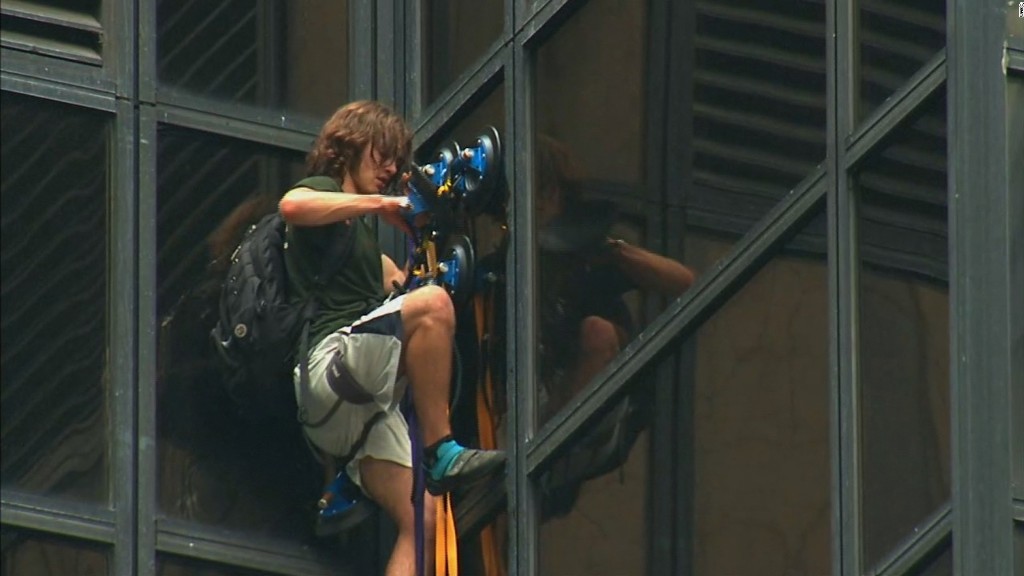 Multiple cable networks like CNN, MSNBC, and Fox News all aired the climb live while some outlets like Time, BuzzFeed News, and New York's ABC 7 streamed the climb via Facebook Live.
CNN also broadcasted the ascent via Facebook Live which was watched by more than 4.5 million viewers with 225,000 tuning in at one time, a record for the network. The live stream was also shared more than 45,000.
The climber, whose reason for climbing the building and identity was not immediately known, started his ascent around 4:00 p.m. ET and became a big conversation on social media.
Some on Twitter used the climber's attempt to poke fun at the man who owns the building, Republican presidential candidate Donald Trump.
"Usually the person desperate for attention is on the inside of the building," tweeted Dave Itzkoff, a New York Times culture writer.
Others like Ryan Parker, a staff writer for The Hollywood Reporter, riffed on Trump's famed slogan by tweeting, "MAKE AMERICA CLIMB AGAIN."
Related: Man scales Trump Tower with suction cups
Others connected the climber to another New Yorker who has been known to climb buildings.
"Just when you thought this election cycle couldn't get any weirder," one user tweeted. "Here comes Spider-Man."
Police tried to stop the climber by raising a ladder and breaking windows. They also inflated a giant cushion in case the climber should fall. Police eventually pulled in the climber around 6:30 p.m. ET.
Trump, who was not in the Fifth Avenue building at the time, did not tweet about the climber as of 6:30 p.m. ET.