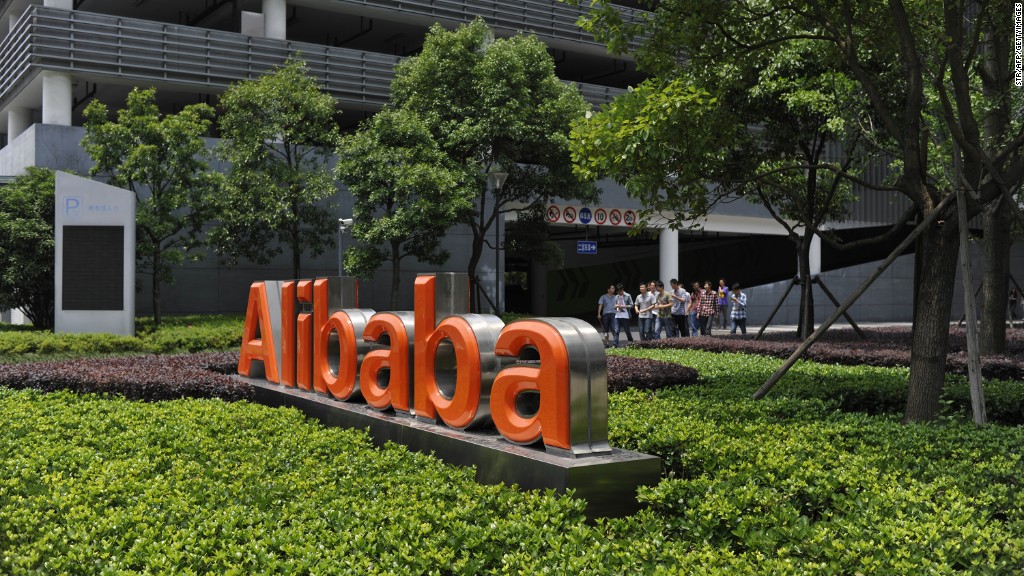 Many investors remain worried about the health of China's economy. But it looks like the Chinese are still shopping until they drop. The country's e-commerce giant Alibaba reported a huge jump in sales that topped Wall Street's forecasts.
Alibaba said on Thursday that revenue for its fiscal second quarter surged nearly 60% from a year ago to $4.84 billion, easily surpassing analysts' estimates for sales of $4.54 billion.
Mobile revenue more than doubled. Alibaba now has 427 million mobile monthly active users, an increase of almost 40% from last year.
Alibaba chief financial officer Maggie Wu said the company's sales growth was the highest since the company went public in September 2014. And she added that this was the first time Alibaba made more money from mobile users than desktop users.
Related: Alibaba's Jack Ma has 'zero tolerance' for fake goods
The company also reported a net profit, after backing out some one-time items, of $1.8 billion ... or 73 cents a share. That was up 33% from the same period last year and also was higher than what Wall Street analysts were expecting.
Alibaba (BABA) stock was up more than 4% in early trading on the news. Alibaba's solid report comes a day after one of its top rivals, JD.com (JD), also pleased Wall Street with strong sales growth.
This appears to be a sign that concerns about China's middle class pulling back may be for naught. It may also show that Alibaba is finally doing a better job of combating the plague of counterfeit goods that are often found on Alibaba's sites.
Related: The real reason Americans are eating out
And it's in stark contrast to what's going on in the United States, where many big retailers are warning of weak sales in the next few months.
Of course, the success of Amazon (AMZN) is one big reason why U.S. retailers are in trouble. And in many respects, Alibaba is China's Amazon.
Like Amazon, Alibaba also has expanded into digital media and cloud computing. And Alibaba gave investors a closer look at how those businesses are doing for the first time in this earnings report.
Alibaba said sales for digital media, which includes the recent acquisition of online video site Youkou Tudou (aka China's YouTube), and its cloud business surged in the quarter.
But they are still relatively small parts of Alibaba's overall empire -- accounting for just 14% of total sales. Both units are also losing money.
None of that seems to matter to investors right now though. They are thrilled by the strength in Alibaba's core retail business.
The big challenge for Alibaba now will be to keep proving to investors that it can expand aggressively outside of China as well -- in retail and cloud computing.
Alibaba now owns Lazada, an e-commerce site popular in Southeast Asia.
The company also said it is continuing to heavily recruit more traditional retailers in the U.S., Europe, Japan and Korea to set up shops on Alibaba's Tmall network.
Alibaba chairman Jack Ma clearly has aspirations similar to that of Amazon's Jeff Bezos. He wants to run a global retail/tech empire. For now, Ma's big bets seem to be taking off.