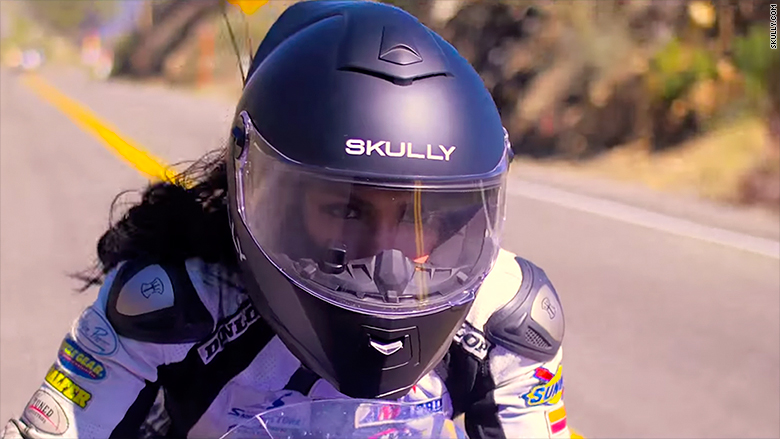 Skully, a failed startup behind an "augmented reality" motorcycle helmet, claims on its Indiegogo website that it is "the future."
But there's no future for Skully except for impending bankruptcy and a lawsuit. The tech start-up says it has shut down, cannot process refunds and its assets are "subject to liens held by a secured creditor."
Skully has announced on the Indiegogo crowdfunding site, where it raised nearly $2.5 million, that it "now plans to file a Chapter 7 Bankruptcy case within the next several weeks."
"We realize there are many unanswered questions and that this is a very upsetting situation," reads the Skully statement from Aug. 5. "We are truly sorry."
The failure of an Indiegogo startup is "a very unusual situation," according to an Indiegogo spokesperson, especially since Skully went on to raise an additional $11 million in venture capital funding.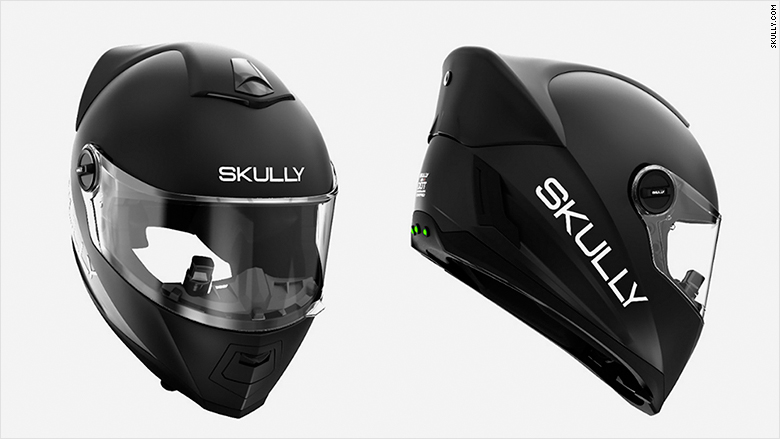 Carlos Rodriguez, former vice president of marketing for Skully, said that he and investors "fought to the very end to try and salvage the company."
"Marcus' vision was nothing short of amazing and it is an absolute travesty it had to come to an abrupt end and that customers have now become victims," he said, referring to co-founder Marcus Weller.
Rodriguez said the first round of venture capital funding came from Intel (INTC) and Walden Riverwood Ventures, but they couldn't get a second round to keep the company going. He said the Weller brothers refused to resign, as required by the would-be investor, whom he would not name.
"They were offered a golden parachute and they refused to take it," said Rodriguez. "This is the coolest product that could have been. It's a travesty that ego got in the way."
But Marcus Weller denied this. "It is factually untrue to say that we refused to resign," he said in an email to CNNMoney. "We resigned effective as of July 12th, which was prior to the time that the second round of funding was to take place."
Skully developed the $1,499 Skully AR-1 motorcycle helmet, with a 180-degree camera and also a rearview camera, and GPS display.
Rodriguez said about 3,300 helmets were sold but only about 200 shipped. Those helmets will no longer have their GPS features, but they still have functional cameras allowing 180-degree vision and a rear-view camera that he described as "literally eyes in the back of your head."
Related video: This motorcycle is driven by a robot
The shutdown came just days after the company and its founders, Marcus and Mitchell Weller, were sued by their ex-employee Isabelle Faithhauer, a disgruntled bookkeeper.
"The Wellers used the corporate entities of Skully in such a fraudulent manner as to render the corporate entity a sham," reads her lawsuit, filed in San Francisco Superior Court on July 27. "The Wellers used Skully corporate accounts as their personal piggy banks."
Marcus Weller told CNNMoney, "We plan to vigorously defend ourselves against these claims. We strongly believe we will be vindicated in the end. We look forward to the truth coming out and our day in court."
The suit accuses Marcus Weller of charging personal expenses to the company, including a $2,000 visit to a Florida strip club, a Lamborghini he rented during a vacation in southern California and two Dodge Vipers. The suit says both the Weller brothers used their corporate accounts to pay rent on their San Francisco apartments as well as moving expenses, grocery bills and restaurant tabs.
The pre-trial status conference scheduled for Dec. 28.