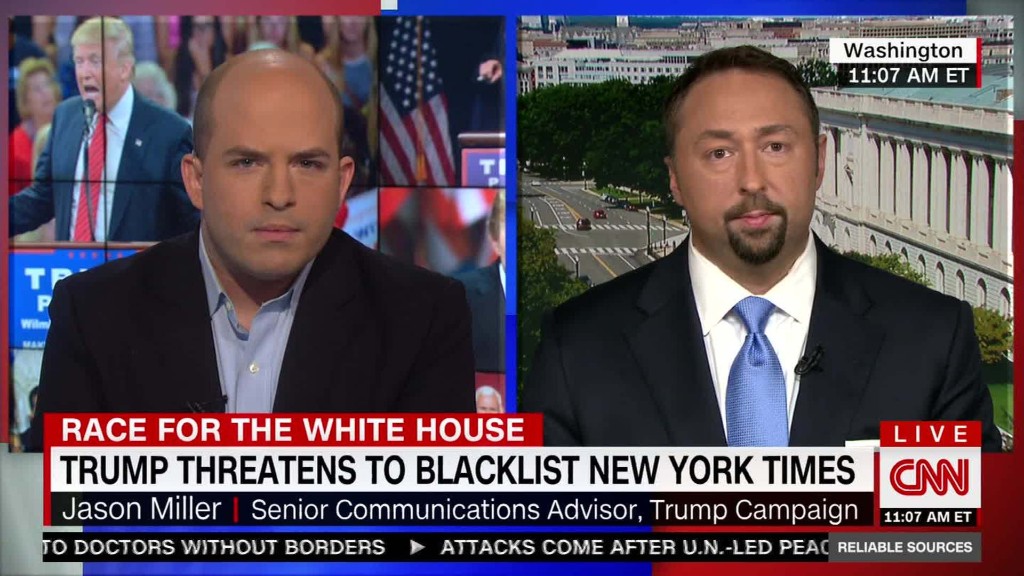 The Wall Street Journal is calling on the Republican Party to give up on Donald Trump if the presidential nominee doesn't "change his act by Labor Day."
In an editorial published Sunday evening, the Journal said that if Trump's backers can't get him to turn things around, the GOP "will have no choice but to write off the nominee as hopeless and focus on salvaging the Senate and House and other down-ballot races."
Trump himself needs to "stop blaming everyone else and decide if he wants to behave like someone who wants to be president -- or turn the nomination over to [running mate] Mike Pence," the article argued.
The paper's biting criticism comes as Trump has escalated his war on the news media, accusing it of putting "false meaning" into his words and "protecting" his Democratic opponent Hillary Clinton. In particular, he blasted a New York Times article that painted a dire picture of his campaign.
Related: Donald Trump says media is out to get him
But the Journal editorial singles out Trump as the problem, saying reports about difficulties in his campaign "are appearing now because the polls show that Mr. Trump is on the path to losing a winnable race."
Without addressing the Journal article specifically, Trump tweeted Sunday night that he has remained true to himself.
"The media wants me to change but it would be very dishonest to supporters to do so!" he said.
The Trump campaign didn't respond to a request for comment.
Owned by Rupert Murdoch, The Wall Street Journal has clashed with Trump before. In November, the newspaper said it was "exhilarating" to be attacked by Trump after the nominee called the WSJ's staff "dummies."
The insult came after the WSJ editorial board said "it wasn't obvious that" Trump "has any idea what's in" the Trans-Pacific Partnership after a Republican debate.
Later that month, Trump met with the WSJ's editorial board and the board "received the full Donald J. Trump experience," editorial board member Joseph Rago said at the time.
An opinion article based on that conversation, headlined "The Presidency as the Art of the Deal," quoted Trump at length and continued the Journal's sarcastic critique of Trump's candidacy.
-- Brian Stelter and Ahiza Garcia contributed to this report.