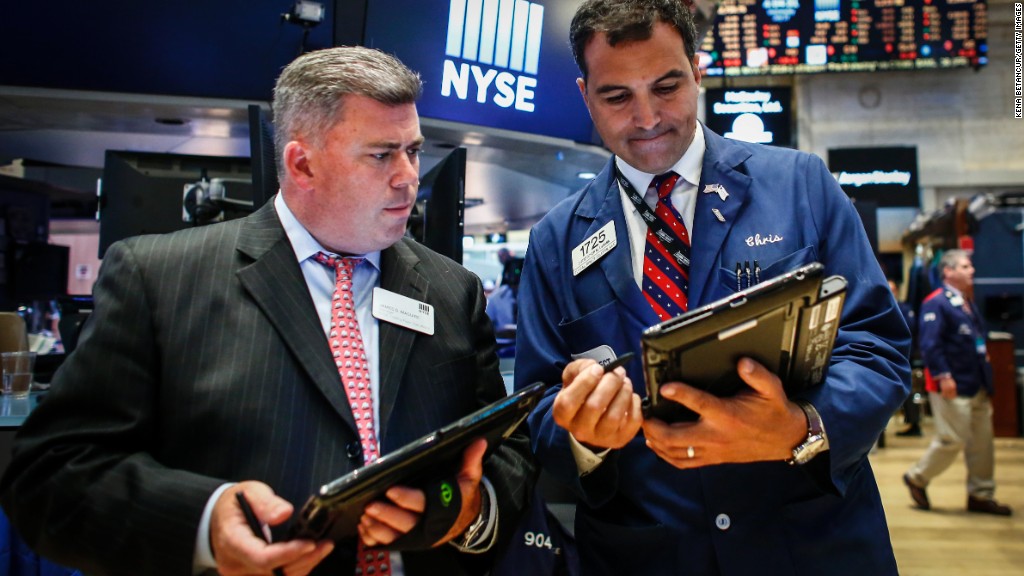 The stock market, after a sluggish start to 2016, now seems as unstoppable as 3-time 100 meter Olympic champion Usain Bolt.
The Dow and S&P 500 are up nearly 7% this year. And both hit new all-time highs once again last week.
The Nasdaq has recently joined the market rally party as well. The tech heavy index was in the red for the first half of the year until the start of July. But the Nasdaq is now up 4.5% and finally hit a new record high -- its first since July 2015 -- last week.
Given that the market is in party mode despite continued uncertainty about corporate earnings and the global economy, it's worth wondering if the upcoming U.S. election is a reason that stocks are doing so well.
In other words, is the market celebrating the recent political missteps and decline in the polls by Republican presidential candidate Donald Trump? And therefore pricing in a victory by his Democratic challenger Hillary Clinton?
"It's been a strange year. The market usually doesn't rally until the fourth quarter of an election year once it's clear who will win. But that might be happening now," said John Canally, chief economic strategist at LPL Financial.
It's admittedly a chicken versus the egg scenario though. Are investors truly excited about a Clinton presidency ... or just relieved that (as of right now) it seems less likely Trump will land in the Oval Office?
There are several reasons why Wall Street might prefer a Clinton win. (Or Trump loss.)
For one, Clinton has close ties to big banks -- which have been criticized by both Trump and her former Democratic rival Bernie Sanders.
Related: 5 reasons why stocks may keep going higher
Clinton would probably be less likely than Trump to try and break up banking powerhouses JPMorgan Chase (JPM), Citigroup (C), Bank of America (BAC) and Wells Fargo (WFC).
That's a big reason why Trump -- despite his New York ties and massive wealth -- is viewed as the less market-friendly candidate.
"A lot of what Trump says is atypical rhetoric for the Republican party," said Bruce McCain, chief investment strategist with Key Private Bank. "The way the Trump candidacy has sort of imploded in the past week may be reassuring to investors who'd prefer a more traditional candidate."
There's also a famous saying about how Wall Street hates uncertainty. Clinton is more of a known commodity.
Trump, to put it mildly, is a wild card.
His controversial remarks -- and tweets -- could lead to more volatility. Even though it seems unlikely that he would remain so bombastic and unpredictable if elected, the truth is that nobody really knows.
"There are his comments on trade, capital controls, and punishing U.S. multinationals for producing in foreign countries, amongst other things. When you add it all up, I think there must be one character named TRUMP, and he is indeed a character, played by a number of different actors," wrote John Norris, managing director and head of wealth management at Oakworth Capital Bank.
Finally, there's also the likelihood of more gridlock ahead if Clinton wins.
Related: New records for U.S. stocks -- despite warnings
Despite Trump's recent stumbles, many polls are predicting that the Republicans should retain majority control in the House. The Senate could be up for grabs, but few think at this point that the Democrats will win control of both chambers of Congress.
Investors usually cheer when you have one party in control of the White House and another in Congress.
The rationale is that if little gets done in Washington, that's better than one party instituting sweeping legislative changes that might upset the apple cart that is the U.S. economy and market.
"I was recently in DC and had lunch with friends on Capitol Hill. They think Hillary will win and the Senate could flip and the market is just fine with that," said Jeffrey Saut, chief investment strategist for Raymond James.
"This is a bull market that may have years left to run. The election might be the icing on the cake," Saut said.
In other words, Wall Street traders seem to have few worries about a Clinton presidency and think that Trump is, to use one of his favorite ways to close insulting tweets, "Sad!"