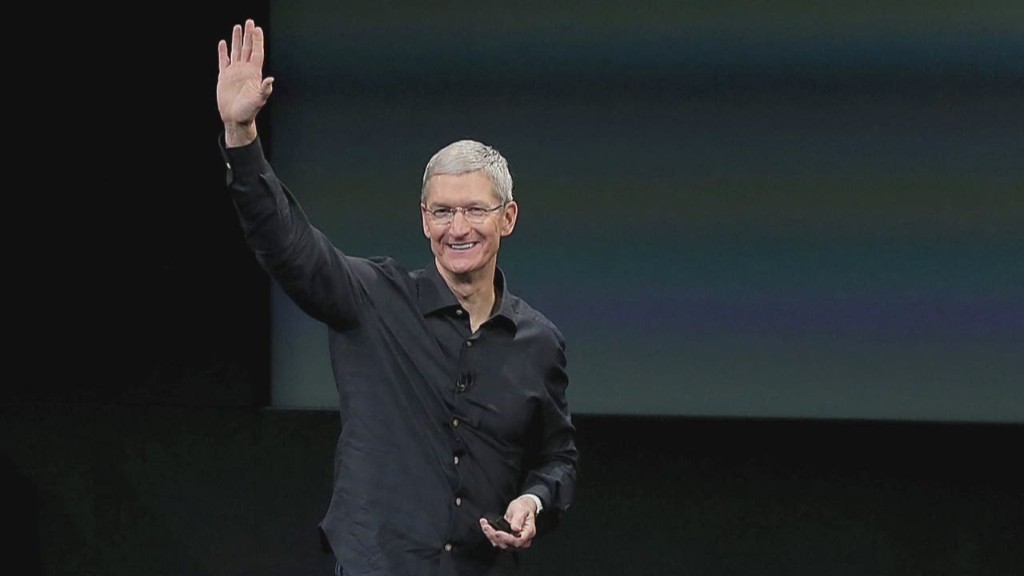 "There's nothing like sitting in the chair."
That's Apple (AAPL) CEO Tim Cook's description of running the world's most valuable public company.
Five years after taking over from Steve Jobs, Cook has opened up about his experiences in a wide-ranging interview with the Washington Post.
He talks about his mistakes, Apple's future and seeking advice from the likes of Warren Buffett and Anderson Cooper.
Here are some of the most interesting takeaways:
The future: Augmented reality and heavy R&D investment
Cook keeps pretty tight-lipped about what Apple might have up its sleeve, but he does acknowledge the tech giant's enthusiasm for augmented reality (AR), which the hugely popular smartphone game Pokemon Go has brought into the spotlight:
"I think AR is extremely interesting and sort of a core technology. So, yes, it's something we're doing a lot of things on behind that curtain that we talked about."
Cook dodges questions about the car-related project on which Apple is believed to be working. But he says the company is spending big on research and development in general.
"We have ramped up R&D because we are heavily investing in the future — both in current product lines and things that aren't visible as well."
Related: Everything we know so far about the Apple Car
Mistakes: He's made a few
Cook talks about his successes over his first five years, such as broadening the iPhone lineup. But he also admits to some bad decisions in products and hiring:
"Maps was a mistake. Today we have a product we're proud of. [But] we had the self-honesty to admit this wasn't our finest hour and the courage to choose another way of doing it."
"I hired the wrong person for retail [former Dixons CEO John Browett] initially. That was clearly a screw-up. I'm not saying anything bad about him. He didn't fit here culturally is a good way to describe it."
Related: Apple sells its billionth iPhone
Getting advice: Goldman Sachs CEO and Anderson Cooper
To avoid "living in the echo chamber," Cook says he sometimes turns to high-profile figures for advice.
When he had to testify before Congress, he says he talked to Goldman Sachs CEO Lloyd Blankfein because he'd done it before: "I knew Lloyd and thought he'd be honest with me."
For thoughts on the question of returning cash to shareholders, Cook says: "I called up Warren Buffett. I thought he's the natural person."
And for the public step of coming out, he talked to CNN's Anderson Cooper "at length — multiple times. Because I thought that the way that he handled his announcement was really classy."
Related: Tim Cook talks charity, coming out as gay
Life at the top: 'It's sort of a lonely job'
Cook details the different sides of running such a huge company. He calls it "the best job in the world" but also describes some of the tougher parts:
"It's sort of a lonely job. The adage that it's lonely — the CEO job is lonely — is accurate in a lot of ways. I'm not looking for any sympathy. You have to recognize that you have blind spots."
"You're both praised and criticized, and the extremes are wide — very wide. And that can happen all in a day. You build up — my skin got materially thicker after August 2011."