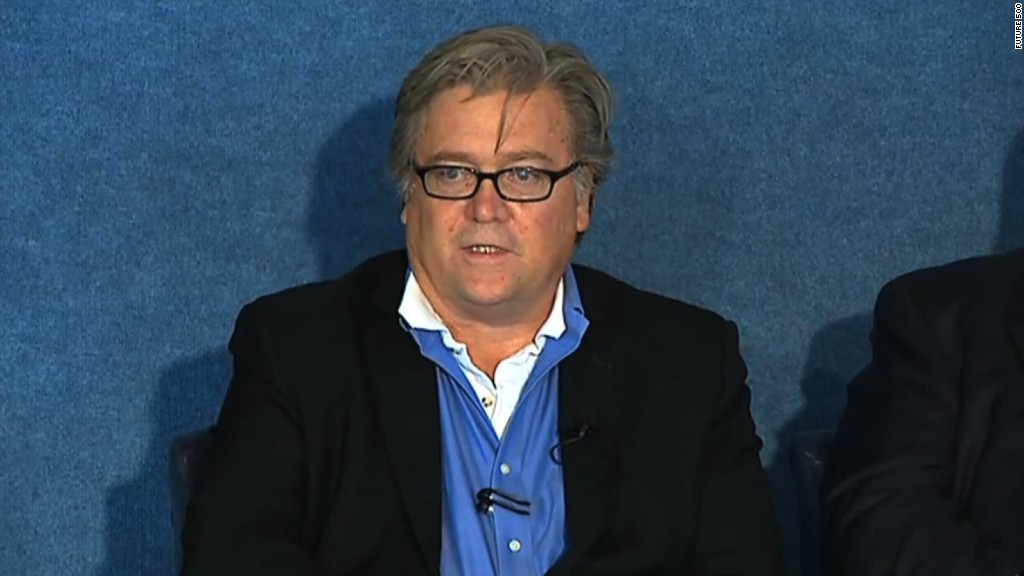 Donald Trump's hiring of Breitbart News executive chairman Steve Bannon is a signal that nothing is off-limits between now and November 8.
Bannon, a former Navy officer and Goldman Sachs investment banker, has been a right-wing media executive for years. Now, suddenly, he is the Trump campaign's CEO, making him one of Trump's top advisers.
The appointment formalizes what has been an informal and beneficial relationship between Breitbart.com and the campaign.
The far-right Breitbart site, founded by the late Andrew Breitbart, publishes a dash of news with a heavy dose of conservative opinion. It has been an unapologetic booster of Trump, critic of Republican establishment figures like Paul Ryan, and attack dog against Hillary Clinton.
It is perhaps best described as a "pro-Trump" media company. In recent months Breitbart has celebrated moments when Trump's rhetoric has hewed closely to the site's editorial position.
"Trump Echoes Breitbart: Battle with Islam 'Like The Cold War,'" read one headline earlier this week.
It has also advocated for Trump's populist, nationalist policy positions. Last month the site started selling "Breitbart Border Wall Construction Co." T-shirts.
Breitbart has also touted conspiracy theories about Clinton's health and published dozens of stories about Bill Clinton's alleged treatment of women, with headlines like "The Secret Sex Abuse Victims of Bill Clinton."
And Bannon has been involved with the site ever since it began in 2007.
This year he has repeatedly interviewed Trump.
Bannon will step aside from his Breitbart position temporarily to work for the Trump campaign.
Breitbart CEO Larry Solov said in a statement that no interim replacement will be appointed.
"Steve is a huge piece of manpower and we know he will perform brilliantly in his new role as CEO of the Trump presidential campaign," Solov said. "We look forward to continuing to deliver the kind of first-in-class news coverage that has generated well-over one billion pageviews so far this year."
Bannon's new campaign CEO role may foreshadow an even more forceful posture by Trump heading into the fall debates.
On CNN's "New Day" Wednesday morning, former Trump campaign manager Corey Lewandowski described Bannon's style as "win at all costs."
"Steve is a person who's had unparalleled success in the private sector," Lewandowski said. "He is a person who, I think a little bit like myself, is a bit of a street fighter, a person who is willing to go right at his opponents."
Bannon has never run a political campaign. But he has made conservative documentaries, raised money for Breitbart News and hosted a Breitbart-branded radio show.
His harnessing of media megaphones led Bloomberg to call him "the most dangerous political operative in America" in a profile last year.
That description was quoted approvingly in a Trump press release about Wednesday's campaign shakeup.
The profile also described Breitbart as a "crusading right-wing populist website that's a lineal descendant of the Drudge Report (its late founder, Andrew Breitbart, spent years apprenticing with Matt Drudge) and a haven for people who think Fox News is too polite and restrained."
Earlier this year, when Lewandowski was accused of assaulting Breitbart reporter Michelle Fields after a press conference, Fields said Breitbart executives did not do enough to support her. She suggested that they sought to protect Lewandowski and Trump.
Fields ultimately resigned. Editor at large Ben Shapiro and two other staffers also left in protest.
Shapiro said at the time that Bannon was a "bully" who "has shaped the company into Trump's personal Pravda."
On Wednesday morning, he reacted to Bannon's hiring by tweeting, "I believe Breitbart became Trump Pravda so that Steve Bannon could be the conductor on the Trump Train. It was that simple."
Trump has a number of other media-savvy confidants, including former aide Roger Stone and former Fox News chairman Roger Ailes.
Taken together, the men are conservative media experts and masters of the political dark arts -- meaning they can help Trump with campaign strategy and with a post-election media plan if he loses.
Vanity Fair reported in June that Trump is "considering creating his own media business, built on the audience that has supported him thus far in his bid to become the next president of the United States."