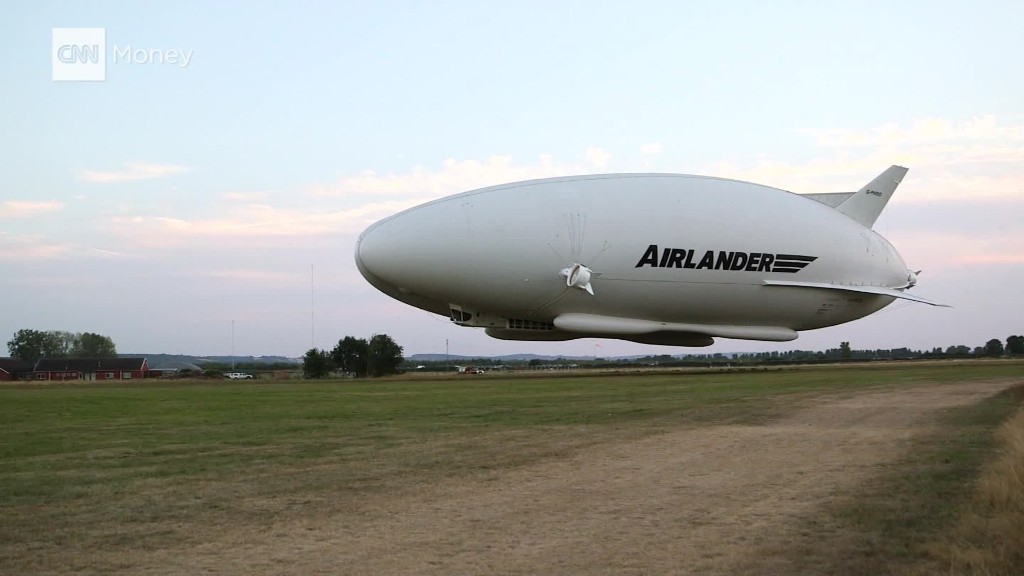 The world's largest aircraft is finally flying!
The giant blimp-like Airlander 10 spent 20 minutes in the air on Wednesday, after months of flight preparations and years of searching for funding, and landed safely at Cardington Airfield north of London.
Part airship, part helicopter, part plane, the 300-feet long aircraft is about 50 feet longer than the world's biggest passenger planes.
The aircraft's maiden flight was originally scheduled for Sunday, but was postponed due to a technical problem.
The Airlander, made by British company Hybrid Air Vehicles, has four engines and no internal structure. It maintains its shape thanks to the pressure of the 38,000 cubic meters of helium inside its hull, which is made from ultralight carbon fiber.
Together with the aerodynamic shape of its hull, the lighter-than-air helium gas provides most of the lift. The aircraft's odd shape has led some observers to describe it as a "flying bum."
Related: Avoiding air turbulence may soon get easier
The aircraft was originally designed for U.S. military surveillance. But the project was grounded in 2013 because of defense spending cuts.
Hybrid Air Vehicles then managed to raise over 3.4 million pounds ($4.4 million) through two crowd funding campaigns. It also received a grant from the European Union and funding from the U.K. government.
The Airlander has a significantly lower carbon footprint than other forms of air transportation, and the team behind it hopes it will be used in a wide range of commercial jobs.
They said the aircraft could carry communications equipment or other cargo, undertake search and rescue operations, or do military and commercial survey work.
The Airlander can stay airborne for up to five days at a time if manned, and for more than two weeks if unmanned. It can carry up to 10 tons of cargo at a maximum speed of 91 miles per hour.
The aircraft doesn't need a runway to take off, meaning it can operate from land, snow, ice, desert and even open water.
-- Barry Neild and Lauren Said-Moorhouse contributed reporting.