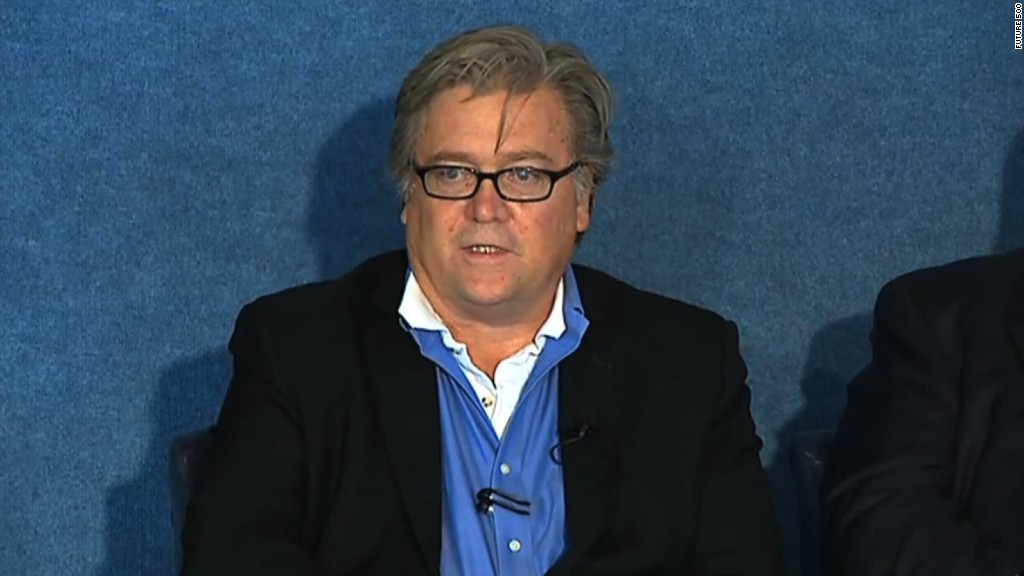 Donald Trump TV is a tantalizing idea. But it could be even harder to pull off than a presidential campaign.
Breitbart News executive chairman Steve Bannon's new role on the Trump campaign has rekindled talk about a Trump-branded conservative media venture -- potentially something that would challenge Fox News from the right.
After Election Day, if Hillary Clinton wins, Trump's anti-media campaign could naturally turn into a marketing pitch like this: "The media rigged the election against us. That's why we need our own channel."
Trump already has the advisers he needs, including Bannon; son-in-law and newspaper owner Jared Kushner; and longtime friend and former Fox News boss Roger Ailes.
Trump also has undeniable television talent, loyal supporters, databases full of voter contact information, and of course his famous Twitter feed.
Related: Steve Bannon: The "street fighter" who's now running Trump's campaign
But a new TV network would be incredibly difficult to start, even for one of the most famous people in the world. Just ask Oprah. Or any of the existing Fox News wannabes.
"To create a 24/7 linear cable channel requires hundreds of millions of dollars over several years, and even with that, its success would be in doubt," the CEO of one such channel said.
But the person did not want to be quoted on the record because -- who knows? -- this time next year, they could be in business with Trump.
Just getting a spot on channel lineups is an uphill battle, even for a ratings magnet like Trump.
For the right price, any number of existing cable channels could be purchased and retrofitted to become "Trump TV." That's what Al Jazeera did. But the channel ultimately failed.
But cable distributors are trying to get rid of channels nowadays, not add new ones. Just this week, a startup channel called Pivot announced that it is shutting down.
Courting advertisers and coming up with programming would be tough, too.
Trump could instead go the Netflix route and ask supporters to sign up for his own streaming video service. But similar ventures by conservative media stars like Sarah Palin and Ron Paul should be cautionary tales for Trump.
Palin tried to charge subscribers $9.95 a month for her web channel in 2014. It shut down one year later. Paul also severed ties with a subscription service last year.
Despite the inherent challenges, Jonathan Klein, the CEO of Tapp, which powered Palin's web channel, said he believes Trump would be "hugely successful."
"Trump has all of the necessary ingredients" for a web channel, Klein said. "He's got something to say; he enjoys saying it and repeating it; he lives an authentic social media life, he's a natural born tweeter; and he seems to have a very tribal audience."
Klein, a former president of CNN, pointed out that Trump's supporters will want "a way to stay in touch with him, his message and each other," particularly if he loses.
"He can provide the vehicle to do that," Klein said. "He could be up and running in a matter of weeks" after the election "if he starts thinking about this now."
Related: Donald Trump enlists right-wing media to lead campaign
Has he been thinking about it already? Vanity Fair's Sarah Ellison reported in June that Trump was "considering creating his own media business." Trump's spokeswoman denied it at the time.
But others have corroborated Ellison's report. This week The New York Times said that Trump and Kushner have, in recent months, "quietly explored becoming involved with a media holding, either by investing in one or by taking one over."
There are good reasons why Trump critics on both the left and right have latched onto the "Trump TV" idea. They're trying to predict what comes after Election Day.
"A TV network is a logical way to monetize a brand," Trump-opposing Senator Ben Sasse tweeted Wednesday, the day Bannon came aboard the campaign.
That same day, former Obama aide Jon Favreau, appearing on Bill Simmons' HBO show, predicted that Trump would become "the new Roger Ailes." He wondered aloud if Fox stars like Bill O'Reilly and Sean Hannity could jump ship and join Trump once their contracts expire.
Former Breitbart staffer Ben Shapiro echoed that idea in an article on Wednesday, writing, "Look for Sean Hannity to be a part of any such endeavor."
Breitbart previously -- and misleadingly -- reported that virtually all of Fox's biggest stars were ready to "walk out" if Ailes was forced out last month.
After Ailes resigned under pressure, no such protest materialized. But talent changes are on the horizon at Fox now that Ailes is out and the election season is almost over.
Just two weeks ago, before Bannon moved from Breitbart to the campaign, he wrote that "Breitbart is on the rise, and Fox is in decline."
Speaking on Fox News, host Greg Gutfeld posited that Bannon's arrival "isn't about the election, it's about the day after the election, when you have Bannon and you have Trump and you have the 'invisible hand' creating a new network."
Gutfeld's co-hosts on "The Five" seemed uncomfortable with the veiled reference to Ailes.
Gutfeld looked into the camera and said, "You know I'm right. They know that I'm right. This is not about the election, this is about after."
Glenn Beck, who knows more about tapping into conservative media audiences than just about anyone and who has been a vocal detractor of Trump's, said on Thursday's "CNN Tonight" that "I believe Donald Trump is going to lose, I believe he's going to start his own network, I believe it's going to be run by Bannon."
He said he doubted that Ailes will be formally involved because Ailes' exit agreement with Fox included a non-compete clause.
If Trump wants to go the online route, he'll likely seek out digital video experts.
With a streaming service, "you can have a direct connection to the audience," Klein said. "Trump's whole brand is tied up with being anti-establishment, bucking the system, going straight to the people."
But does Trump really want to go from raucous daily campaign rallies to the comparatively lonely confines of a TV studio?
On "Reliable Sources" in July 2015, TVNewser editor Mark Joyella prophetically pointed out that "cable news host" would feel like a small role for Trump after competing on the country's biggest stage for over a year.
"I don't see him as a guy who would like to have a guest on and ask questions of that guest," Joyella said. "He prefers to be the subject."
Joyella asked: "What is 'huge' enough, to use his words, for Donald Trump after this? What is big enough?"