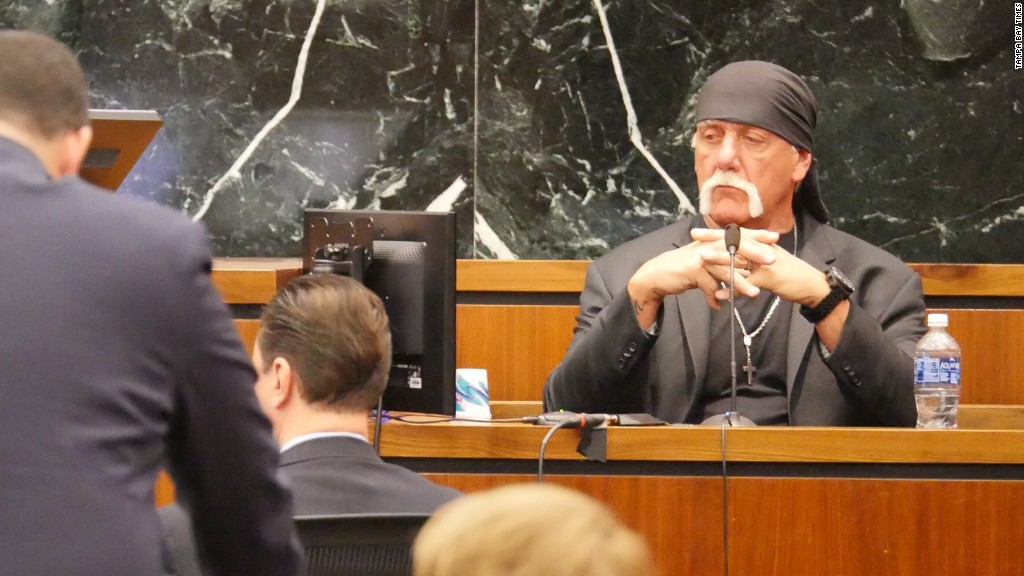 If there is a silver lining for writers and editors at Gawker Media's flagship site, which will cease operations next week, it's that, for now, they still have jobs.
Beginning next week, Gawker.com's writers and editors will begin work at the company's other six sites, although there is an assumption that it will be temporary for many of them.
"For some of you, this may just be a place to park while you figure out what's next," Gawker Media executive editor John Cook told the site's staffers at a meeting on Thursday afternoon, according to two employees who were present.
After successfully bidding $135 million for Gawker Media's assets in a court-supervised bankruptcy auction earlier this week, the Spanish language giant Univision decided that it wanted nothing to do with the company's flagship site, which had attracted a bevy of controversy and lawsuits during its 14 years online.
Related: Gawker.com to shut down
One such lawsuit, brought by Hulk Hogan, was prompted by Gawker.com's 2012 publication of footage showing the former professional wrestler having sex with his friend's wife. Hogan, whose real name is Terry Bollea, was awarded $140.1 million by a Florida jury earlier this year, prompting Gawker Media and its founder Nick Denton to file for bankruptcy protection this summer.
Although Univision has no intention of operating Gawker.com, the media conglomerate is certainly interested in the site's writers and editors.
While those staff members will land at Gawker Media sites in the near-term, one source said that certain writers will be courted by Fusion, the Univision-owned site aimed at Millennials, after the closing of the sale in September.
Isaac Lee, Univision's chief news, entertainment and digital officer, visited Gawker Media's offices in Manhattan on Friday afternoon.
Lee spoke for 45 minutes and fielded questions from staffers, but he acknowledged that Univision did not have any immediate plans for Gawker.com staffers.
He said that decision to shutter the site was made when the Hogan verdict came down, according to an employee who was present.
A senior Univision executive told CNNMoney that the company intends to keep Gawker.com employees in some capacity.
Whether those Gawker.com employees want a job at Fusion remains to be seen. For now, they will be joining the other six sites that Univision purchased.
Hamilton Nolan, the namesake site's longest serving writer, will move to Deadspin, Gawker Media's sports site, where he has occasionally covered boxing.
Nolan, a firebrand whose irreverent prose typified the Gawker style as much as anyone, had challenged Lee earlier this week to keep the site open as a show of defiance to Peter Thiel, the Silicon Valley billionaire who financed Hogan's lawsuit against Gawker.
Thiel, a frequent subject of Gawker's unflattering coverage over the years, said he is bankrolling other lawsuits against the company.
"I don't think there's any better way for Isaac Lee and Univision to show that they believe in that than not allowing a vindictive billionaire to eradicate our site off the face of the earth," Nolan told CNNMoney earlier this week.
Related: Peter Thiel feels no remorse over Gawker sale
Nolan will be joined at Deadspin by Gawker.com editor-in-chief Alex Pareene.
J.K. Trotter, a reporter who has doggedly covered media for Gawker.com, will move to Gizmodo, a tech-focused site and the most commercially successful brand in Gawker Media's portfolio.
A handful of other Gawker.com staff members will move over to Jezebel, the company's women-focused site. (A full breakdown is provided below.)

Denton officially confirmed the site's end at an all-hands meeting on Thursday, mere hours before the Univision sale was ratified at a hearing in lower Manhattan.
In a memo sent later in the afternoon, Denton said that Thiel's legal crusade had made the site too risky for another media company or investor to take on.
"I can understand the caution," he said.
Denton, who will leave the company after the sale is closed, said that the site will be "mothballed," leaving open the possibility of a resurrection.
"Gawker.com may, like Spy Magazine in its day, have a second act," Denton said.
Univision has not decided if it will exclude Gawker.com from the sale or purchase it and shut it down, according to the senior executive at the company.
"From what we know, nobody is interested in Gawker. Not even Nick," the source told CNNMoney. "What's clear is that Univision will not be operating Gawker.com under any scenario."
The news of the Gawker.com's demise was met with disappointment among staffers, but it was hardly a surprise. By the time Denton confirmed it, many employees had resigned themselves to the site's likely fate.
Staff members commiserated over drinks on Thursday night, eventually winding up at Congee Bowery, a Chinese bar and restaurant in the Lower East Side and a longtime Gawker haunt.
"I think that everyone believes as strongly in the mission as they ever have," Gawker Media editor Tom Scocca, who has written extensively for the flagship site, told CNNMoney. "I think the amount of pride and solidarity has never been higher and I think that we are disgusted and enraged that this could happen in a country that claims to protect the freedom of the press."
On his Facebook page, Denton said the sadness of the evening eventually gave way to revelry.
"Gawker is going out well," he said.
Where Gawker.com staffers are heading next:
Deadspin: Alex Pareene, Hamilton Nolan, Ashley Feinberg, Jordan Sargent
Jezebel: Kelly Stout, Rich Juzwiak, Gabrielle Bluestone, Brendan O'Connor, Hannah Gold
Gizmodo: J.K. Trotter, Marina Galperina, Hudson Hongo
-- CNNMoney's Chloe Melas contributed reporting.