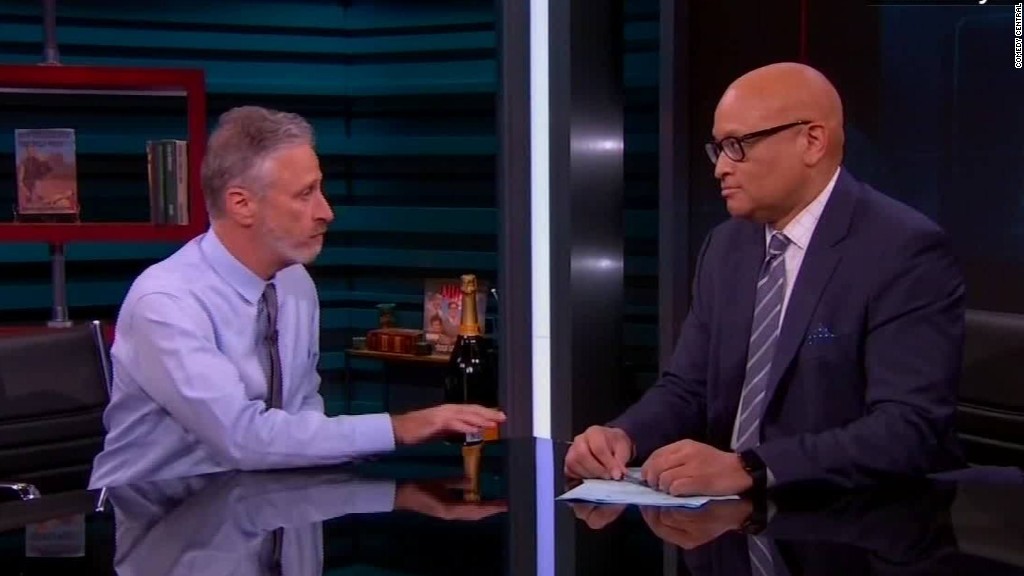 Larry Wilmore bid farewell to "The Nightly Show" on Thursday, with an assist from the guy who helped him land the job, Jon Stewart.
Stewart -- who had featured Wilmore as his "senior black correspondent" before he was spun off into his own vehicle -- walked on in the middle of the opening, initially expressing feigned shock over the news that the program had been canceled after 18 months.
"Oh my God, what, did you piss off Peter Thiel?" Stewart quipped, referring to the billionaire who financed Hulk Hogan's lawsuit against Gawker.
He then proceeded to laud Wilmore, quoting an unnamed executive from his past in saying, "Do not confuse cancellation with failure. What you were tasked to do, you have done, and done beautifully."
Stewart also took a not-so-veiled shot at a Comedy Central executive who said that "The Nightly Show" hadn't "resonated," telling the host, "You started a conversation that was not on television when you began."
Despite the praise, Stewart's decision to leave "The Daily Show" was actually a contributing factor in Wilmore's cancellation. Since Trevor Noah replaced him almost a year ago, ratings have dropped, and tune-in for "The Nightly Show" following it slipped as well.
Wilmore has recently averaged around 700,000 viewers, per Nielsen data, a sharp drop from Stephen Colbert's final year in its time slot. Faced with a renewal window in the host's contract, the network decided not to continue.
Related: Larry Wilmore's 'The Nightly Show' canceled by Comedy Central
At the end, Wilmore featured contributors to the show, thanked the network and said he felt the program had succeeded in its mission to see the world with a different perspective. One of the few African-American hosts in late night, Wilmore regularly tackled issues of race in a way other programs didn't.
In his opening, Wilmore also joked about the booze he had received throughout the week from former "Daily Show" colleagues. That included wine from Samantha Bee, champagne from John Oliver and small liquor bottles from the host he replaced, Colbert.
Those gifts also reflect the serious talent drain the Viacom-owned network has experienced over the last couple of years, with all three moving on to shows on other networks.
Wilmore's program will be replaced by "@Midnight With Chris Hardwick," which moves up a half-hour to fill its slot.
As a footnote, "The Nightly Show" was originally supposed to be titled "The Minority Report," but couldn't use that title because of a short-lived Fox series derived from the Tom Cruise movie.