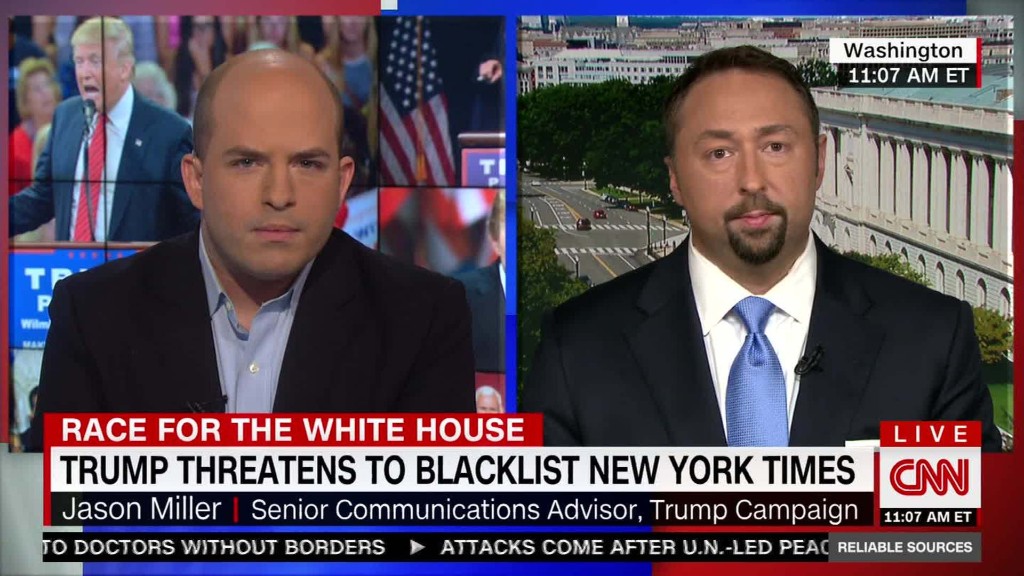 Donald Trump, presidential nominee, is taking a backseat to Donald Trump, media critic -- again.
On Monday morning he trained his Twitter fire at the MSNBC show "Morning Joe," formerly one of his favorite places to campaign.
Trump criticized "Joe" co-host Mika Brzezinski in highly personal terms, calling her "off the wall, a neurotic and not very bright mess!"
He also implied that Brzezinski and Joe Scarborough have been secretly dating. He called them "two clowns."
The comments about Brzezinski were reminiscent of Trump's highly personal attacks against Fox host Megyn Kelly.
The co-hosts were in the middle of a three-hour live broadcast at the time and had been highly critical of Trump earlier in the morning.
Scarborough responded during a commercial break, stating that "Clinton is targeting key swing states today while Trump starts his day obsessed with cable news hosts while channeling Gawker."
He ended the tweet with one of Trump's favorite put-downs: "SAD!"
Trump evidently did not like what he heard on "Morning Joe" Monday morning. He said he "tried watching" the talk show but it was "unwatchable."
(Then he called into a competing morning show, "Fox & Friends," one hour later.)
Trump has taken similar jabs at "Morning Joe" before. But his personal references to Brzezinski and Scarborough are new.
Trump isn't the first person to wonder aloud if the co-hosts are more than friends.
Both Scarborough and Brzezinski recently divorced, and Page Six of the New York Post wrote about "romance chatter" in June.
But coming from the Twitter account of the GOP nominee, the comment raised eyebrows right away.
The tweet implied some form of retribution, because he said "some day, when things calm down, I'll tell the real story" of Scarborough and Brzezinski.
A number of political reporters pointed out that Trump's attacks came one day after new campaign manager Kellyanne Conway said that Trump does not hurl "personal insults."
Trump used to have a cordial, even cozy relationship with "Morning Joe." He called into the show regularly during the GOP primary season. At one point he called Scarborough and Brzezinski "supporters." Radio host Hugh Hewitt floated the possibility of Scarborough serving as Trump's running mate.
The Scarborough-Trump relationship became a source of discomfort inside NBC, CNNMoney reported in mid-February.
But the relationship soon turned sour. At the end of February Scarborough deemed Trump's failure to immediately disavow the support of former Ku Klux Klan leader David Duke "disqualifying."
Scarborough and Brzezinski stepped up their scrutiny of Trump throughout the spring and summer. Earlier this month, Scarborough urged the GOP to dump the candidate.
Seemingly in response, Trump jabbed "Morning Joe," calling out its "low ratings," even though the show's ratings have been relatively strong this year.
Trump also said "I don't watch anymore."
But since he tuned in on Monday, Scarborough responded to him on Twitter this way: "Thanks for watching!!! Morning Joe is enjoying it's best ratings ever thanks to obsessed fans like you! GLAD!!!"
Even before Monday's back-and-forth started, Trump insulted one of the regular commentators on "Morning Joe," ad executive Donny Deutsch, in a tweet on Sunday night.
Trump wrote: "I heard that @Morning_Joe was very nice on Friday but that little Donny D, a big failure in TV (& someone I helped), was nasty. Irrelevant!"
Deutsch responded on Monday morning: "Tune in this November to a Special Election Edition of @BiggestLoserNBC starring Little Donny T." He hashtagged it "must see TV."