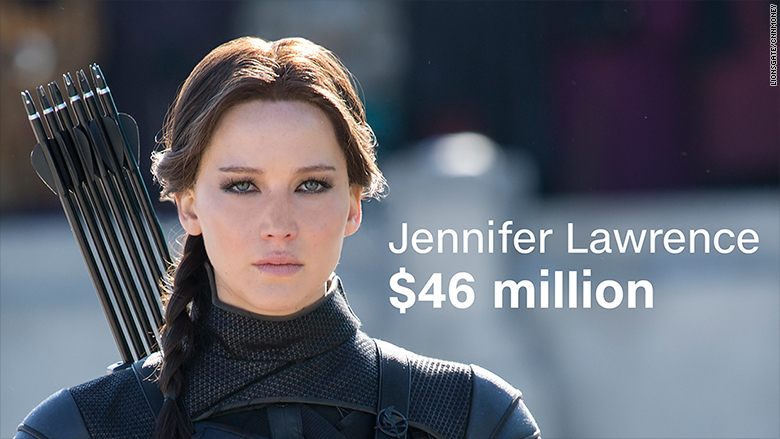 Jennifer Lawrence is, once again, the highest paid actress in the world, according to an annual list from Forbes.
"The Hunger Games" star banked $46 million before taxes over 12 months, making her the highest-paid actress for the second year in a row.
She can thank Katniss Everdeen, the archer survivalist she plays in "The Hunger Games" series from Lionsgate. The fourth and final installment ("Mockingjay -- Part 2") hit theaters last year. Forbes said she got an impressive piece of the movie's massive box office gross of $653.4 million, and she also got a nice payday from "Passengers," a movie that's coming out this year.
Lawrence beat Melissa McCarthy, the second-highest actress, by $13 million. McCarthy starred in the "Ghostbusters" remake, which boosted her earnings by $10 million, making her the biggest earnings gainer over the previous year, according to Forbes.
J Law actually made more money -- $52 million -- in 2015. That was the year she starred in the third movie from "The Hunger Games" series.
Despite the incredible success of some female stars, they deal with the same gender pay gap as other women in the work force, who generally make 79 cents for every dollar men earn.
Related: 6 things to know about the gender pay gap
Oscar winner Lawrence spoke out about that last year, when she wrote an essay for Lena Dunham's web site Lenny, titled "Why do I Make Less Than My Male Co-Stars?"
A study earlier this year by the Annenberg School for Communication and Journalism at the University of Southern California focused on the inequities of Hollywood and its "diversity problem." The study said women only had 28% of speaking roles and were sexualized far more often than men.