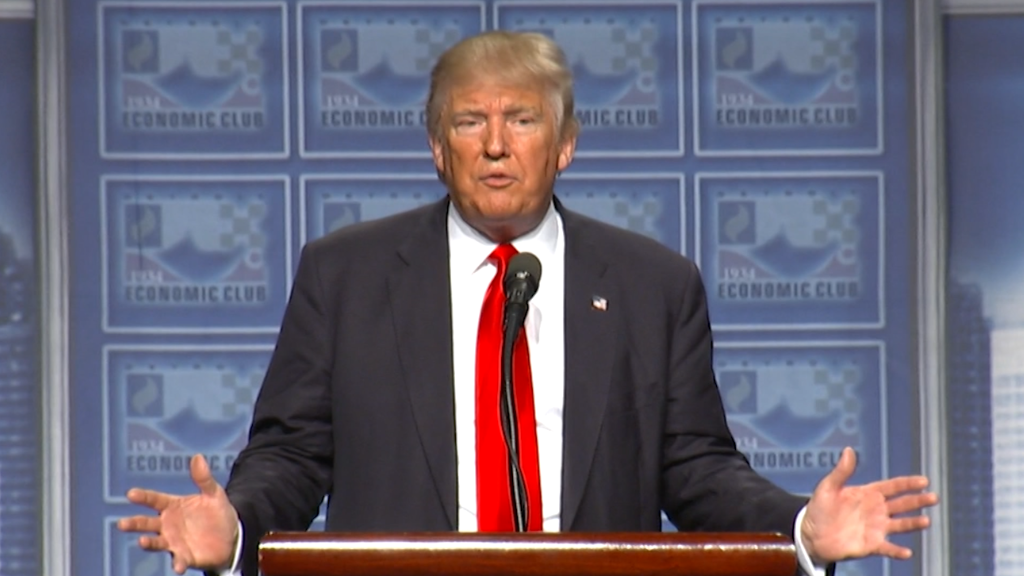 Donald Trump has promised to "unleash" America's oil industry, but he recently sounded confused about the raging debate at the heart of the matter.
Harold Hamm, the billionaire oil man and one of Trump's biggest cheerleaders, even said that Trump doesn't "understand" the issue.
The confusion stems from an interview by a Colorado television station last month. The GOP presidential candidate told 9NEWS he could support local attempts to ban fracking -- the controversial technology that has fueled America's oil and gas boom.
"Well, I'm in favor of fracking, but I think that voters should have a big say in it," Trump said in the interview. "If a municipality or state wants to ban fracking, I can understand it."
Even though Republicans often support the power of states to regulate themselves, those comments raised eyebrows. That's because supporting local fracking bans would undercut Trump's promise to ramp up America's already-robust oil production. Trump has previously slammed President Obama's energy policies, alleging the Democrat has "tried to destroy this renaissance" despite presiding over the biggest oil boom in U.S. history.
Related: America's biggest oil boom came under Obama
Hamm, Trump's go-to energy expert, attempted to clarify the issue in an interview on Tuesday. He told The Wall Street Journal that Trump didn't quite get the question.
"Donald Trump did not understand that concept at the time in my opinion," Hamm told the Journal. "He does now."
As CNNMoney recently reported, Hamm is the leading contender to be Trump's energy secretary. He controls Oklahoma City-based Continental Resources (CLR), one of the biggest oil producers in the prolific North Dakota shale fields.
Hamm told the Journal he hadn't spoken to Trump about the fracking ban remarks, but said he's confident Trump doesn't support local bans.
Dan Eberhart, an oil executive and Republican fundraiser, acknowledged to CNNMoney that Trump's "lack of talking points creates a few bumps along the way."
However, Eberhart said he's confident Trump is "very much pro-energy and pro-fracking." He also criticized Hillary Clinton for promoting fracking in China while she led the U.S. State Department, but coming out against it in the Democratic primary.
Eberhart has donated to the Republican National Committee, but not to Trump or Trump-aligned groups, according to OpenSecrets.org.
Fracking has become a lightning rod this political season. Bernie Sanders called for a national ban on fracking, citing environmental worries it only encourages the use of dirty fossil fuels.
So-called fracktivists scored a big win in April, when New York State rejected a pipeline that would have transported natural gas fracked in Northeast Pennsylvania through the state.
Colorado, a major oil and gas producer, is in the midst of its own fracking fight. Local activists want to put two measures on Colorado's ballot that would restrict or even ban oil and natural gas development in the state. Colorado's secretary of state has yet to rule on whether the measures received enough signatures to go to voters in November.