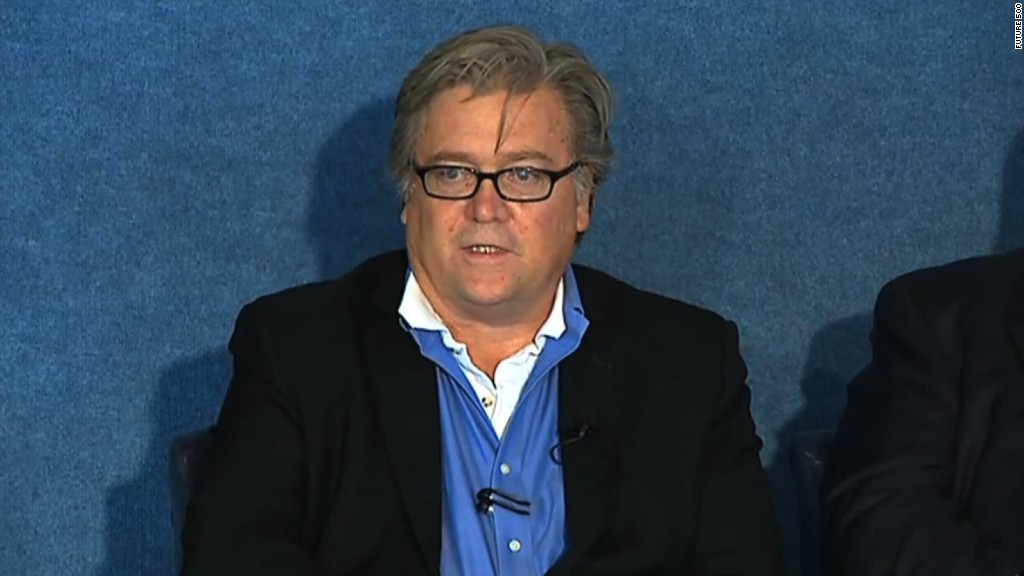 Immigration is a beloved topic at Breitbart News. The right-wing site aggressively promotes a border wall, opposes amnesty and seems eager to incite fear of illegal immigrants.
That is a major reason why Breitbart, run until recently by Donald Trump's new campaign CEO Steve Bannon, has long been a Trump booster. And perhaps that is why on Thursday, coverage of Trump's so-called "softening" on immigration was almost entirely absent from Breitbart's homepage.
Related: Steve Bannon: The "street fighter" who's now running Trump's campaign
While other conservative sites bemoaned, defended, debated or just mocked Trump's newfound tolerance for allowing undocumented immigrants who are otherwise law-abiding to stay in the United States, Breitbart led its homepage with an unrelated story about how nearly one-thousand "Illegals from terror-linked countries" had been apprehended since 2014.
To find any coverage of Trump's remarks, a reader would have to scroll down to a summary of his comments that led with his insistence that his new position didn't qualify as "amnesty" -- despite the fact that many conservative critics see it as just that.
Breitbart wasn't alone: Drudge Report, the influential conservative aggregator, also entirely ignored the issue and chose instead to focus on the lingering questions over Hillary Clinton's emails and the Clinton Foundation.
The irony was not lost on journalists and political observers.
"I'm old enough to remember when certain conservative outlets would go into a frenzy over GOP'ers wanting 'amnesty' for illegal immigrants," wrote Oliver Darcy, the Business Insider politics editor who previously worked at Glenn Beck's The Blaze.
Other conservative sites and pundits did cover Trump's pivot, and many criticized it.
Ann Coulter, who released a book this week titled "In Trump We Trust," in which she wrote that the only unforgivable thing Trump could do was "change his immigration policies," called his pivot "a mistake." On Twitter, Coulter slammed Trump for suggesting it was "hard" to remove people who have been living in this country for a long time.
Several conservative critics on Twitter noted that Trump's new policy -- which includes having illegal immigrants pay a fine and back taxes -- was similar if not identical to the one proposed by former Florida Governor Jeb Bush and the bipartisan group of Senators knows as the Gang of Eight.
"Isn't Trump's new position the one Jeb Bush outlined?" wrote Charles Cooke, the editor of National Review Online.
"Trump just adopted Jeb Bush's Gang of Eight position," tweeted right-wing radio host Mark Levin.
Meanwhile, back at Breitbart News, a link pointed readers to a story about a Breitbart-hosted party for Coulter's new book -- the one whose very premise has now been undermined.