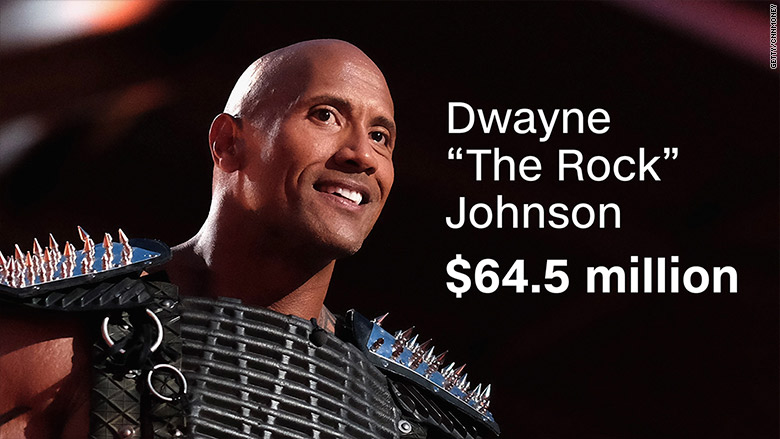 Dwayne "The Rock" Johnson is crushing the competition as Hollywood's highest paid actor.
The action star and former WWE wrestler tops Forbes list for biggest male acting moneymakers of 2016, released Thursday.
Raking in $64.5 million, Johnson more than doubled his 2015 earnings, and took the title from last year's holder, "Iron Man" star Robert Downey Jr., who dropped to eighth place this year with $33 million.
The number two earner on this year's list, Jackie Chan, made $61 million.
Related: Jennifer Lawrence is once again the highest paid actress
Johnson has been making profitable moves both in front of and behind the camera.
His roles in films like "Central Intelligence" and "Fast 8" have continued to establish him as a film star. He also serves as a producer on the latter, which will be the latest in the highly successful "Fast and Furious" franchise.
On the small screen, he's got a hit on his hands with his HBO series "Ballers," which was recently renewed for a third season. Johnson stars as a retired NFL player turned financial manager and also acts as one of the executive producers.
"Jason Bourne" star Matt Damon came in third with $55 million earned, thanks in part to his Golden Globe winning performance in "The Martian." That sum was a 120% increase over his total from last year.
Fourth place earner Tom Cruise made $53 million; Johnny Depp came in fifth with $48 million.
One surprising entry on the list for some may be Adam Sandler.
The actor landed the number 12 spot with $30 million thanks to his straight-to-streaming production deal with Netflix.