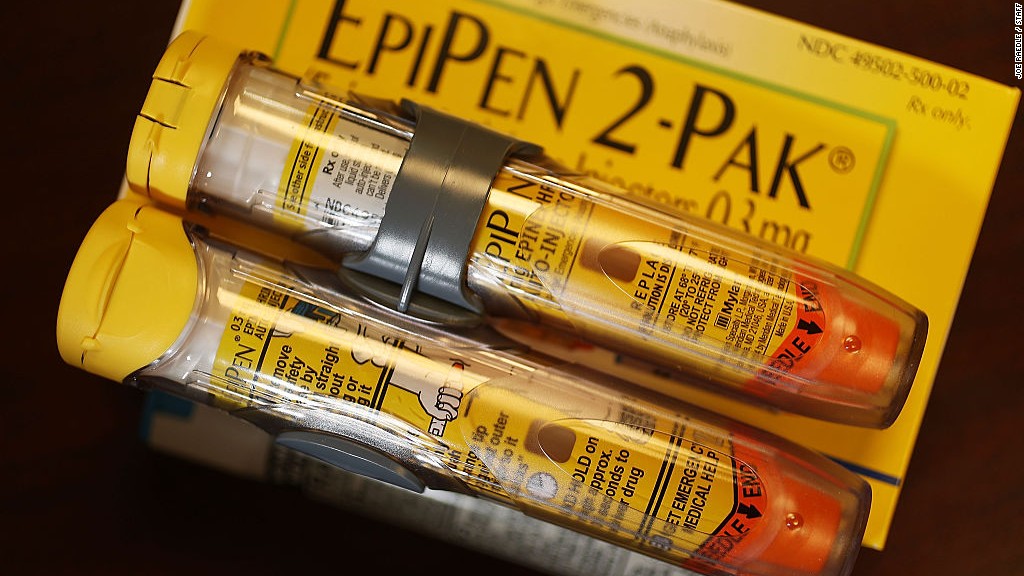 Mylan announced a series of steps Thursday it says will make its EpiPen more affordable for some patients.
The drugmaker is caught at the center of a firestorm over the rising price of prescription drugs. Mylan had raised a standard two-pack of EpiPens to about $600 over the past several years. It had cost $100 in 2009.
Following a recent uproar, including a public tongue-lashing from Hillary Clinton and a senator whose daughter uses the product, Mylan NV (MYL) said Wednesday it would help reduce the cost of the emergency allergy drug for people who are struggling to afford it.
In a press release, Mylan said it would provide instant savings cards worth $300 to patients who have to pay full price for the drug out of pocket. That amounts to about a 50% price cut for people without insurance or for patients with high deductible plans.
"We responded this morning, first and foremost, ensuring that everybody that needs an EpiPen has an EpiPen," Mylan CEO Heather Bresch said in an interview with CNBC. "As a mother I can assure you that the last thing we could ever want is no one to have their EpiPen due to price."
When asked why the price of EpiPen increased so dramatically over the years, Bresch, who is the daughter of Senator Joe Manchin of West Virginia, blamed "the system" which needs to be "fixed."
She said that with the savings card, "We went around the system. The savings card is equivalent to cash."
But Sen. Richard Blumenthal, a Democrat from Connecticut, isn't convinced. "This step seems like a PR fix more than a real remedy, masking an exorbitant and callous price hike," he said. "This baby step should be followed by actual robust action."
Blumenthal serves on the Judiciary Committee along with Sen. Amy Klobuchar, a Democrat from Minnesota, and other members who recently called for an investigation of Mylan for "possible antitrust violations" tied to the "dramatic price increase" of EpiPen.
Related: One senator's daughter is Mylan CEO, another senator's daughter needs EpiPen
In addition to the savings card, the drugmaker also said that it would expand the group of patients eligible for financial assistance. Families of four with a household income of $97,200 or less can apply to receive the EpiPen two-pack for free.
Additionally, Mylan will "open a pathway" to sell its EpiPens directly to consumers, which could help reduce the cost of the drug for patients. And it will continue to give away free EpiPens to select school systems.
The company did not mention the public criticism from politicians and did not immediately respond to CNNMoney. But Clinton and also Klobuchar, whose daughter carries the emergency treatment as a precaution against potentially life-threatening allergic reactions, have demanded that the company reduce the price.
"What this company's done is taken a product that in 2009 was about $100 and moved it up to this year between $500 and $600," said Klobuchar, in a recent interview with CNN.
She said in Canada they're hundreds of dollars cheaper and that the company increased the price without making any significant changes to the product.
"They reach their expiration date in one year so then you have to buy more," she said, adding that some people carry expired EpiPens, hoping they will work when needed.
The pen provides epinephrine, a hormone also known as adrenaline, which can help relax muscles in the airways in the midst of a severe allergic reaction.