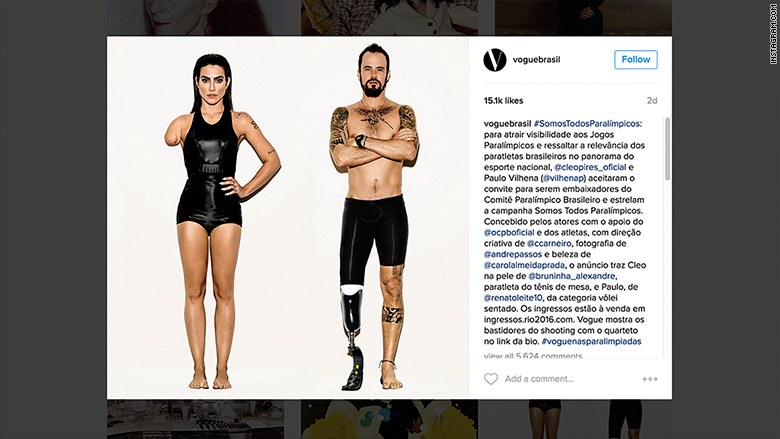 Vogue Brazil is under fire for altering images of models to make them look like amputees.
It published pictures of Brazilian actors Cleo Pires and Paulo Vilhena under the headline "We are all Paralympians." The magazine said it was trying to boost interest in the upcoming Paralympic Games in Rio.
Just 20% of tickets have sold for the Paralympics so far, even though they only cost $3 each, the magazine said.
The actors' bodies were altered to look like those of two Brazilian Paralympians, table tennis player Bruna Alexandre and sitting volleyball player Renato Leite.
Alexandre had her right arm amputated when she was three months old and Leite has a prosthetic leg.
Related: Slow ticket sales for Rio Paralympics
But many readers criticized the decision to use digitally-altered images of models rather than Paralympians.
"I think that the campaign should have been done with the athletes themselves, showing their strengths and efforts to reach the games," said Andre Santos, one of the thousands of people who took the magazine to task on its website and Instagram profile.
Auction alert: You can buy gear from the Rio Olympics
Vogue Brazil tried to explain its motive in a second article. It said the idea for the campaign came from Pires, an ambassador for the Paralympics.
"We knew it would be a punch in the stomach, but it was for a good cause, after all, almost no one bought tickets to see the Paralympic Games," Clayton Carneiro, art director of Vogue Brazil, said in the statement.
Despite the criticism, Alexandre said she was "proud to be part of the campaign."
Vogue Brazil has a circulation of 62,000 copies, according to the publisher. The magazine's online version has nearly 3 million unique visitors a month.
The magazine is published by Conde Nast international. It declined to comment on the matter.