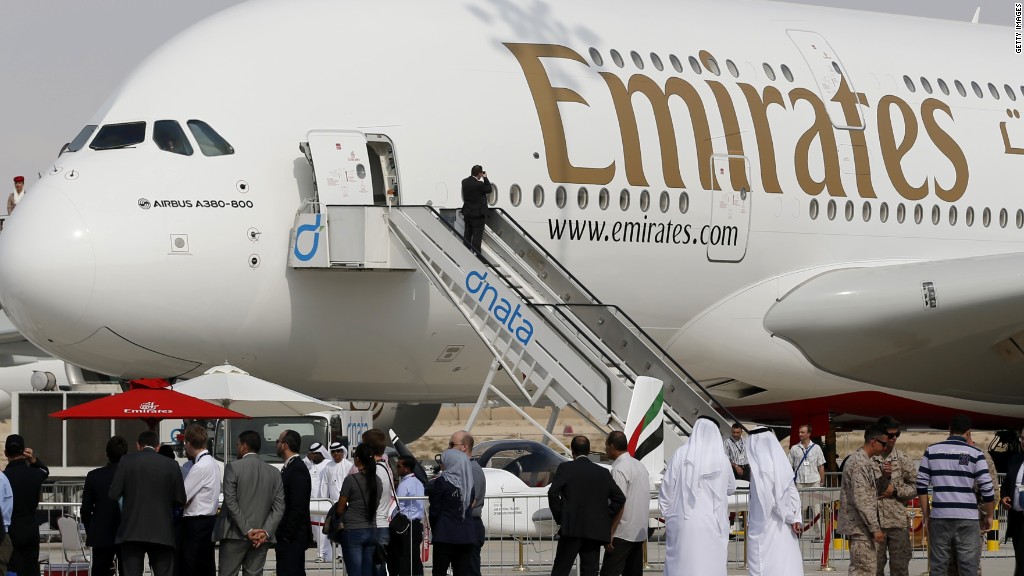 Wages have been stagnant for years -- but that's not so in the airline industry.
Pilots and ground crews at the major U.S. airlines are winning huge raises and have locked in more hikes in the years to come.
American Airline (AAL) pilots got a 23% pay hike last year, and United Airlines (UAL) pilots won a 16% pay hike in January of this year. Both are slated for smaller annual raises going forward.
But some employees are fighting for even more.
Delta (DAL) pilots are picketing the company's headquarters Friday to demand a 37% raise over the course of three years, while Southwest (LUV) pilots demonstrated earlier in the week for a 32% hike through 2019.
And its not just pilots who are getting fatter paychecks.
American Airlines reached a deal earlier this month to give 30,000 ground workers raises ranging from 15% to 55%. United ground workers (except the mechanics) ratified a deal earlier this year that gave them a 30% wage increase over five years.
In separate negotiations, United mechanics rejected an offer of a 33% wage hike over seven years. The Teamsters, who represent the mechanics, report it is now close to a tentative agreement.
Related: Airline passengers are complaining less
The hefty pay raises are coming after employees at all the major U.S. carriers endured years of pay cuts, layoffs and bankruptcies. Of the nation's four major airlines, only Southwest has avoided a trip through bankruptcy at some point since 2000.
But the tide has since turned, and industry profits hit record levels in 2015.
"In last 15 years labor has pretty much taken it on the chin," said Michael Boyd, an industry consultant. Even with these big pay increases, wages will only return to just about where they were before the bottom fell out of the airline business. "This just brings some equilibrium back," he said.
Related: Had a bad flight? Now you can tell the world
The wage hikes probably won't push airfares higher in the near term, but ticket prices are expected to start climbing soon, says Standard & Poors airline analyst Philip Baggaley.
And that's giving airlines the confidence to offer pay raises.
"They're banking on the assumption that ... they will be able to recover most or all of this in the form of higher fares," he said. "That may work in a reasonably healthy economy when fuel is low, but that's not necessary true for all time."