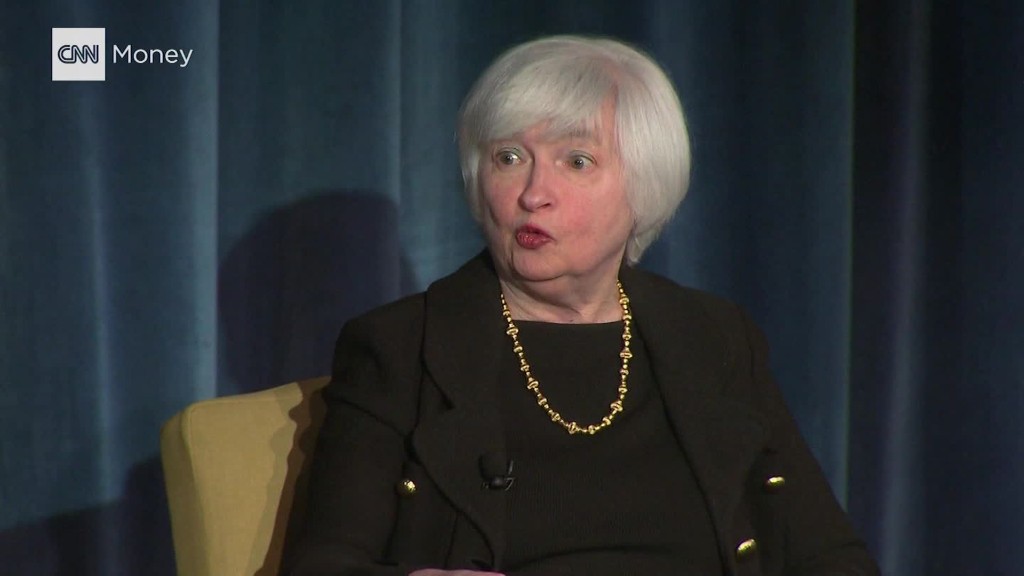 The next president of the United States should be ready to work with Congress to spend more money.
That's the message from investors and economists, including Janet Yellen. The question is how much cash to drop -- and when.
About everyone agrees that if a crisis hits, government spending must be part of the rescue effort.
"Fiscal policy has traditionally played an important role in dealing with severe economic downturns," Federal Reserve chair Yellen said in a speech Friday.
One of Yellen's colleagues at the Fed was even more blunt.
"Fiscal policy should be our equivalent of a first responder to recessions," said John Williams, head of the San Francisco Fed, this month. There's even talk of whether the U.S. should enact "automatic stabilizers" that would kick in whenever the economy sinks below a certain level.
America's central bank has been doing the bulk of the work to try to boost hiring and economic growth in recent years, but the Fed argues it can only do so much.
Related: Janet Yellen says Fed rate hike odds have 'strengthened'
Clinton and Trump propose stimulus
Many investors say the same thing. In fact, many in the corporate world want Congress (and foreign governments) to open the money valve soon.
Larry Summers, the U.S. Treasury Secretary under President Bill Clinton, has been calling for more government spending for months. He thinks it's the best solution to get the economy out of what he calls "secular stagnation."
He's not alone. A record 48% of investors think global fiscal policy is currently too restrictive, according to a recent BofA Merrill Lynch Global Fund Manager Survey. They want Europe, especially, to spend more after the shocking Brexit vote.
Even in the U.S., where the economy is doing pretty well, 43% of experts surveyed this month by the National Association of Business Economics think government spending is "too restrictive." That's up from just 29% who felt that way a year ago.
Hillary Clinton and Donald Trump have heard the message. Both propose a bump in government spending, especially on infrastructure. Clinton wants to inject $275 billion in her first term into improving America's roads and bridges. Trump promises twice that much if he's elected.
Related: U.S. domestic spending is near 53-year lows.
Does the U.S. need a lot more stimulus?
Pumping up infrastructure spending can help create jobs and beef up business in the short-term.
"Roads, bridges, sewers, water. You name it, we are lagging," says David Kotok, chairman of investment firm Cumberland Advisors. "The United States needs somewhere between $3 trillion and $4 trillion of infrastructure spending."
If Congress and the next president pass a big infrastructure bill (Clinton wants to do it in her first 100 days), it should help the economy and markets in 2017 and 2018.
The debate is whether the U.S. needs even more stimulus from the federal government. It could come the form of tax cuts (as Trump proposes) or more spending (as Clinton proposes).
The U.S. is in a slow-growth recovery. The economy has been expanding about 2% a year, far below the historic average of over 3%. So far this year, U.S. growth has been below 1%, according to the latest data released Friday.
Related: Clinton better for economy than Trump, say business economists
U.S. 'not in a recession'
The Fed believes a rebound is coming in the second half of the year. In fact, on Friday Yellen said she thinks the economy has "strengthened" and may be ready for another interest rate hike, the ultimate sign of confidence from the Fed.
"Stimulus is what you might need during a recession. We're not in a recession. The economy does not need stimulus per se from the federal government," says chief economist Tim Hopper of TIAA-CREF.
With the U.S. debt growing, the Republican-controlled House seems reluctant to spend much more. Whether that changes after November -- or after the next crisis -- remains to be seen.