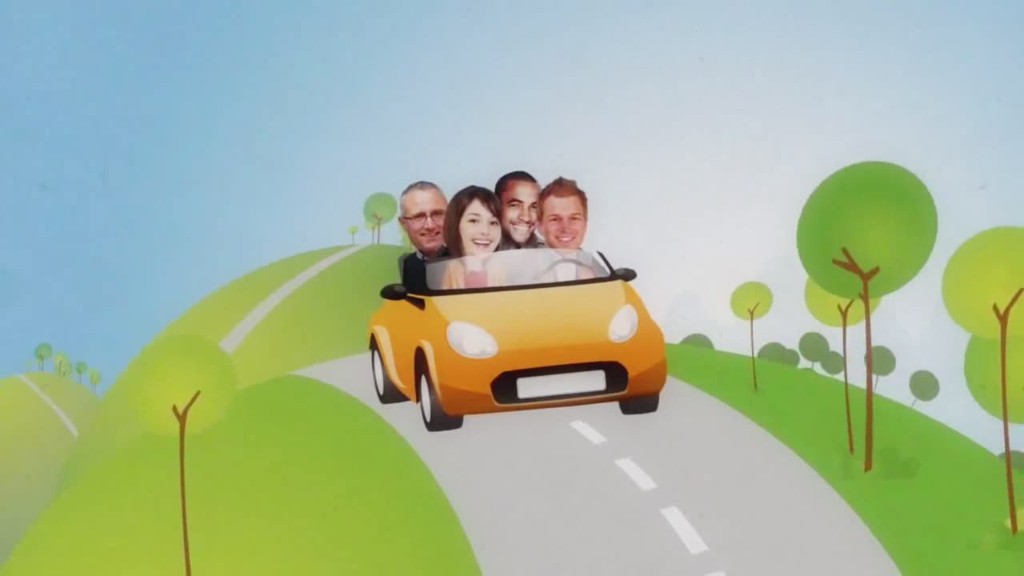 There was a time when the idea of inviting a complete stranger to sleep in your home would have had your friends and family questioning your sanity. The same goes for the idea of using your personal vehicle to pick up someone you have never met to give them a ride.
There are literally horror movies based on what happens when you interact with strangers and the concept of "stranger danger" is still something taught to children. Add an app, however -- even one with no real vetting -- and people will welcome someone they have never met into their home, car, or office.
The sharing economy has exploded, according to a report from Hitwise, a division of Connexity, that shows a dramatic shift in Americans turning to their peers to access goods and services. The new hunger for the sharing economy has grown exponentially, with website visits increasing more than three times in the past couple of years.
Related: Millennials just don't care about cars
The Hitwise study, which examined space and financial sharing activity, shows that during the first three months of 2016, more than 143 million Americans visited a leading space-sharing site (sites that offer shared or rented spaces such as homes, rooms, or offices that support travelers or people who need a space temporarily). The report also found that visits to space-sharing sites have jumped by 169% since 2014.
Who is doing all this sharing?
"The sharing economy is growing at an exponential rate," Nigel Wilson, managing director at Hitwise, said in a statement. "Thousands of sharing economy companies have sprouted up around the world, and consumers are actively engaging in collaborative consumption. According to PwC, 44% of all adults in the U.S. are aware of the sharing economy and 19% have engaged in a sharing economy transaction. It is imperative for brands to consider how to support and participate in collaborative consumption, rather than compete against it."
Not all demographics are sharing equally nor are they using the same apps or websites to do so, according to the Hitwise report. While the study called Americans aged 25-34 "the space-sharing sweet spot," since they are more likely to visit space-sharing sites than any other demographic, the trend is much broader than just that group.
Overall, the so-called "digital natives," people aged 18-34 who grew up with the internet, are more active in the sharing economy than older users "and are more comfortable sharing a free couch with travelers," explained Hitwise. Those users are more likely to be using casual room-sharing networks like Couchsurfing along with co-working websites such as WeWork, PivotDesk, Liquidpace and others.
Related: Why I rent everything: From clothes to jewelry
Older users, or "digital migrants," people who are 35 or older who had to learn technology after growing up without it, use sharing sites, too, though they are less likely to do so.
"Older Americans (aged 35+) are 10% more likely than natives to visit space sharing sites, and represent the majority of visits to sites like VRBO, Airbnb and Home Away," according to the study. "These digital migrants represent a larger percentage of the population than younger digital natives (therefore taking up a significant amount of online traffic), but it's still worth noting they are especially drawn to home swapping sites for a higher-end vacation experience."
Essentially, younger users will share on a more intimate level, often sharing space with the other person or people involved in the transaction while older users tend to go bigger -- renting full homes through sharing services.
Younger users lead in financial sharing, too
In addition to sharing space, this new economy has changed how the financial world works. Digital natives have taken major advantage of this and are "40% more likely to visit financial sharing sites, particularly crowd funding sites like Kickstarter or Indiegogo, which allow individuals to fund specific projects or causes," wrote Hitwise. "This trend reflects the cultural values of millennials, who have less money to give but are willing to fund the projects they believe in."
Older users, however, (and only in the digital world is 35 considered older) do participate in the financial sharing economy, but are less engaged in crowdfunding. Instead, they are more likely to visit peer-to-peer lending sites such as Lending Club, PeerForm, and Prosper.
"This suggests that digital migrants are open to exploring collaborative investment options beyond traditional banking," wrote Hitwise.
For its research, Hitwise sources data from more than than 8 million opt-in panelists, including 3.5 million mobile devices, within the U.S. Those users' internet behaviors are then sampled and weighted using algorithms to be representative of the entire U.S. population.
What businesses can take from this
Sharing may not be disrupting traditional businesses yet, but these age trends suggest that they will.
Sponsored content from The Motley Fool:
5 Years From Now, You'll Probably Wish You Grabbed These Stocks
Kansas Man Turns $10,000 into $8 Million
Shark Tank Just Revealed a Trillion-Dollar Idea
Younger users -- the digital natives -- have clearly embraced this method of doing business, which should put traditional hotels and offices on notice.
Clearly the sharing economy has already changed the taxi industry as younger people use Uber and Lyft with many, if not most, of the digital natives not even considering taking a traditional cab.
As laws catch up with reality and sharing services continue to evolve (while older folks die off), expect sharing to continue to grow. That's something existing businesses, if they want to survive, need to tap into and embrace.