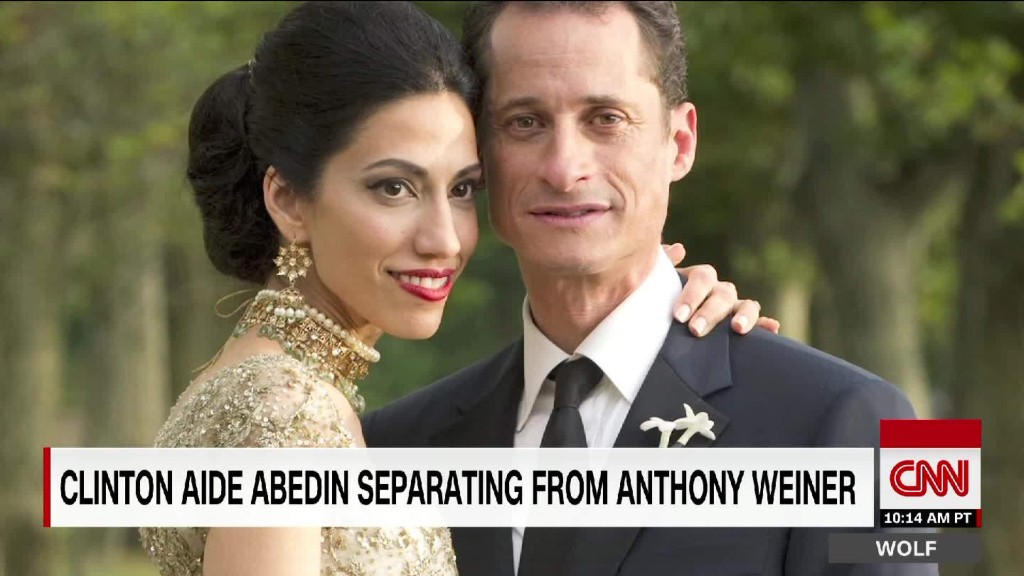 Multiple news organizations have moved to sever or suspend their ties with Anthony Weiner on Monday after new reports that the former congressman was involved in another sexting scandal.
A spokesperson for NY1, the 24-hour New York news channel, said in a statement to CNNMoney that "Anthony Weiner is on indefinite leave from the station." Weiner was a contributor for the network and had been a frequent guest on "Inside City Hall," a nightly politics program.
The New York Daily News, for which Weiner was an occasional columnist, separately said it would no longer run his columns.
Both announcements came after Huma Abedin, Weiner's wife and a top Hillary Clinton aide, announced that she and her husband were separating.
"After long and painful consideration and work on my marriage, I have made the decision to separate from my husband. Anthony and I remain devoted to doing what is best for our son, who is the light of our life. During this difficult time, I ask for respect for our privacy," Abedin said in a statement Monday.
Weiner resigned from Congress in 2011 amid revelations that he'd sent lewd photos and text messages to various women.
Asked earlier this month if he was "still engaging in the activities that got [him] in trouble," he demurred: "I'm not going to go down the path of talking about any of that," he told The New York Times Magazine.
On Monday, The New York Post reported that while Abedin travelled the country with Clinton, Weiner had been exchanging lewd photos with "a busty brunette out West" for a about a year. In one exchange, on July 31, Weiner allegedly sent her a picture of himself in his underwear with his son sleeping next to him.
Weiner, who deleted his Twitter account after the news broke, admitted to the Post that he and the woman "have been friends for some time."
"She has asked me not to comment except to say that our conversations were private, often included pictures of her nieces and nephews and my son and were always appropriate," he told the Post.
Following the Post's report, Showtime announced that its documentary on the former congressman, "Weiner," which had been in theaters, will debut on the network October 22.
A Showtime spokesperson told CNNMoney, "We are in discussions with the filmmakers to possibly add a postscript to the documentary."