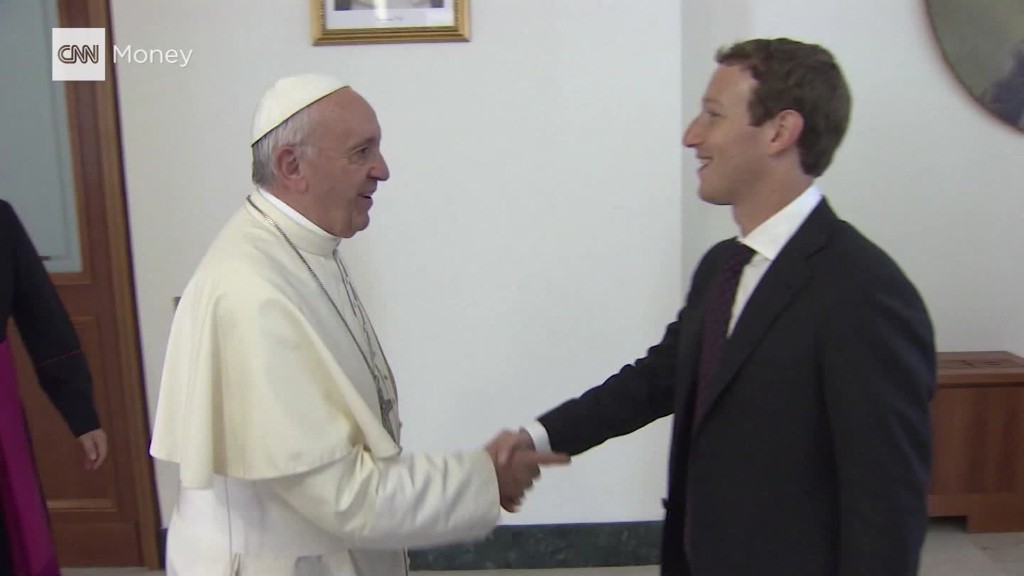 Launching the most popular social network in the world? Done.
Running a mile every day? Easy.
But building a personal assistant from scratch? Apparently that's hard.
Facebook (FB) CEO Mark Zuckerberg said on Monday that he hopes to finally demo a butler powered by artificial intelligence next month after making it his New Year's challenge to build the service.
"One of the challenges was to build an AI system to help me control my home and my work, and the other was to run an average of one mile a day. It turns out that one of those challenges was a lot easier than the other," Zuckerberg said in a town hall event in Italy.
Zuckerberg accomplished the year-long running challenge five months early.
The Facebook founder said he has successfully programed his AI butler to open the gate to his house by scanning his face rather than entering a code. Zuckerberg can also control the lights inside and adjust the temperature using his voice, "much to the chagrin of my wife."
Related: Mark Zuckerberg gives Pope Francis a drone
"It's starting to be able to do some pretty fun things," Zuckerberg said, before noting that he is getting some guidance from Facebook engineers on the project.
In his original post announcing the project, Zuckerberg said he wanted to build an assistant "like Jarvis in Iron Man" that would let him control music, lights and temperature in his house using his voice and alert him to anything that might need his attention in his daughter's room.
Throughout the last year, Zuckerberg has held a series of town halls with Facebook users in India, Germany, and Columbia, among other locations.
The Italy town hall took place just days after a 6.2-magnitude earthquake hit the central part of the country, killing hundreds and reducing the town of Amatrice to rubble.
"When I first learned about the earthquake, it just made me incredibly sad," Zuckerberg told the crowd on Monday. "Our first reaction [at Facebook] is we have to do everything we can to help out."
That included activating Facebook's Safety Check feature in the area to let users tell friends and family they're safe, as well as providing the Red Cross with "half a million euros in ad credits" to solicit volunteers and supplies, according to Zuckerberg,
Before taking the stage on Monday, Zuckerberg paid a visit to Italy's Prime Minister Matteo Renzi and Pope Francis, giving the latter a model of Facebook's drone.
Zuckerberg kicked off his visit by attending the wedding of Spotify CEO Daniel Ek, who he described as a "good friend," at Lake Como in northern Italy.