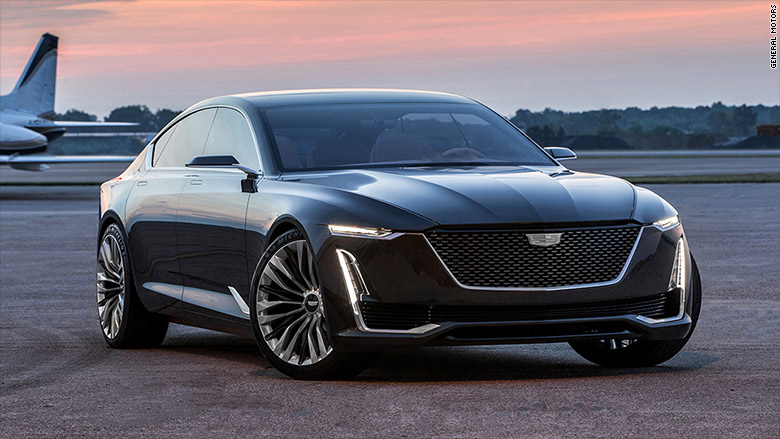 Talk about loose lips.
Car companies usually keep their plans for future model plans a closely held secret. But the head of General Motors' (GM) Cadillac division couldn't help himself when he read what he thought was an off-base blog post. He felt compelled to correct the writer in the comments section and, in the process, mapped out the company's product plans for the next few years.
Johann de Nysschen, president of Cadillac, was responding to a post on the car blog The Detroit Bureau
"I do not know the sources of your information, but must assume they cannot be very high ranking," de Nysschen wrote. "[C]ertainly they do not have access to the full spectrum of information."
Then de Nysschen, who is high ranking and does have all that information, proceeded to share it.
He laid out a product plan that includes at least two new crossover SUVs, which will be key since crossovers are the fastest-growing segment of the luxury market.
De Nysschen also mentioned the addition of some "New Energy" vehicles -- such as plug-in hybrid or electric vehicles. That makes sense, says Kelley Blue Book senior analyst Rebecca Lindland, since government fuel economy rules are getting stricter.
Finally, De Nysschen revealed that a new flagship model will not be a typical four-door sedan, indicating that it might, instead, be an ultra-luxury SUV.
Related: Top five most expensive cars from Pebble Beach
De Nysschen admitted that all this may still change, however, since these plans have yet to be approved by GM's upper management and its board of directors. He indicated, though, that higher management has expressed confidence in the strategy for Cadillac.
Before taking over at Cadillac, de Nysschen was known to comment frequently in online discussions, said Lindland, so this spisode what something of a return to form.
Since taking over as head of Cadillac in 2014, the South African-born de Nyschen has made major changes to try to revive the brand's image as a desirable alternative to German luxury cars. Last year, he moved Cadillac's official headquarters from Detroit to a fashionable part of Downtown Manhattan in New York City.
Before joining GM to head Cadillac, de Nysschen had headed Nissan's (NSANY) Infiniti luxury brand and Volkswagen's (VLKPY) Audi brand. His strategy to spur sales at Cadillac has been to focus on product quality rather than heavy discounts, which undercut a high-end luxury image. So far this year, Cadillac sales are down about 8% compared to last year.